I haven't talked about my body project for a while. There are a few reasons for that, but the main one is that I've been in a kind of 'maintenance mode' for quite a while and that's boring to write about.
No further gains, in fact, something of a slip from what I consider my peak.
The main reason for the flattening out is that I realised that for all of the work I was doing (and at the high point, it was a LOT, including seriously good eating and protein loading), I really wasn't getting my body into the shape I really wanted. I think my goals were too lofty to be honest. And without a solid goal that I think is achievable, I lose motivation.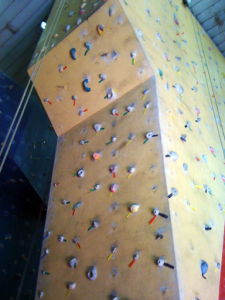 The gym was boring me stupid and I felt like I was phoning it in, so I wanted to try some other things instead. So recently I changed it up a bit to try and get some of that motivation back.
I now have (and use) memberships for the gym, pilates, a high ropes course and rock climbing. And I'm considering trying out crossfit.
I really WISH I was as fit and ripped and strong as all this makes me sound. But I'm not.
Not having a habitual routine and relying on the weather (ropes course is outdoors) and on others (rock climbing requires a partner) makes substituting other activities for the gym all a bit hit and miss.
I'm a woman who likes habit and ritual and accountability and metrics so that things like exercise just become part of my daily routine and I can measure results and feel smug about myself. Secretly (well, okay it's no secret!) in my heart, I am super lazy and I *will* latch onto excuses why it's all just too hard and flop on the couch instead (sound familiar? I KNOW, RIGHT?!).
I'm a bit scared of crossfit, not least because I feel like it will stress my body pretty badly and I have issues with my ankles, knees, and back (I am a delicate flower!) and really don't want to risk an injury. But also because it always looks so 'rah rah!' full-on with the irritatingly happy groups and the team work and everyone knowing your name and all that social crap that I hate. But there's a special offer at the moment that I'm really tempted by.
So yeah. I'm probably going to sign up to another new thing to try and knock me out of this lethargy.
Wish me luck!