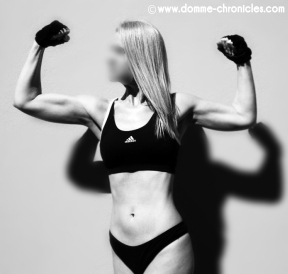 I haven't talked about my body project since 13th January, so let me catch you up.
I worked my arse off from April 2012 for some 18 months until August last year. I was posting pretty regular bicep shots as progress reports (you can see them in the sidebar over here), and you can see the overall results on the right there. I'm pretty happy with myself (but never happy enough!) *smile*.
But I realised in looking at the photos, and the work that I put in to get there, that unless I wanted to expend a whole bunch of serious (I mean Serious with a capital S) energy and effort in both training and diet, I wasn't going to get the visible muscle that I really wanted. This revelation took the wind out of my sails a bit, and I kind of went into 'maintenance mode' while I tried to decide 'what now' if that goal wasn't attainable.
Then I did something to my knee in December, so with a Christmas break and the injury, I slacked off some. To be clear, I didn't stop going to the gym, but I DID stop eating as well, I stopped pushing myself, and I pretty much cut down my workouts to three a week.
THIS IS NOT BAD (I keep having to say that to myself, and I know it's true, but I also know what it feels like to *work* vs 'phoning it in', and I was doing more of the latter). If you want to see a summary of my sessions month-by-month, I did log it throughout and you can take a look here.
I finally went to the physio for my knee and found that I have a patella tracking problem. He claims that I have a lazy arse that isn't doing any work. I guess I can't argue with that.
So all of that blah blah adds up to the fact that I am not really making any progress to speak of, and I'm not sure what sort of progress I want to make exactly, which leads to a motivation problem. This is something that anyone who has worked on their fitness can relate to I imagine.
I think my workout crew has felt it also since I became a lot quieter about it and wasn't rah rahing as much. Then they were also plagued by injuries and changing circumstances, so it feels a bit like we ALL hit a wall over the last few months.
For the moment, I am stepping it up again to five sessions a week in the lead-up to an island holiday at the end of June. I'm trying to use that as motivation to give myself a kick up the arse for the next two months so I can shamelessly rock a bikini.
In the meantime, there isn't going to be much new or exciting to talk about or to show you unless I come up with a new definitive goal though, so you probably won't hear much more about the body project here on the blog. Still, you are always welcome to go check out my workouts and those of my workout crew and yell encouragement at us.
TL;DR I'm still working out, it's just not really very interesting to write about.