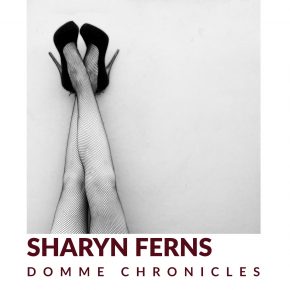 This ridiculously fabulous femdom podcast Q&A includes the following:
Have you tried receptive anal?
How to do femdom dirty talk?
Punishment vs scene time: How to deal?
Suggestions for D/s with kids around
What do you charge for a session? [a rant]
Should I ask my Mistress to push past what I think I can take?
When did you discover your dominance?
At a loss for role play to punish him, halp!
And more!
The Domme Chronicles podcast is available on iTunes and Spotify: Subscribe if you want to be sure to get my audio porn delivered straight to your ear holes.
___
Want to ask me something? Pop on over to my Ask Me page and do it (though if it's something time-critical, I suggest you ask your question pretty much anywhere else…!). It's completely anonymous, even to me, so nobody will know it was you…
___
Full transcript after the jump.
___

[intro music] Shut up and sit down [/intro music]
[00:10]
Hello Dear Listener, and welcome to my podcast.
My name is Sharyn Ferns and, in case you didn't know, I blog over at domme-chronicles.com. That's D-O-double-M-E-dash-chronicles.com. This is going to be my normal podcast, that I've been doing forever, which is a reader Q&A from people who've sent me questions through my Ask Me page on the blog.
And if you would like to ask me something – I keep forgetting to remind my listeners – if you would like to ask me something, it is completely anonymous. Just go to my blog, and there is an ask me link in the menu and you can ask me whatever you like.
So, let's get straight to it, shall we?
[01:05]
Hi Sharyn,
[slight laugh] I think I've said before, it's always a bit strange when people use that name because I mostly go by Ferns.
I hope you're well and having a great day.
I am, rather. Thank you very much for asking.
My question is: When is a D/s relationship a D/s relationship? [slight laugh] While craving sexual femdom, I've only ever achieved this in a Walter Mitty-style sense, perhaps using my unrealized wants and needs cathartically to write domestic femdom stories. I'm happy-go-lucky, though, and lucky enough to have been married for ten years to my soulmate…
That is lucky. Congratulations to you both.
…and, arguably, otherwise dominant wife who, with a wry smile, recently made a comment along the lines of, "I wear the pants in this relationship, and you're the submissive one."
Putting all this into context: I've been exploring the notion of the "vanilla dominatrix" – and that's in quotes, "vanilla dominatrix" – recently, concluding to my satisfaction that not only is she one, but that there's potential for exploring and developing this dynamic sexually. What are your thoughts? Thanks, by the way, for your work on this forum and intelligent musings enabling the finding of somewhat lost souls, such as myself.
Yours,
Angel of the North
Well, Angel, my initial thought is it doesn't matter at all [with slight laugh] what I think.
If you and your wife have a relationship that works, and that makes you both happy, then that's it, right? Does it matter what you call it? Or how others would define it? Or what I think? Or what anyone thinks? I don't think so.
If you're happy, if she's happy, then… that's all there is.
I– I am going to still answer your question though, in a broader sense. For me, there are many people out in the vanilla world who have, um, unbalanced power in their relationships. I was one of those when I was younger, before I'd ever heard of BDSM or D/s. I… was a woman who knew what I wanted, even from a very young age, who wouldn't take shit and, as a result, I attracted men who… just did whatever I said, whatever I wanted. And there was a very clear, unequal power balance in all of those vanilla relationships.
I think the main difference between using the term D/s relationship is that it's explicit. For me, they were not D/s relationships, they were just vanilla, power-imbalanced relationships. And the difference for me was that, in a D/s relationship, both parties agree explicitly that this is what is happening, and it makes them both happy… that they want this explicitly stated and agreed imbalance of power.
What I found in my early relationships, the vanilla ones, where there was this un— imbalanced power, is that it did not make us happy. And there's a whole bunch of complex reasons for that, that I'm not going to go into, but it was never discussed. It was just: we both knew what it was, and it was what it was. And that's how the relationship worked.
But there are complexities in there… that made us both, for different reasons, not able to find our happiness in it. And I think the explicitness of saying, "This is what we are doing. This is what we've agreed, and this is how we're going to run this relationship", is huge. And to me, that's when it's a D/s relationship: when you've agreed that that's how it's going to work.
But like I said, geez; Angel, [pleased voiced] if you're happy, and she's happy, that's all there is. Enjoy.
[05:34]
Hello Ferns!
Exclamation.
I submitted this ask to your Tumblr as well…
[laughter] I do still have a Tumblr account, but I pretty much abandoned it when the Tumblr people had a pornacolypse and deleted everybody and… walled everybody off who was doing the dirty dirty porn, um, including me, by the way. They siphoned me off into the the netherworld. Um, anyway, back to the question:
…I wanted to double down seeing that you mostly use Tumblr as a blog promotion platform. Anyhow, two questions to satiate a young wannabe domme: (a) how did you receive your formal training, and (b) do you/have you attended many domme-only events, and if so, what is the atmosphere like?
I have [slightly uncertain tone] never had any formal training. I, I think that's a very much an old guard concept, I guess? That there is a formal training process you have to go through. Um, I have attended a few workshops over the years, but for me as a lifestyler, I am not really invested in… in, in learning certain aspects of the "Arts" of dominating… like, if you know what I mean.
And I think it's a– there are certain people who are interested in certain kinks that require formal training, and that's cool. And I think there are professionals who need to learn how to do a whole bunch of things that I, in my personal relationships, do not need to learn how to do. Um, so, I did not receive any formal training, and I have never claimed to be a dominant with the mad skills. I'm really not, I'm pretty freaking hopeless at a lot of things. [laughter]
Because, for me, um, D/s and BDSM are how I express my passion, and my love, and my affection. And if I think I'm doing something, or I want to do something, that is outside of my ability to do, then I will take a workshop to learn how to do it safely. But… I don't need to have a workshop to know how to… push my partner up against the wall and kiss the shit out of him, right? [laughing] That doesn't require any formal training.
If I want to jump his bones in the bedroom, I don't need any formal training for that. Um. And the second part of the question was— I mean, [laughing, building up] I could have formal training for it, I guess. But I have not. [laughter ends]
And also I have never seen a formal training session for D/s kissing, but I could totally run that thing. It would be awesome.
Um…
Do you or have you attended many domme-only events? And, if so, what is the atmosphere like?
I haven't, actually. The events I've attended have all been generally, um, open party events for all kinksters. So… [slight sigh] and, uh, I have to be honest with you: a lot of the femdom events that I've seen have not been all that appealing to me. And one of the main reasons is because a… a mainstay of a lot of them is… um, (a) service for anybody, which, ok, you know, I can I can see why that's the case – that submissives are entering the space and they are submissive to everybody but, (b), the thing that really turns me off them, is humiliation games, which are so, like 99% of the time, they're part of the deal. And… that is not my thing, and I don't find it sexy, and I don't want to laugh at my submissive for being humiliated in a group atmosphere. My… D/s doesn't work like.
What I want in a femdom- or Dom-only event, is to see submissives being elegant, and gorgeous, and sexy, and… wantable. I don't want to see them being degraded, and laughed at, and made fun of. That is not sexy to me. So, my submissive is a sexy beast that I want to jump his bones, and… [softly] femdom events are not like that. [laughter] Unfortunately.
Okay. [laughter] Another one from the wannabe.
I think this is the same one as before? Um…
I'm sorry.
Oh, you don't have to be sorry. Feel free, please, to ask me questions.
For some context, I'm 20 (almost 21) with an upbringing in a very strict, conservative, religious home. From childhood the typical, "You will grow up to be a good submissive housewife and breeding bitch [slight laugh] for your hardworking husband" motto was hammered into me.
I'm so sorry, that sounds awful.
Once I left home, however, I had several epiphanies: 1) That I am bisexual, which my parents would NOT be pleased about if they discovered. 2) That I have no desire to have children, now or ever. And 3) that my sweet six-foot-four, thirty-year-old boyfriend is a dirty slut [laughter] who loves drinking my piss, getting slapped around and fucked in the ass. [laughter]
I have no qualms about the first two; however, the third poses a bit of an issue. I have been introverted and submissive from childhood – it was the way I was raised, taught and lived. Being in the military also puts me at the bottom in a large chain of supervisors.
As an aside, I have to say this: This is from a dominant woman, who is saying that being junior in the military means that she is the underling in the chain of command. And the thing that always makes me laugh is that there's a lot of very young men who around this age – 20, 21 – who enter the military and, when they talk about their service, they inevitably go, "Well. I'm such an alpha because I'm in the military." And this is what– what she has said is exactly what I always think… that, come on now, like you're 20, 21. You're at the bottom of that hierarchy, baby. [laughter] Anyway. That was a complete aside.
That being said, I am not confident, nor am I naturally dominant. But I want to be a domme ever so badly, and a good one for my boyfriend. But I pussy out of going to munches because I'm scared of meeting new people. I don't want to buy gear because I'm afraid I won't use it, and I don't know any kinksters who may be— who may help me pursue formal training. Any thoughts and advice from one wise, experienced domme to a wannabe? Sorry for rambling.
-C
First of all, do not be sorry for asking questions, that's the only way you'll learn, right?
I understand better now what you you mean about formal training. Um… you have a huge advantage in that you have a, um, boyfriend who wants to explore this with you from the sounds of it. And that is huge, because a lot of women who, who come into this are alone. And God knows, when you're a newbie domme and you come [Windows chime] into any BDSM spaces, what you find is often not good. And even just finding someone to safely explore with is a huge project. So you are way ahead of the curve there.
I'm introverted as well, if that gives you any comfort. Um. I hate meeting people. I don't go to munches because I don't like it. I… very rarely these days – really, I could say never, but that's not quite true – I very rarely go out to any play parties, or anything like that, because it's not my thing. I don't enjoy it. I'm not interested in it. Occasionaly I get that feeling that I really should make an effort, and then maybe I do. But it's the same thing, I just don't enjoy it. And then I don't go for another ten years. [laughter]
Anyway. Your dominance is not contingent on going to munches, and it's not contingent on gear, and it's not contingent on formal training. So I'm gonna to say that first. What I suggest you do is… have a sit down all by yourself with a glass of wine, relax, and figure out what you want your relationship with your boyfriend to look like. You have him right there. And have an exercise where you ask him to do the exact same thing. And I don't mean some fantasy relationship of BDSM-ery. I mean actually, for real.
What does a day in the life of you two, together, look like? And you each write this down and you get an idea or a feel for a day in your life, like an ordinary day. Do you wake up together? Is he sleeping in your bed? How do you feel when you wake up? How do you want to relate to each other? What do you actually do? Does he make you breakfast? Do you make breakfast? And, in doing that, try not to be, "Oh, what would he like?" Really take the time to think about what you would like, and write that out.
And it's, it's– it's actually hard work. But the point is to try and create a vision for yourself. Once you've done a day, then do a week. And then a month. And then a year. And obviously they get more and more high-level, but what I am trying to encourage you to do is to figure out what it is you want in this relationship.
The other suggestion I have, if you haven't done it, is to fill in a BDSM checklist (zip file download link). And the reason that's so useful is because that's the kink part. So then you both, again, fill in a BDSM checklist and, again, you do these things separately. And when you've done this exercise, then you bring those together and you find out where are the things that match: the relationship things that match, and the kink things that match. And once you find those, then you have some sort of idea of how you want this relationship to work. And, as the dominant, you get to start putting things in place to make it work.
It sounds like, "Ugh, it's a huge project," but really it's just finding your own clarity as the dominant partner. And to do that, you have to start with, "Well, what is it that I want?" And I think a lot of women have never asked themselves that question, or have never been in a position where actually, you know, if I do this I can get what I want. Because this is a D/s relationship, and I get to drive how this works out and how this plays out.
I'm going to say two more things before I leave this question, which is a very long answer here. Um… if you're after how-to guides, I have a couple of those that are very geared towards new dominance. One is How to Make Your First BDSM Scene Amazing, which is about play, and it helps with confidence, and planning, and thinking about what you want. And it lays out a very practical, no-nonsense, step-by-step way to help you get on top of that, if you need a little bit of a confidence boost. Or just someone to hold your hand little bit.
The other one that I've written is, um, How to Handle Disobedience. You may not be at a stage yet where that's an issue, but actually there's a lot of stuff in there at the start about building a relationship that might be helpful to you. You can find them on Amazon under Sharyn Ferns.
The third, um, book I'm going to recommend, that might be useful for you, is Uniquely Rika, it's R-I-K-A. Uniquely Rika. It's not quite my style, but I recommend it to newbies a lot because it is a genuinely dominant-focused approach to, um, D/s relationship building. And it— even if it's not your style, which it's not really my style, it is a breath of fresh air in how you look at relationships, to kind of kick you out of a submissive, "How to please your submissive" way that a lot of these supposed femdom books approach D/s for women.
So yeah, that's my couple of recommendations. I also have a really extensive and well-annotated book list on my blog. You can find that, um… under – I think the menu item is called Non-Fiction Books and Blogs I read, or something like that [ed: "Blogs & non-fiction books" > "Non-fiction book list"], and it's annotated in a way that should give you an idea what these books are about and whether you think they might be useful to you or not.
I hope that helps. And, honestly, let me reiterate this: having that boyfriend is a gift. I'm glad you have him, and I hope it continues to go really well, but use him. Use him to play around, and test things out, and see how things feel. And be honest with him. Just say, "Look, I just want to try some things. Let's do, you know, let's do this or let's do that." And I'm sure, a hundred percent, he is going to be absolutely delighted to do that with you and for you.
Ah, so, I hope that helps.
[20:02]
As for me, I have a glass of champagne – of course I do. It is a nasty, cheap quaffing champagne [laughter]. Um, and when I say cheap, I do mean really cheap, so I am anticipating a terrible headache later if I drink too much of this. But here we are doing a podcast, and this is part of the rules for doing podcasts: I have to have a drink.
I said on the Twitter earlier that I really need [laughter] I really need a submissive under the desk to paint my toenails while I do this, because they are sadly unpainted and they need some work.
[20:44]
Next one:
Good afternoon! Exclamation and big smiley face.
No questions here, I just wanted to say I discovered your podcast this morning and I love it! You're so relaxed. It feels like you're sat with me in the kitchen drinking tea. I am a lady in England. A winky face.
Thank you so much! That is so lovely and I would absolutely have a cup of tea with you.
I'm exploring a femdom side to myself, which is newly discovered. I'm slightly addicted to your podcasts, thank you for sharing.
Oh, I appreciate that so much. Thank you for the sweetness. It's really nice.
I sometimes think I'm talking to into the void, and I do like it when people say nice things to me. [laughter]
The next one:
[21:33]
Have you ever tried receptive anal sex? What was the context? Did you fart after?
And then there's a winky, [slightly uncertain] tongue-sticky-out face.
I have. Um, I just… I dunno, what was the context? I was with my boyfriend and we wanted to try it. I think I've maybe done it twice in my life? I just didn't get much out of it. So there's no, there's no big story there. We just tried it and I guess it was okay, but I didn't love it.
Did I fart after? Have you got a fart fetish? Is that what's going on here? [laughing]
And, to my recollection: No, I did not.
[22:19]
Umm…
The next one… is… strange.
Could you do a sex toy collaboration with Ozzy Man Reviews?
I have no idea who that is or what you're talking about, so… I'm going to go with probably not? Hmm.
[22:34]
Not a question. I just wanted to tell you that you are rad. And smiley face.
Thank you so much. That's lovely.
Oh, I'm [laughing] getting a few of these. Thank you, people. I love this.
[22:54]
Have I told you lately how absolutely fabulous you are? You know you are fabulous, even when I want to call you an arsehole for being right.
I am an arsehole. A fabulous arsehole.
What is one thing that has changed with you over time since you first found the lifestyle and now? It could be more than one thing.
Um… when I first started exploring, I think I was like every other newbie who comes into this realisation that BDSM is a thing that exists.
I mentioned earlier in this podcast that my vanilla relationships were always power imbalanced and, without going into the whole history of all of that: when I discovered BDSM on, um, IRC chat rooms, it was a revelation to me because I realised that there were men out there who chose to be in the kind of relationship that I'd had all my life. And, normally for men in the vanilla world, it's not a choice. They don't choose… explicitly, to be in a power-imbalance relationship. They would choose me, and I'm a fucking steamroller. So it was either, "Stay in front of me, doing what I want, or I'm just going to roll right over you." [laughter]
And they realised that pretty quickly. And the ones who didn't like it, they left, right? And the ones who liked it were the ones I had relationships with.
So I think, um, when I first found BDSM and I was all, you know, big wide-eyed and everything, I went, like, full…hundred miles a minute, which I think is what most, not– maybe not most [slight laugh] – which is what eager young things do. Many eager young things do. So, in that stage, I was probably every male fantasy, because I bought a whole bunch of gorgeous outfits to wear, and I was super strict and hard, and I was… like, feeling out my power in different ways which made me, I guess, a very stereotypical dominant figure, I think.
Um, and I think now, now I'm a lot more relaxed. I'm a lot more just, "This is who I am, baby. And I'm dominant." Whereas before I think I – not that I felt I had to do it, but because I was testing out my power – there were things I tried that were way over-the-top. And one of the, the things that's true of, um, young women entering any BDSM space, is that if they act out a porn stereotype, they get so much validation, it's not even funny.
So that validation then… encourages more of that behaviour. And I think what happens with a lot of young women who first enter into these spaces, is that they try that out, it works like a dream, and it takes them a good, I don't know, if they're active I'd say it takes them a good year [slight question] to two years to figure out that it doesn't serve them well in any way. Unless they're going to try and make money [slight laugh] out of it, honestly. Which was not a thing when I was first exploring, it really wasn't a thing that… "Oh, I can get all this attention and men will give me money for it." That wasn't really a logical leap, which I think it very much is now.
Um, and I think that validation can lead to a lot of pain, actually, for new dominant women who enter into the scene because they don't quite realise that they're being objectified and that they are objectifying themselves with this behaviour. And there's nothing wrong with that, if you know that's what's happening.
But, what happens, is they come in – and I did this as well – they come into the scene and they present as a stereotypical dominant. They get a whole bunch of [emphasis with tone that belies the words] adoring and devoted and over-the-top declarations of, "Oh, My Goddess" sort of thing, and they think, somehow, that it's real, that it means something. When it's just a bunch of men, basically wanking over young woman being sexy, right? Young woman delivering their fantasies.
All that sort of… [grrr noise] behaviour that is fine if everybody knows what's going on, but I think for a lot of those young women who have no experience, they don't recognise that that's what's going on. They think this is what power feels like, because it does feel like power: to be able to tell a hundred different men that you are worthy, or you are not, or you go and wank for me, or you go and give me a tribute, or you go and… you know.
But if they're at all looking for actual connection, and real relationships, and depths… they won't find it in that realm. So, what has changed most for me, is that I learnt that lesson and now I'm much more just me, and [singsong] you can take it, or you can fuckin' leave it. [laughter] So it's a very different paradigm. So yeah, that's the biggest difference.
[28:54]
We love it when you blog a lot. [slight laughter] I pompously and presumptuously assume I speak for all your adoring fans. [laughter]
Well, thank you. Let me just explain where these – where this loveliness is coming from, from people. When I recorded my last podcast I did a call-out on Twitter and I said, you know, if you want to say something sweet to me, please do. And I think quite a few people came over from Twitter to do exactly that. But then I ran out of time on my last podcast. [laugh] So now they're all coming up and it's lovely. Thank you.
[29:35]
[laughter] The next one says:
And your podcast, too.
[laughter] Thank you again.
[29:44]
I have a question about your absolute and complete lack of an Australian accent. Does your non-accent sound more unlike a Southern Australian non-accent or a [laughing] Western Australian non-accent.
This is a very fine question.
Some people claim that they can tell different Australian accents. I don't actually believe that's true. I think there are two… Australian non-accents. One is city and one is [laughing] country.
And I think mine is very much a city non-accent.
And a country non-accent is a bit more… um, exaggerated, Crocodile-Dundee-ish accent. And most people in, um, populated areas or in the city areas do not speak like that. Out in the country, the non-accent is very much at a slower, um, pace of talking. And I think that's the same anywhere with city versus country speech patterns. But they also have a very, what I call an 'ocker' accent. So instead of saying – which, you know, I might never say it really – but instead of saying, "How ya going, mate?" which is I guess what I'd say, "How ya going, mate?" They're more, [in more nasally Australian country non-accent] "How ya gooo-in', mate?" [laughter]
So those non-accents are quite different. And thank you for that question.
You wrote about your fin sub.
I did. Very briefly.
A findom talked about imposing an orgasm charge on her fin sub. How would that work?
Well, I imagine it would work… by the finsub buying or– the right to orgasm. Which is the same as any, um, finsub games, right?
So a lot of the the findom and finsub exchanges are about different kinds of… impositions of monetary fines or, um, giving of gifts for certain reasons. Or playing games that involve monetary exchange in the end, whether you win or lose. That sort of thing.
So, I think it really would just be a simple as, "Well, you want to orgasm, do you? Well, that will be twenty-five dollars, thank you very much." And then you can include, um, conditions on it. Or you can include timeframes: If you want it this week, it'll be a hundred dollars. If you wait 'til next week, you can do it for fifty dollars.
So then you figure out whether you [laughter] want it badly enough to pay the extra money now, or if you can wait 'til later, that sort of thing. That's the fun.
[33:08]
What would you be panic buying and absolutely couldn't live without during the Covid-19 hysteria. [laugh]
Food. [laughter]
I know you didn't mean the really basic basics.
Umm…
Coffee. I'm going to say coffee. I was going to go with the champagne, but that's not entirely true, but it would be coffee. Yeah, because I'm not good without coffee. I need something to jump start my brain in the mornings and that is it.
[33:45]
I am Delwin.
Hello, Delwin.
I am basically a slave. I am twenty-three-years old. I am 5'8″ and 1/2″ and 23 years old.
You already said that.
I want to be your submissive slave for a— for a long term. May I know if you would like to train me and make me your slave. It's a sincere request. I hope to hear from you soon. I am a newbie to fetish but can learn quick.
Thank you.
Well, Delwin, I'm going to say no thank you to that.
But also [laughter] you ask the question anonymously and I have no way to contact you if I was interested. Which, to be clear, I am not.
Um, most dominant women get these kinds of requests all the time and I… I just, I don't really know what they expect from it. But it doesn't work. It's never going to work.
Unless you happen to hit up a findomme. Who's going to go, "Sure, you know, that'll be, I dunno, a hundred bucks a week. Thank you very much." And to which Delwin will of course say, "What?! I'm not paying for it." And so it goes out in the world of femdom.
Good luck with finding someone, Delwin. But… I suggest you get my book, How to Find a Dominant Woman. Look at me spruiking my own books. I'm all over it.
Anyway, it is real book that I wrote and you should get it.
[35:18]
Dear Mistress Sharyn,
You don't have to call me mistress.
I am a submissive boy, experienced. And I am a student— Oh nooo! [laughter]
Oh my goodness, okay.
I'm not going to read this one out because I do not want to give this organisation any publicity.
Let me just say this: There are some unscrupulous websites out there that charge submissive men for "training" – in quotes. I'm putting that in quotes because it's rubbish.
I've had an approach from this particular academy before, and they're worse than most because not only do they charge submissives for this training, they invite dominant women to join. And the dominant women who join have to (a) follow their rules of how to train a submissive, which is rubbish. They're, it's– ["argh" noise of disgust from throat] horrible. But, also, these dominant women get to work for free. Yes, you heard me right: they do not get paid. They are the trainers, and whoever runs this website gets the money.
So, they're profiting off the free labour of dominant women who don't know any better in order to fool submissive men who don't know any better into paying for rubbish training that nobody is going to give you any credit for out in the real world. And that just about sums it up.
And no, I'm not interested. And no, I'm not going to read that out. And no, I'm not going to give you any publicity. And thank you very much.
Fuck off.
Moving along. [slight laugh]
[37:14]
Dearest Ferns,
My subby hubby and I have been exploring femdom for about two years now…
Aww. [singing] Congratulations to you!
…and I recently bought your book on making a great BDSM scene, which I found quite helpful. My issue is that I have difficulty with domme patter. I don't like vulgarity, but I feel like I'd like to say more wicked things during play. It's as though I don't have the vocabulary to draw from. Is there a list of terms anywhere? Scripts? Please help!
Love, from Texas,
Mistress Brooke
There aren't that I know of. Um, and I'm going to be honest with you, I don't talk a lot during play. I – It's not something that works for me. It takes me out of my… headspace. It lessens enjoyment for me, even if it might increase enjoyment for my submissive. Um, so I am not skilled in dirty talk. And if he wants that, it's just too bad. [laughter] Um, I am not aware of any scripts. I would have thought if you, um, did a Google search you would find some. I'm going to have a quick go at that and I'll be right back.
Okay, I am back. Did you miss me?
On, um, Reddit there's a couple of posts. So if you do a search there, you will find some. Um, some of them are archived ready; they're old posts, but that doesn't matter. Uh, the other place I found something was on… blogs.
So there is a "Talk dirty to me" post on some blog, if you do a search for that term it should turn up. One of the Reddit titles is How to talk dirty to my boyfriend who's into femdom. But I think, while what I looked up was "dirty talk for femdom play", and while a lot of the things that came up with just pure porn videos, in amongst there, there's quite a few, um, of the kinds of posts with information in them that you're looking for.
So I hope that helps.
[39:43]
Hi, Ferns.
[Windows chime]
Thank you for your enlightening and very informative answers. You are awesome.
[laughing] Thank you.
My question is about the way you showcase your sadistic part with your sub. When you are punishing or disciplining him in physical ways, will you use methods such as face slapping, or ball kicking, or similar methods? Or just keep the impact play with tools for scene time?
That's a very confusing question…
I'm asking because I always felt being slapped or kicked by my domme added a certain level of insult to her punishment compared to using normal BDSM tools.
Ahh, okay. I see what you mean, I think.
Currently, I'm negotiating terms with a new potential domme partner, and this subject is being discussed.
Kindly advise with your infinite wisdom.
[laugh]
This us both a joke and what I really believe about your podcasts. [laughter]
Signed, a confused— Confused Sub.
Uh, I don't do physical punishments, so the question isn't really relevant to me. If I want to play, I play. And the ways I play vary from impact play with tools, to with my hand. I, I love face slapping. I've never done ball kicking, because I'm too scared. Um, and it doesn't really press my buttons. So… I don't punish or discipline in physical way, so it doesn't really apply to me.
I think it's just a preference, honestly.
Uh, if… I would think that if you were going to punish someone, I guess you'd choose whatever worked best for… them. That made it feel more like a punishment than play. For me, the two are so closely – like, any physical punishment that I could give him – would be so closely linked, or alongside, any physical play things that I would do for hotness and fun, that I just can't see how it would work.
And if it was, if it was really unpleasant for him, like, I don't know — the whole physical punishment thing is a weird weird one. I don't believe in it because (a) if he's disappointed me, I'm not in the mood to give him that kind of attention, of any sort. I'm not in the mood to… focus on him and give him my undivided attention to enact some sort of physical punishment. He hasn't– he doesn't deserve that right now.
And [ed. (b) :P] I will not feel like doing that, because I'm pissed. Or I'm annoyed, or I'm hurt, or, you know, one of those bad things. And when I'm feeling pretty bad about stuff, or I'm disappointed… I just want him to take care of shit so that I don't have to deal with that again. I'm not interested in… playing out a whole scene, I guess, of physical punishment.
So that's why I don't do it.
But, yeah, if you're negotiating it with your dominant, then what… they think is the only thing that matters, right? I mean, and what you think, of course.
But, yeah. Good luck with that, I hope that negotiation's gone well.
[43:05]
Hello,
I have recently convinced my wife to look online for a dominant man to sext with. I have always wanted her to cuck me, but she said she isn't ready for the real thing. We found a very dominant man from Austrialia, and he has begun her training as a sub. She sends him photos and he controls our orgasms and daily sex routine. She loves sending him pics. I can't believe the things she will do for him already after only a month. Why do you think she has taken to him so quickly? She was so vanilla before, and now he has pushed her limits and made her into his little toy. What should I [laughing a bit] expect in the future? Thank you.
It's a kind— [failed attempt to suppress laughter] —kind of an odd question. For me, particularly. Because I don't know what it's got to do with femdom.
I mean, I guess… I dunno. [laughter]
Cuckolding in this context doesn't sound like femdom to me, it sounds like you have a kink, you kind of convinced your wife to do it, and now she's submissive to someone and you're enjoying your kink. So I don't know what I can tell you about this, or what to expect in the future.
I do wonder [laughing] if you've bitten off more than you can chew, though. [laughter] So, I… yeah, I don't really have any useful advice for you here, I'm sorry.
I hope it works out for all of you and is just super awesome, and hot and fabulous. Good luck.
[44:45]
Part one of two.
Alright.
Hi Ferns.
Greetings from Mobile, Alabama. Does it tickle you to know how far your reach is?
[laughter]
Umm… that is a good question. Not really. Not for America, no, because most of my readers and listeners are American. I know that from my stats. If you'd said you were… in Siberia [laughter] then that, I would have been pretty impressed by.
While my wife and I are relatively new to BDSM and femdom in experience, I would say that we have an 'FLR' – that's female-led relationship – -styled relationship, and she is a natural type-A personality who was assuming dominance in our lives together long before we had any kind of kink dynamic.
When we met, I was very open about the things I wanted and what kind of relationship I wanted. And while it took many years for us to start really exploring BDSM together, she lovingly accepted who I am and did not think twice.
That's so lovely, congratulations to you both.
Fast forward to now and we have been married for four years and have two beautiful daughters together. I couldn't be happier.
That's so nice.
Thank you for all of your work on your blog and podcast. I drive a lot for work, and you have filled hours of highway driving, helping me not only be a better sub, but a better husband to my wife as well.
From R.
That is such a lovely thing.
Well, R… if, at some point, you would like to send me a Happy Femdom Story, have a look on my blog for the call-out, and I would looo-ve to host your story on my blog and share it with people. So have a think about that.
Part two of two, now.
I suppose I have two questions for you:
1. As part of my service to my wife, she has asked me to find information on kink and BDSM and bring it to her. She enjoys when I read books to her in bed before we sleep. Your books led to some great nights, so THANK YOU for that.
Thank you in capitals! You are so welcome, R.
I dive in headfirst when I am interested in something, I feel that me doing all of the leg-work means she is not interested or enthusiastic in learning more. I feel like I am topping from the bottom by subconsciously only bringing her material that feeds into my own kinks. I really don't want a fetish-dispenser for a wife, and would like it if she would share new things with me as well. Should I turn off my dumb man-brain and do as she asks, or is something off here?
She is exercising her right, as your dominant, to bring you into service to bring her this information. So, the only thing I would suggest here is that you are obviously aware that you're only – it's not subconscious [slight laugh] – you're only bringing her material that feeds into your own kinks, it's not subconscious at all. You know very well you're doing it. So stop doing that! [laughter]
Think about what she would like, and if you think she's shown some interest in something that's not really your bag, then still bring her information on that let her decide what to do with it. You might discover that you have some new kinks that you've not known about before, and also you might discover that pleasing your wife by indulging in things that are perhaps not your favourite ever deepen your submission and make you happier, because it's a kind of sacrifice, right? For you to be doing things because she genuinely wants to do them, as opposed to her doing things for you.
So yeah, stop doing that.
I'm going to add another thing here: there's a lot of submissives who actually think that… providing information to their dominants is topping from the bottom, and it's not.
Topping from the bottom is fucking bullshit. [laughter] I've written about this on my blog before. It's fucking bullshit.
Look, if… if you are providing her with information, she can take that information and do what she likes with it. She can go, "Well. that's… I guess that's interesting, but I'm not doing that." Or she can go, "That's not interesting at all." Or she can go, "No more of that." Or, "Shut the fuck up." [laughter] Or she can go, "Ooh, that sounds great!"
Information… sharing, whether it's this kind where she's asked you to bring information or whether you find something that's interesting on your own and you bring it to her, is not topping from the bottom.
Information is power, and you are giving her power by providing her with information. So change your thinking about that.
The second question is:
[49:49]
Our children keep us busy and it's difficult for us to explore an elaborate scene. We have had to learn that scheduled sex can be fun too.
[laugh] Good for you.
Have you known any lifestyle couples that have managed to keep the magic going through the years? And could you share some wisdom with us? Also do you have any suggestions for things we could do to reinforce our dynamic and have fun without breaking the bounds of common sense and good taste in front of our kids?
Thank you,
R
I know plenty of people who have kids and who navigate this. And it's like, it– like, really, a lot of the stuff is no different from vanilla couples who want to get all… sexy with each other, or even just to grope each other in the kitchen or, you know, have a night of passion or a weekend of passion, or whatever. Sometimes, you've just got to get rid of the kids! [laugh]
Hand 'em off to somebody. Um, so that's the first thing.
And the second thing is that, um, play times with a kink focus actually gives you a lot more leeway to do things that the kids won't notice. For example, you could wear, I dunno, some bondage under your clothes. You could, if it's your thing, you could wear panties, or you could put on a rope harness, or you could do something else that sits under your clothes that your kids are never going to be aware of or see.
You could also, and this might be fun, come up with some codes that mean things. So things that you can say in everyday language, or little hand signals that the kids are not going to notice, that means certain things. So, like a secret signalling, which is just fun and awesome and hot. And you can do– use those things out public, as well.
So yeah, bit of imagination there. And enjoy, I'm glad you're happy, and I'm glad you're exploring this with your wife.
[51:49]
I'm sub male. In an artist— Oh. —and an artist. [laughter] And an artist and published writer. A poet. I have very hot exciting ideas for films, short pony play, caning, clip ideas. I'm wondering, can I interest you in [incredulous tone] doing some films with me?!
Oh, honey. [laughter] You have got the wrong person. Bless.
Also, I'm trying to start my blog with my life experience and great erotic-themed ideas. May I hitch a ride on your blog, great mistress? To get started. And also what [laughing] do you charge for a session?
Cheers,
Eric, your servant
[slight laugh] Uhh.
You know, it's very difficult to talk about… the harm that paid-for femdom creates with lifestyle dominants.
But this is a really good example of the assumptions that many, many, many, many, many, many, many, many [short laugh] men make about dominant women. And that is that they are porn producers, that they want to be in porn clips, that they charge for their services, and that they are selling those services. And holy shit, it's demoralizing. And it's very difficult to talk about that without shitting on sex workers.
I have absolutely no problem with, um, sex workers who work in any realm, at all. They work really hard for their money, and they deserve all of the income they make for doing all that really hard work, and content creation, and interaction, and marketing, and all that business. The difference between, um, the femdom realm and the vanilla realm, is that in the vanilla world porn exists – of course it does – but nobody, but nobody assumes that every woman interested in a heterosexual relationship is a sex worker.
Can you imagine? Can you imagine that? Of course you can't. You can't. But imagine that [laugh] for just one second: imagine if every man assumed that every heterosexual woman was a sex worker. It's outrageous, right? It's ridiculous. And the shame is, that in the F/m realm, that is exactly what happens with a lot of people: that the immediate assumption is that a dominant woman is a sex worker. And, man, that's tiring to deal with.
And I think one of the reasons, actually, that a lot of women go, "Well, fuck it. I may as well make some money out of it," [laughter] is because they get approaches over, and over, and over again about men wanting to buy their services.
And women who probably have never considered that just end up going, "Oh, for fucksake, I've had a hundred of these this week, so why the fuck not?" So yeah.
Eric, I'm not a sex worker. And, no, I'm not interested. Thank you very much for asking.
Hi Ferns.
You send me to sleep every night. [laughter]
Not because you have a boring voice, but because there is nothing better to drop off to than thoughts of femdom.
My question: Is it possible to "break" – in inverted commas – to "break" a slave, or is that just an invented concept?
I've seen much porn, [slight amusement in tone] far too much, where a slave has been given such a severe beating that he stops bucking and squirming and stays still as he is hit, sobbing uncontrollably.
Yes, I know that they are actors, but I am talking about the sort of beating that makes you forget your lines. [slight laugh]
I was thinking about asking Mistress to cane me until I cry out for mercy and then carry on regardless with five to ten strokes. I would grit my teeth and really set my mind to not asking for it to stop until I really cannot take anymore, but it will keep on coming.
Will this work, do you think?
Your humble golem.
Well, golem, I think, um, the term breaking is a porn-y term. And, in actual fact, I'm writing some, um, fiction at the moment about "breaking" – in inverted commas – about breaking a man. And it's interesting to me because what I'm going for is very much a very… harsh, full-on femdom scenario over sustained period. And it's porn, it's erotica. It's hot, sexy, extreme stuff.
In real life, (a) breaking is a concept that people like to talk about because it's hot and sexy and (b) what you've describe there is not really breaking someone.
So, let me put it this way: I have beaten someone to the point where they lose their shit. And when I say lose their shit, I don't mean literally. Like, they did not shit themselves. [laughter] [laughing] That would have been [recovering from laughter and switching to deep voice] very unsexy shame. [laughing again] That did not happen.
What I mean is that they lost the ability to speak, to react. They were drooling all over the place. They were no longer responding to me. And that requires a shit ton of trust and knowledge of your sub and the ability to be sure that you can bring them back from that and that they're going to be alright. And all those sorts of things to do with safety, and knowledge, and, and, um, consent and all that sort of stuff.
And I didn't consider it breaking him; it was taking him to the point where his body basically just was so full of chemicals [laughter] …all the endorphins and adrenaline, that he tapped out. Like, mentally tapped out. And for, for some people that's a, a state that they really want to get into. And it's… subspace is a form of that.
So I think there's subspace of varying kinds and certainly I think that is the extreme, where there is no mental capacity left, or even emotional capacity. And maybe they cry, or they they just go non-verbal, or whatever. And I don't think it's uncommon.
I think that… people who play with partners they know well, people who play hard, and some submissives are just very susceptible, and they will drop under like a stone very quickly. And none of that is to do with breaking someone.
So, to your question: I think if your mistress knows you very well and can manage it to the point where she knows she's not going to really harm you, then absolutely that's doable. Where she can push you as far as she thinks is safe and is recoverable for you without causing you any harm.
Will it work? It's hard, it's hard to say. Because for some people it just doesn't work. They never reach that space or they never reach that point. And they will suffer physical harm before they do reach that point. And if you're one of those, then it's not going to work. But in theory, sure. In theory it could work.
I wish you luck with it.
[59:51]
Hi Ferns!
Exclamation mark! Hello, there!
I would like to start by saying that I have been recommended your podcast less than a week ago, and I have [laugh] already binged your entire catalog of Reader Q&A's.
[laughter] Yay, you! [laugh] Thank you for binging.
I have to say that you genuinely have a beautiful personality that always makes me smile. Thank you for being you and for putting up with all of those [laughing] awful "submissive" wankers who I'm sure you must deal with constantly.
Well, that is so lovely to say: I have a beautiful personality and I make you smile. Thank you for that, I appreciate you telling me.
As an inexperienced young submissive myself, on top of all the fantastic advice you give on a regular basis, I was just delighted to discover your dominant ramblings…
Er… ramblings sounds [laughing] vaguely insulting. [more laughter] But, I guess it's fair!
…giving reassurance that there are real women out there who enjoy being in charge.
My question to you is is simply meant to satisfy my own curiosity: When did you first discover your desire to be dominant? Was there a specific moment where it just clicked for you? Or were you always the way you are for as long as you can remember?
Thanks!
speckle_dorf on Fetlife
Oh, I will have to friend you over there. Thank you, speckle_dorf.
I'm always wary of the, the claim that, "Ooh, I was dominant since the day I was born." All that sort of business. I always explain it like this: When I was sixteen or seventeen, I looked around at the way boys treated girls, my friends, and I thought this is fuckin' bullshit. And I decided I was not going to put up with it. [laughter] I was not going to put up with it.
They were jerks – like, teenage boys are jerks, right? And teenage girls – I hope it's different now – but in the in those days they just they just dealt with it. And I decided I wasn't going to.
So, at that age, I just started telling boys they were being fucking jerks and and they better do better. [laughter] And, to my surprise and shock – shock! – when I told a dude, "Nope, you're being a jerk and you've got to do better," instead of going, "Fuck you, you stupid cow," they inevitably went, [in apologetic tone] "Oh, I'm so sorry. I'm so sorry. I will do better."
And it was a shocker. [laugh] It was a shocker, and it was a turning point. Because they had never been spoken to by their peers like that, and my experience was… that when you tell, even boys at that age, "No, you're being a jerk, do better." Instead of going, [deep, dumb voice] "Nope, fuck youuu," they would go, "I'm so sorry. I'm so sorry. And I will try and do better. You're right, I should do better." And they did.
And there were some, of course, who did go, [dumb voice again] "Fuck youuuuu." And then I went, "Noo, fuck youuuu!" [laughter] And then I just never talked to them again, right?
So, I learnt from a very early age that men want to do better, and will do better if they're told to do better. So yeah, that's what I learnt. And I carried that forward into my relationships long before I discovered that BDSM or D/s was a thing. And it served me very well.
[1:03:43]
Hi Ferns,
I am super new to being the top in a relationship. I mean I've always kind of been top in every other aspect, just not in the bedroom. So glad I found your guidance as I've exhausted the internet.
[laughter] The internet's a big place, you've been very busy! [laugh]
So good to hear your honest advice.
So, my new date, whom I like so much, admitted – and was very shy whilst doing so – that he is a submissive and likes to please. I wasn't fazed by this as I'm very open minded, ready and willing to do anything with someone I like. So I researched, and of course came across all kinds, but he is quite shy to tell me what he wants. Essentially, I am happy to take the lead in bedroom and love the fact that he wants to please. However, I do not want to overstep the mark. I know he likes to be naked while I stay dressed and command him to please me. So I bought some outfits and a cane and thought we'd give it a go. I actually really enjoyed it, but was at a loss for role-play content as I found it hard to punish him, as I think he's too perfect.
Oh, that's so lovely.
Please give me some hints as to how I can please him further without overstepping a fragile line. So, as a side note, I'm not wanting a 24/7 D/s relationship; I also like vanilla too. So far we've tried a little punishment, light teasing, and withholding orgasm (not wholly though) dirty talk and a little humiliation.
Thank you in advance.
I… I'm going to recommend my book again. [laughter] I know. I know! It sounds like… like some carnival spruiker.
I wrote a book; it's called, How to Make Your First BDSM Scene Amazing.
And it's not just for a first BDSM scene, it's for anyone who's, who's asking questions about how to do this thing that we do, in play, and maybe wants a little bit of very practical no-nonsense advice. It is the book I wanted to have in my hand [slight laugh] when I was a baby domme. And, when you ask for advice anywhere where experienced people are, they're very reluctant to give you step-by-step guidance, because they don't want to tell you 'how it is', you know what I mean? And I understand that.
So… go get my book. It will help you. Let me say this, though – I'm not just going to say go get my book: One of the things that is useful to learn, as a new dominant, is that you don't have to punish someone. If you want to play with someone, it doesn't have to be framed as punishment. You don't have to role-play it. You can just go, "Hey! Your ass looks fucking amazing in those pants. [adding commanding tone] Get it over here. Get your pants off. I'm going to beat the shit out of you." [laughter]
And he will go, [exaggerated eager tone] "Yes, please!"
He doesn't have to be bad to get a beating. You want to do it? You freaking do it, and it'll be awesome. It'll be hot. And then you have some amazing sex, or teasing, or whatever the hell else you do.
You don't have to frame impact play, or percussion play, or any kind of rough play as punishment. It's just for fun.
So, for me, all that stuff is kind of like, "You are sooo fucking edible, I'm going to be the shit out of you." [laughter] And I don't have to pretend he's been naughty, because he hasn't. As you said, he's too perfect. So, you don't have to make up reasons for this.
If you want to do role play, then go the whole hog. And you say, "Right, you're the student, and I'm the teacher. And I'm going to give you some impossible things. And you try your hardest, and you're gonna fail and then I'm gonna beat the shit out of you." [laughter]
So, yeah. I suggest those things. [laugh] But do try, do try the book. I think it will help you, because, um, it's a bit wider than that. But that's my quick and easy advice.
Enjoy. I'm glad you're having fun with it.
[1:08:18]
[laughter]
You've got a very sexy voice, you know. Very, very, very sexy and soothing.
Thank you so much. I appreciate that.
Oh, and another sweet one:
Thank you so much! And then a love heart. Our light in the darkness.
That's so lovely, thank you.
And that, dear listeners, brings me to the end… of the Q&As I have in my inbox right now. And thank you so much for engaging with me.
If you want to ask me a question, I'm over at domme-chronicles.com, D-O-double-M-E-dash-chronicles.com and there's an Ask Me page, which is completely anonymous.
Thank you for sticking with me, and I will speak to you next time. Please take care.
Bye for now.
[1:09:18]
[Outro music]