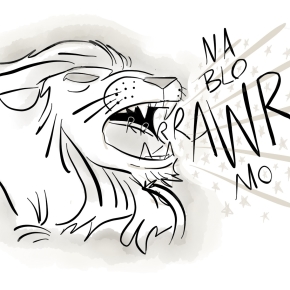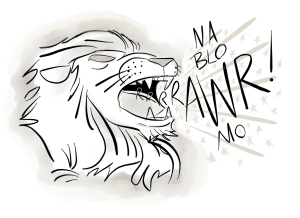 [SubmissiveGuyComics is also doing a post for our NaBloWriMo project, though he's hiding some of them on Twitter so if you aren't following him, you should… ]
So the question for you all is – how do you communicate best? Within the dynamic or by stepping outside of it?
I see some form of this question come up from time to time and I suspect I normally give some answer without giving it a lot of real thought. This time I'm not really even answering the question at all. Ha!
I know that I've done poorly at times with creating a safe space for difficult communication. This came home to be very clearly recently when my first submissive got back in touch with me and revealed some things that I wasn't even aware of. In short: Instead of coming to me with something really serious at the time, he quietly kept it to himself and was horribly, irrevocably hurt by it. So obviously I had failed at making him feel safe enough to talk to me about something difficult.
So I've had to take a good hard look at myself, and while I think (hope!) I've gotten better at a lot of things since then, I am very aware of the fact that I choose very sensitive men whose primary focus in our relationship is to please me, and I love that about them. But that makes them very reluctant to do or say things that they know will not please me. This is not something I cultivate on purpose, but it's a pattern I've seen even in my vanilla relationships, and the nature of D/s exaggerates that tendency.
I've (erroneously at times, I think) thought that my partner would bring things up as they need to, but I think I probably need to work a bit harder on facilitating those communications so that he feels safe. Given my experience so far, I think I would achieve that best by making it part of our dynamic (that is, to do it as part of 'the rules'). If it was just part of how we related in our lives, it wouldn't be a problem: It would just happen naturally and I wouldn't have to 'do' anything to make it happen. But because I'm a bit of a steamroller, I don't think that actually happens, so I need to give it a nudge.
For me, when I'm in a relationship 'how we relate' is pretty fundamentally D/s, and that colours everything in the relationship, and I think it can create a barrier to communicating the hard stuff. By 'fundamentally D/s', I don't mean we're acting all D/s-ey all the time, what I mean is that I choose men with whom the power dynamic exists because that's how we are together. It would exist even if we pretended we were vanilla, and in that, it reflects pretty much every vanilla relationship I've ever had. I'm a powerful energy and I choose men who enjoy that, but there are consequences that brings that can be unhealthy and I'm pretty sure I haven't been as aware of that in the past as I should have been.
No matter what, I'm still learning.