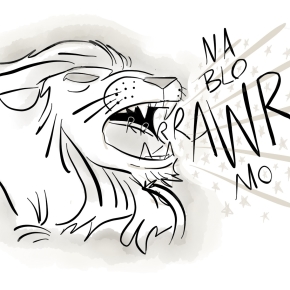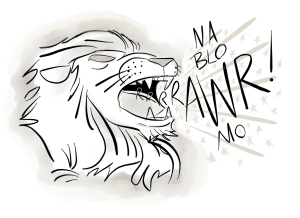 [SubmissiveGuyComics is also doing a post for our NaBloWriMo project, though he's hiding some of them on Twitter so if you aren't following him, you should… ]
I sometimes jokingly say 'once upon a time when I was a lesbian…'. It sounds frivolous, and it is a lighthearted reference, but it refers to a really important part of my life, and one I struggled with, though perhaps not for the obvious reasons.
My first love was a girl. I've mentioned her before a couple of times. Holy god she was something.
And when I say love, I mean 'true love' of the whole-hearted kind that you never really have again after your heart is broken. That first love that is all encompassing, revelatory, overwhelming, passionate, and soul wrenching.
She was the beginning of everything for me.
I had dated boys before then, but I'd never felt about them the way that they felt about me. And the sexual interactions were awkward and strange and clinical. I felt like an alien in my own body with them. I was the gatekeeper in sexual activity that was enacted ON me, and it was never about my pleasure anyway.
She was a little older than me and I assumed that she had experience with girls. She didn't. We were each other's firsts. We found each other and explored together. Obsessive passion, lots of sneaking out and in windows to spend nights together, hours of exploring each others bodies, so much kissing, and underneath, a kinship that has survived even until today.
I loved her with the kind of intensity that seems to be the realm of the young, those virgin hearts have a freedom that gets reined in a little more each time they get broken.
I didn't struggle at all with the idea of being a lesbian: I loved her, that was it.
We developed a close group of lesbian friends with whom we would go out as a couple and get drunk over endless dinners, after which we'd go out to gay clubs and dance until our feet couldn't take any more. She and I would stumble home together, dissecting the evening, kissing and having sex until we passed out happy and exhausted.
And then we broke up.
And I wish it was as easy as that sentence makes it sound. It wasn't, of course it wasn't. It was horrible and messy and unbearably painful.
In the aftermath, we still had the same group of friends. The lesbian community was small, everyone had slept with everyone, knew everyone's business, like any subculture in any city in the world. You either remained friendly or you became isolated. We were not angry with each other, we were just both hurt and raw, me more than her. She moved on more quickly, I had to deal with it. I did. Often not well and not easily, but I did.
So we would still do what we always did. Hang out, have long dinners, get drunk, go out dancing. I dated some other women, and there was nothing there. Nothing. So I figured it wasn't a match. So I tried again. And again. And again. With wonderful, smart, hot women, and I felt… nothing: emotionally, sexually, I was empty. I was just going through the motions.
And finally, I had to face a terrifying truth: I wasn't a lesbian.
Terrifying because these were my friends, these were my people, this was my life, this was 'who I was'. Only I wasn't.
And I struggled because I WANTED to be a lesbian. I know that sounds strange, who would want to be marginalised and face everything that entailed? But for many years, I had been at home with this identity, I'd felt love, I had friends, I was part of the community, and I didn't want to NOT be 'one of us' any more.
It was like 'coming out' in reverse.
I started dating men, and they weren't welcome into my group of friends. They wanted a space for lesbian women, so while they would still welcome me, if I had a male partner, he wasn't welcome. They tolerated him if we were going to a neutral venue. He could come to a concert, and they were never hostile to him, he was just… irrelevant. But he wasn't welcome to our dinners out, to private parties, to any of the gatherings that were my social life.
I didn't rail against it, I didn't argue. I understood. It was fair enough. But I slowly became 'other'. I no longer really fitted, even when it was just me. I knew it, they knew it. And when I drifted away, I think they were relieved to see me go.
I was no longer 'one of us', I was 'one of them'.