Continued from Part 1…
Both this and my last post were prompted by this musing on twitter. My twitter comments were in turn prompted by seeing yet ANOTHER young woman asking for help to fix what was wrong with her that she couldn't come from intercourse.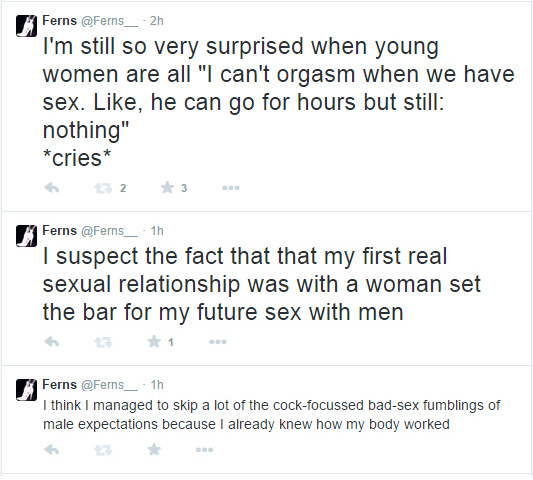 It hurts my heart that young women think there is something wrong with them because they can't come from penis in vagina (PIV) sex. And obviously the men they are with also think that most (or all) women come that way. While stats vary, in 2005 Dr. Elisabeth A. Lloyd analysed 33 studies conducted over the last 80 years: only 25% of women had orgasms often or very often during intercourse without clitoral stimulation. Another 25% sometimes did (Psychology Today). A whopping 75% come more reliably with clitoral stimulation. Well, fancy that.
I'm one of the 75%, and I think that I cut out a lot of unsatisfactory, cock-focussed, bad-early-experience sex because my first real sexual relationship was with a woman.
I know I *just described* my first sexual relationship and first orgasm, and it was with a man, and I recognise that I got lucky with him, but it didn't *feel* like a sexual relationship. It felt like a relationship in which we did some sex stuff. I know it's a weird distinction to make, but it's meaningful for me: I never felt like I was experiencing my own sexuality in it.
My sexual experiences in my relationship with my girlfriend were the standard by which all of my future sexual relationships were compared for a long time. NOT because we were awesome in bed: we were, but that's not the point. It's because the sex was how I believed sex *should* be: an impossibly hot mutual experience full of lust and crazy desire. About exploration and intimacy and touch and all the things that make sex so damn good.
I kept a journal even then, but I was paranoid, so never talked about our sex in any detail. I would obfuscate it and the entries about sex would read 'We mucked about for about 3 hours' / '…and then we mucked about for 5 hours' *laugh*. Times yes (long, drawn out), details no, which is a shame.
The sex we had was rich and leisurely, pleasure-focussed rather than goal orientated. Incredibly sensual and varied with sensation ebbing and flowing over hours. We didn't have any toys and never missed them. Penetration with fingers was a side dish. She came a lot more easily than I did, to my absolute delight. She could come while rubbing against my thigh, frantic and sweaty in her small bed, always trying to be quiet. And sometimes we would tease each other just for the incredible hotness of it and not come, going out with this intense tension palpable between us. Knowing looks, electric touches. This was capital S Sex that I would crave, sneaking out of my bedroom window at night to grab even a few minutes of her, climbing back into my house before it got light and my absence was discovered.
I got lucky.
I took a detour past those young hetero fumblings that seem all too often to be all about what was happening to, and with, his cock. I didn't have to deal with odd expectations about how my body worked, or pressure to try and conform to some heterosexual standard of 'what sex was' (hint: mostly PIV sex).
By the time I decided I was again interested in men three things had happened that changed my sexual experiences for the better:
1. I knew what good sex was, what it looked like, what it felt like, and I wasn't going to settle for less
2. I was more mature, confident enough to tell a man what I wanted
3. Men my age were no longer inexperienced teenagers, they were in their mid twenties, more eager to listen and pay attention to what I wanted.
So in a lot of ways, those years of being a lesbian saved me from having a lot of those godawful heterosexual experiences that many young women have where somehow sex is all about his penis in her vagina, where coming with some dude pounding at you was a natural expectation, or where sex was defined as the time between him getting hard, and him getting off.
Truly, I got lucky.