SGC of the wonderful Submissive Guy Comics tumblr recently posted this really sad comic.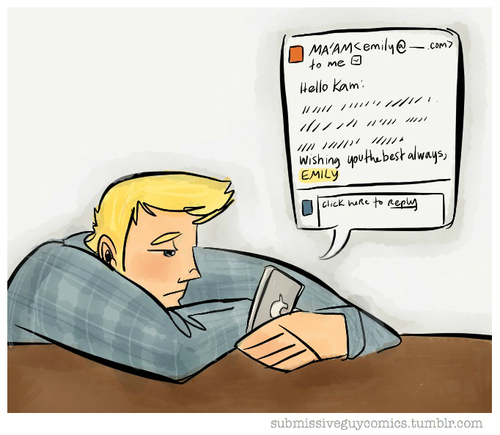 When I saw it, it brought back a rush of memories. My memories are usually packed away and mostly inaccessible without concerted effort, but they are sitting close to the surface for me at the moment because of my anniversary post. When I was thinking about what to write, I looked back on old posts and personal writings to find something that seemed a fitting topic, so quite a few things that are normally hidden away are floating right there in my peripheral vision.
When I am in a relationship, I have my submissive call me 'Ma'am'. It seems a little odd at first, but it soon becomes a habit, a sweetness, a petting. In day to day life, really, we don't use people's names so much, so it's not something that causes a problem in public, and it's something that signals so much between us. His saying 'Hello Ma'am' and 'Yes, Ma'am' becomes 'normal' for us, and each time I hear it, I *feel* it. It hums between us like something tangible.
When snowflake and I broke up, it was not simple, as these things often aren't. We were talking, trying to sort things out. Without going into all the detail of what happened, one thing sticks out clearly for me: The moment that he logged into IM in the morning as he always did and then this appeared on my screen:
"Hello MyFirstName"
The impact of it was immediate and terrible: A huge thump right into my solar plexus, a terrible sinking horribleness, a dread… all of those things.
The power of it was shocking. It signalled the end more clearly than anything we had said to each other up to that point.
By contrast, my boy continued to address me as 'Ma'am' even after we broke up, and even when he wrote me the email confirming that it was truly over he started it with "Hello Ma'am". I knew, really, that I should tell him to stop doing it, and he would have, but I couldn't bring myself to ask that of him, and I gleaned some small comfort from the fact that he continued to address me that way.
Words have power, and it still sometimes surprises me just how much.