I get offers to do sex toy reviews from time to time and I'm usually not really interested. I have no desire to turn this into a review blog. There are many MANY fabulous sex toy reviewers who fill that role extremely well.
BUT I have recently said 'yes' to two offers to review toys that I was really interested in because the companies that offered them actually treated me like a real person *gasp* instead of just spamming me with untargetted emails in a mass mailout in the hopes of a hit. So in summary, I am being a cheap blog whore and getting some free toys in exchange for a review.
I've never done a sex toy review before. Do not expect some kind of objective professionalism. Oh no!
Expect "I got a new sex toy, whhhheeeeee!! Imma tell you all about it!" Plus pictures… people like pictures!
Fun Factory Stronic Zwei

The Stronic Zwei is a brand new toy from the German manufacturer, Fun Factory. The Stronic Eins was a vaginal toy, the Zwei is an anal toy designed specifically for prostate stimulation. The difference between the Stronic range and most vibrators is that it does a thrusting, pulsating motion instead of vibration. Think 'fucking machine' versus 'vibe'.
If you aren't interested in all the blah blah blah about the toy, I did a TL;DR summary at the end. I am so good to you!
Facts and stuff
comes in black or blue (because, you know, for boys. The Eins comes in dark violet and pink… yeah, I know…)
waterproof
10 rhythm settings that include constant pulses as well as dynamic combinations. You cycle through them by pressing + or – buttons on the handle
100% medical grade silicon insertable section, plastic handle
length: the entire toy is 9″ long (22.5cm) with the insertable length being about 4.5″ (11cm)
girth: the width (diameter) of the head is about 1.75″, the widest part is about 1.9″.
see photo at right for dimension detail: note that the horizontal measurements are diameter
very quiet
retails for about $200
I was confused by what was included in my package because when I looked at retail stores online, what I got did not seem to be the same as what a buyer would get, so I queried it with Fun Factory. This is what I received:

The gold, unpadded case that it came in (and with which I was unimpressed because it's thin and cheap-looking) is sold separately (Fun Factory Toy Bag: about $8) and is not included. For the price, I'd have expected a beautiful presentation box that could be used for storage, but my understanding is that it normally comes in a (rather flimsy) cardboard box. The 1Gb USB stick (with promotional material) is also not included.
However, the most important thing to know is that this toy does not come with the charger. The justification for this is that all of their rechargeable toys use the same charger, so you buy it once and re-use it for any other toys you buy. I'm sorry, but for $200 odd dollars, the charger should be included. It's not expensive, at about $7, but that's not the point. I had a look around, and *some* sites are including the charger, presumably to give their customers a better experience, but that's not the default as Fun Factory considers the charger an optional extra, so best to pay attention.
The charging instructions weren't *quite* clear, but the maximum charge time is 16 hours (I assume it doesn't actually take that long to charge each time) and they advertise that it will work for 3 hours once fully charged.
I read the instructions (wha?!! oh yes I did!), and I love love loved this Ikea-type diagram showing that the Zwei (top row) can go in the butt (yay!), but the Eins (bottom row) NO BUTTS!! Too funny.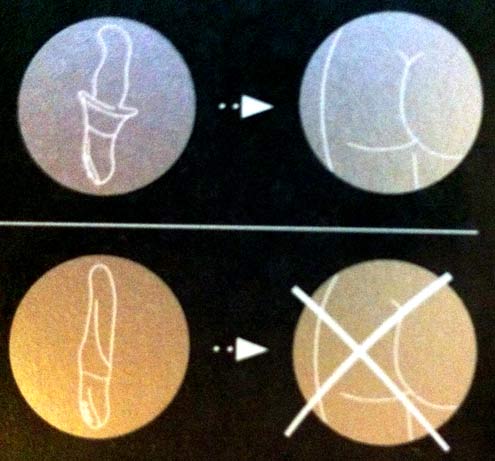 This is obviously because the Eins has no flared base and *things can get lost up there!!*)
Preamble
The insertable part is the typically soft texture of silicon, though it's the 'sticky' kind that drags some on the skin. The head was quite soft and pliable, while the shaft has a firm core under the silicon. It attracts lint and dust like a mofo. The handle is a hard plastic.
I turned it on and 'woah!'. This thing does a little thrusty dance in my hand. I cycled through the ten settings and there are various rhythms and movements. I honestly don't know how you would choose a favourite, but I imagine if you used the toy enough, you might be doing a thing where you have a favourite routine: 1, 1, 2, 1, 2, 3, 3, 4, 5… and etc.
The settings are creatively named ('gallop', 'rollerball'…) and grouped into 'algorithmic', 'constant' and 'dynamic'. All are shown in the diagram below.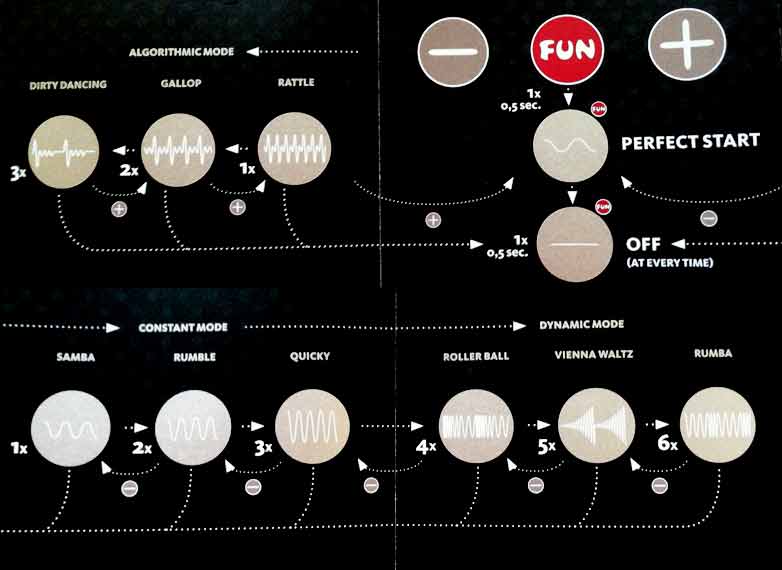 The main (patent pending) feature of this toy is that rather than vibrating, it pulses. It has a core similar to some ben wa balls with a moveable piece inside it (I can feel and hear it moving around when I shake it), and the motion is designed to thrust, rather than vibrate. You can see videos of it in action on YouTube.
I have no lovely boy's arse to shove this thing into right now and if you think I am shoving it in my own arse FOR SCIENCE, you are sadly mistaken. All testing was vaginal (the Ikea-type instructions say that's okay… phew!) with the aim to see if I could get some great g-spot stimulation out of it.
First a personal note on my preferences, which influence this review: I like g-spot stimulation though it's an 'added extra' and not the main game for me, so my normal masturbation is almost entirely and solely clitoral stimulation. I am not someone who generally puts things into my vagina to get off, and certainly not big things. The average (real live!) cock's circumference is apparently just under 4 inches (1.3″ diameter), so frankly, the widest part of this toy at 6 inches around (nearly 2″ wide) was intimidating for me (my first impression was "it's big!"). When I *do* use a toy for g-spot stimulation, I tend towards a smallish dildo designed for it (see the size comparison below between my Lelo Ella and the Stronic Zwei to show you what I mean).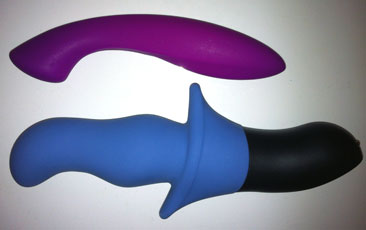 One of the reasons I was excited about this toy is because when I *do* use something for g-spot stimulation, I can get a hand cramp from thrusting it at the right angle, so I was excited to see how this toy would work (yes, I'm lazy even when I masturbate!!).
I tried the Zwei three times. Once to get a feel for it, once to play with it a little more and compare it to my 'normal' g-spot toy (the Lelo Ella), and a third time to confirm what I could get out of it.
Use
It's big. THAT was my first impression. I mean the toy itself is kind of bulky, but the business end is really quite wide for me, and also for anyone just starting arse play. I expect arse toys to be smaller than vaginal toys, so it didn't really even occur to me before I laid eyes on it that it would be too big for me. Of course, I am not thinking about experienced butt seks folks when I say that it's 'big', and certainly not thinking of size queens who will quite rightly think 'big' is a stupid thing to say. But to me, the 6″ girth (1.9″ wide) was intimidating, and rightly so… continue on, dear readers.
Using it was… disappointing. It was just too *fat* to get it fully inserted. Since I couldn't get it all the way in, it didn't hit my g-spot, so I didn't get to see how that all worked *play disappointment trombone here*.
I concluded that the shape and size was just not suited for me (and I know it's primary use is anal, but the principles of g-spot and prostate stimulation are similar enough to make the leap). The intent is to get the toy fully inserted and for the flanged part to press against the perineum for extra stimulation while it's doing its thing. However the girth and lack of 'give' at the widest part made it too painful to get it all the way in. It's worth noting also that the narrower section of the shaft that is right up against the flange is also pretty hefty at 5.25″ around (1.7″ wide), so for me it would probably be uncomfortable even if I had managed to get past the widest part.
Despite not being able to force it to fit, I turned it on to see how the different pulses would feel. I am really disappointed that I couldn't use it properly because I do imagine that the motion of it would be really good if it hit the right spot. The pulsing movement at the slower, or combination settings was strong enough to have made an impact.
While playing with it, I discovered that the motion becomes quite muted if you hold the toy with any pressure, so when I was gripping it tightly to try and get it into position, the movement was dampened. The pulsing relies on a loose grip because it has a mechanism inside that rocks it, and if you hold it very tightly, you essentially prevent that mechanism from moving the Zwei as intended, so it requires a light grip to get the full sensation.
Maybe I just have a really tiny vaginal entrance (who does comparison studies on this?!). It's never been a problem with sexual partners, but it's worth noting that I do NOT buy big toys and I've never been with a man whose girth was 'woah!', so I have never really 'tested' or 'stretched' myself to try and take bigger things because it doesn't really interest me. However for an anal toy that is not advertised for size, I think some folks may have a problem with the girth. To satisfy my own curiosity, I compared this toy to a bunch of other insertables that I have, and it is the biggest in my collection (sized below from left to right, smallest to biggest).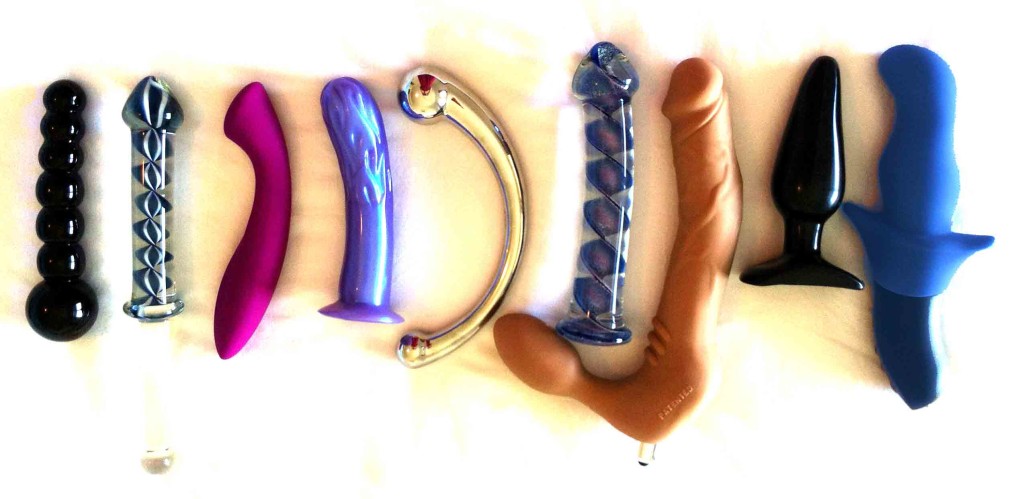 I suggest that anyone who isn't sure about the size try a cheaper toy of a similar size before investing in something that you might not be able to use.
I think *if* I could get it comfortably past the widest part and *if* it would then sit flush up against my vulva, it *might* hit the g-spot and then the pulsing motions would be great. That's two 'ifs' and a 'might'.
So disappointed. If I have the chance to try it out on lovely boy *cough bambicough*, I will post a second review. Don't hold your breath though, I don't expect it will fit in his arse any better than it fit in my vagina…
TL;DR: Apparently I have a really tiny vaginal entrance and therefore I couldn't properly test this toy.
Disclosure: I was sent the Stronic Zwei for free by Fun Factory for this review