So a few things, random updates of sorts.
My Gentleman found my blog after our last date (hello there, MG :)). He could have found it earlier, he said, but he was waiting for me to tell him. Of course, we all know what happened before we got to that. He wasn't upset about any of the content, and he was flattered to be written about, which is a relief to be honest. It means I navigated the line just about right.
He sent me a 'war and peace' length email after reading about himself to share his thoughts on what happened, to comment on what I'd written. He also offered to write a piece for my blog about how it played out for him.
I had a think about that and in the end I did a twitter poll, and it seems 91% of folks would be interested in reading that, nosy buggars :P.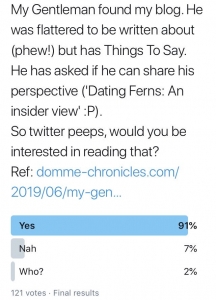 So I've asked him to write me something and hopefully it will be done in the next few days. Yikes!
I will not be influencing what he writes or editing his thoughts. The only exception is if I want to protect him from negativity. He doesn't have any experience with writing in public spaces, and we all know how easy it is to say things that get people's backs up: I'll be smoothing out any of those rough patches if I see them.
---
The vanilla man I met out in the world and asked out last year (short story: he said yes, then bailed because he had some family things going on) popped up this weekend.
I'd touched base with him again at the beginning of the year and found out he was overseas. He seemed keen enough, but never followed up, so I didn't expect him to ever take any initiative, but there he was.
He texted me on Sunday afternoon, declared he was in town, and asked if I'd like to meet him and his mate at the local pub right now. No dude, no I would not like that. He then said he was here overnight and if I was free for breakfast he'd love to see me then. I was not free then either.
I'm really not a last minute 'come and hang with me and a mate' type of woman. Nope. That's not a thing for me. Either make time for me and treat me as the main event, or don't.
I left him with instructions to do better.
He replied with a remark about how it would pay to give me notice next time. I sent a simple 'Yes :)'. The end.
There will be no 'next time': I do not expect to hear from him again.
---
I'm going to be reviewing the Hot Octopuss Pulse III Duo soon, and did this little video which ended up being really fun. Watch what the pulse does to my thumb ring :). Cute.
I need a stunt cock for this review.
The Cougarling might be in town this weekend to go to an event with a local Domme he's been seeing (he lives a flight away). As far as I understand, they have a non-exclusive casual play partner type relationship, so I'm considering seeing if he's willing and able to provide said cock for my use to test this toy.
If not, I can always just put up a 'stunt cock wanted' ad up somewhere, amirite? What could possibly go wrong?
Volunteers line up to the left.
---
My champagne boy who drifted off for a while has drifted back. His story is not mine to tell, suffice it to say that I'm delighted both for the pleasure of his company in my chat, and for his generous gifts of champagne, the latest of which arrived today (see the header photo): happies!
When you find someone for whom giving a gift is as pleasurable as it is for you to receive it, that's the very definition of complementary. And really, a good champagne boy is worth his weight in champagne :).
---
You can expect MG's missive to be published in the next few days, so stay tuned. I look forward to reading it as much as anyone else :).
In the meantime, I'm trying to cycle up the energy (and the will) to tackle online dating sites again. One of you should just find me here, that would be easier. Hurry up though, I'm impatient.