The not-dates
The vanilla dude I asked out last year and who I nudged recently was also overseas, said he'd be in touch when he got himself organised (whatever that means).
The hot older man said he would respond 'on Tuesday' when he's back from an overseas trip. I thought he meant the upcoming Tuesday, but either he meant THIS Tuesday (tomorrow) or he's drifted off.
I didn't reply to the last from the chisel-jawed climber. It was boring and felt like work.
(having written the above I'm now wondering if 'I'm overseas' is the new 'no thanks'. Discuss.)
Date #1
I've dubbed him 'incompatible-awesome' (terrible nickname, but come on, I am not going to do the work to come up with a great name for someone I haven't even met!).
He's the man I messaged who is genuinely and entirely incompatible with me, but he had a great face that prompted me to look at his profile, and what I read there was smart and funny and it gave me that delicious feeling where my synapses fired up because 'YES!'
I sent him a note full of compliments and acknowledging that we were not a match. His delighted response was fresh and engaging. We've low level continued a conversation since then.
I had no intention of meeting him (because incompatible), but I *like* him and that happens rarely, and the feeling has not abated.
So this week we are meeting at a cafe for brunch. I don't expect it will be 'a thing', not just because 'incompatible', but also because he lives an hour away and he doesn't drive so the logistics are a nightmare. Did I mention he's tall? 6'4 or so. Yeah. THAT'S NOT WHY I'M MEETING HIM SHADDAP!
I'm very curious to see how we get on because there's something about that boy I really like, and genuine curiosity is always a good thing.
---
Date #2
Well hello there…. (I found this in the Q&A of a man I matched with on the vanilla dating site…)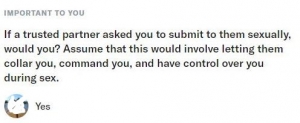 And there's more. Well well well…

Him: *pleasantries*
Me: Nah not doing that, tell me about the F/m stuff…
He's a few years younger than me. Fit, tall (my favourites).
I shifted our conversation from 'awkward dating site dullosity' into 'WHY ARE YOU INTO SUBMISSION EXPLAIN YOURSELF' *laugh*.
It was not the level of introductory conversation he's used to, though it's familiar to me as the kind of poking around I do often on kink sites with self-identified submissives. He was open and forthcoming.
He's a novice, very up-front about it. He had non-standard but still quite selfish thoughts on 'why the interest in submission': It boiled down to 'I'm interested in seeing what I'm capable of and how deep I can go' without any mention of 'making my partner happy' or anything of that ilk.
I think for a newbie, exploration of your own emotional and physical depths (this vs 'do that kink to me') is a better starting point than most.
I'm not sure if a desire to please is next-level (that is, a point you might get to as part of those explorations), or if it's a completely different submission 'track'.
There is a kind of submissive who works best for me, and that's the one for whom 'making me happy' gives him a delightful warm glow, where that's an expression of love. And I surprise myself by realising that I think it's innate, that men who enjoy this know this about themselves already from vanilla relationships, even if they're D/s newbies. But on reflection, that's probably a knee-jerk reaction to the 'do my kink to me' crowd as opposed to any kind of truth. There is no 'this or that', it's a ridiculous way to think.
I asked more questions, of course. Led him a little bit into the idea of submission being about 'making my partner happy'.
He mentioned his primary 'giving' love language is 'Acts of Service' and his way of showing affection is through service. Tricky, these conversations: I fed him that idea, so arguably he might just have been being agreeable. I'm 100% okay with that, I am just aware that when you plant ideas, it can be hard to discern 'what someone thinks' from 'them saying what they think you want to hear'.
Me: "Why don't you watch porn any more? (best intro-email question I've ever asked :P)."
This was also in his Q&A, and I was genuinely curious. His answer was about how he thought it skewed ideas, that he found himself going down a kink-rabbit hole, he didn't think it was healthy or good. +1 for self-awareness.
And bonus points to him, he stepped up to ask me insightful questions about my interest in F/m also (often they don't). I ignored his question about my sexual dominance though: It was a valid one, but for me, it's a distraction at this stage.
He offered up the phrase "boss lady" and said "if i get some words back I'm doing the right thing, I'm content".
I can definitely do something with that :).
My best flirt (when he suggested 'toys are to keep him in his place'): "No, 'the tone' keeps him in his place. The toys are just for fun and to tear him to pieces."
On a vanilla level, we seem to be more-or-less in the same ball park, but I didn't ask much about that.
I invited him to meet within hours of this exploratory conversation last night (which I more or less live-tweeted, because 'social media maven'). This is totally unlike me, but I am suddenly, and for no apparent reason, impatient with this kind of back-and-forth emailing. Probably in part because the messaging system on the site is an utterly awful beast of a thing.
He has not replied to confirm yet, so we will see.
---
In doing a self-check on my social energy and the prospect of having two dates in a week, I'm feeling remarkably okay with it. I have no idea what's going on, but I'll be working to hang onto this 'okayness' for the rest of the week and hoping my introversion isn't going to suddenly arc up and give me a bunch of hell for it.