I'm talking clitoral orgasm. And not just my first, but my second and then my third… :).
Let me tell you all about it, because hands-free clitoral orgasm!
We-Vibe created the Pleasure Mate Collection some years ago. You know why I wanted to try this collection?
Because sex toy guru Epiphora wrote a rave review about it. I'm not sure when I read it exactly, but when an experienced sex toy user and reviewer raves about a hands-free clitoral orgasm using a particular toy, you better bet I'm paying attention.
So when TabuToys approached me asking if I'd like to review one of their toys, I saw that they had it, and was all 'yes please!'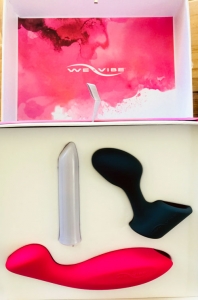 WHAT'S INCLUDED
The We-Vibe Pleasure Mate Collection includes three pieces:
Tango: Bullet vibe
Glow: Dildo
Dusk: Butt plug
I also received some We-Vibe water-based lube to try.
Of course they are medical grade silicone and toxic-free. The pack comes with a USB charging cable with magnetic connector and a silk storage sleeve. These are quality toys.
The Tango is at the high-end of bullet vibes and many people are in lurrrvee with it. I'm not a huge vibe fan, nor a connoisseur, but even I could feel the distinct difference between the rumbly-deep vibrations of the Tango vs the buzzy-light vibrations of the toy I have by my bedside. So that's the first useful thing to know.
It has 8 different speed/rhythm settings that are activated by cycling through them using a button on the bottom of the vibe. A nice feature is that it remembers your last setting, so if you end up with a favourite, you don't have to keep pressing the button to find it. It charges in about 90 minutes, is waterproof, and a full charge will last about 2 hours (I did not test the latter).
The Glow is small and stubby. And by 'small', I mean it's about 6 inches long (not 'insertable length', but total length).
For me it was too short. Not because I'm all wanting to shove it further up my vagina but because if I'm aiming for my g-spot (which I am), what is left to grip on to is not enough to manipulate it. Plus when it's in use, it's got lube all over it, so it's a bit 'slippery little sucker'. This inability to really grab it also makes it a bit tricky to get a decent grip to hold it so you can press the button on the vibe (I pretty much had to use two hands).
As a comparison, the Picobong Moka (on the left) is the g-spot toy by my bedside ('by my bedside' means I use it. This vs 'in the suitcase under my bed' :)). The Moka ends up having plenty of length to grip and manoeuvre after it's inserted compared to the Glow where I'm all kind of 'slippery grabby-hands' at the stubby end.
The Dusk is also small, almost delicate. I'd say it's a great beginner's toy for exploring arse play. BUT I DID NOT USE IT FOR THAT.
PRE-ORGASMS
Before we get to the orgasms, the bad stuff. Partly, and arguably, user error but mostly 'WTF?!'
The first time I tried doing anything with this set, the vibrator got stuck in the dildo and I COULD NOT GET IT OUT. I asked my twitter peeps (who had suggestions that I couldn't use) and I finally emailed We-Vibe (who never replied, so a big fat 'F' for customer service there), so it was firmly stuck and I was stuck on what to do about it.
Upon first getting this set, I of course put the vibe into the dildo because shoving things into other things is fun and a human right. I felt the suction of the vacuum seal when even inserting it half way and pulling it out, and should have thought more about that. But I didn't.
As a result, after it was fully inserted, the fucker would not come out. It was vacuum-sealed all the way up in there, and the vibe only sticks out half an inch so it's hard to get a grip on it.
The dildo has a little cut-out channel that is CLEARLY meant to prevent this vacuum seal from happening. But it doesn't.
So then that dildo-vibe chimera sat taunting me for a good month with me trying to separate them every now and then, and then leaving it for another age because I was annoyed.
I finally got it out with pliers and a lot of brute force and wriggling.
So, pro-tip: LUBE THAT SUCKER UP BEFORE YOU SHOVE IT INTO THE DILDO.
I checked the instructions (after the fact, I mean, come on!) and it does not say to do this, and I suspect if you have experience with these kinds of 'insert this thing into that other thing' toys, you just know this already. But clearly I am a neophyte.
Okay, moving on…
GET TO THE HANDS-FREE ORGASMS ALREADY!
I'm a clitoral orgasm woman. I think if I worked at it, I could get some proper g-spot orgasms happening, but for me, the clit is where it's at. I mentioned I'm not a fan of vibes. I'm not. When I was very young, I discovered masturbation under the running water of the bath tap and boy oh boy did I ever have a hard time weaning myself off that very specific kind of stimulation. So now I'm a bit scared of getting 'hooked' on sensation that I can't replicate without something external because I know I can, and will.
BUT, hands-free orgasm? I'm in!
How? With the arse toy.
I pushed the Tango into the base of the Dusk to the end, and inserted it into my vagina with the Tango angled towards my stomach. The Dusk held the vibe snugly along my vulva and was long enough to reach my clit. This image shows what I mean.
I'm not an easy-orgasm-haver. I can actually orgasm quickly with exactly the right clitoral stimulation and mindset, but I'm not one of those people where applying physical stimulation = orgasm, where the stimulation just has to be right and I will hurtle towards it without having to think about it. That's not how it works for me. Getting to orgasm is an active endeavour, and any NEW physical stimulation requires a lot of effort in 'reaching for it', if you know what I mean.
So, I had to be warmed up already, not too close to orgasm (because it seems like cheating to call the last few seconds of the downhill run to orgasm 'hands-free'), but turned on well past 'vague arousal' and into 'yes definitely getting there'. Then I took my fingers away and went hands-free.
Epiphora talked about clutching at the toy with her kegels, that didn't work for me, but kind of thrusting against it gave me enough of the variety and type of stimulation against my clit to get me there.
Hands. Free. Orgasm! Holy hell.
I'm not going to say it was an ah-mazing orgasm (not any of the times, and I've done it three times because, you know, you have to test if it's reproducible :P) because it wasn't. And man, I have to remove that thing pretty quick afterwards because I'm immediately overstimulated as soon as I come. But still, 'hands-free' is a pretty big fucking deal to me and I imagine it's a thing you can 'get better at' as you get used to the sensation and movement you need to make it work.
Added bonus: If you love this kind of vibe stimulation of your clit, you can actually walk around with this combination in place (per my 'physical stimulation isn't enough' comment, that doesn't do much for me, but I can imagine it would be quite the delight for some other folks). The Tango is probably quiet enough that you could get away with it out in public and underwear would help keep it in place also. Just sayin'.
You can get the We-Vibe Pleasure Mate Collection at TabuToys, and you can also buy the Tango separately.
—
Disclosure: I was sent this toy by the lovely folks at TabuToys for free for this review. This review is my honest opinion and was not influenced by the gift of this item.