Tantus Realdoe Strapless Strap-on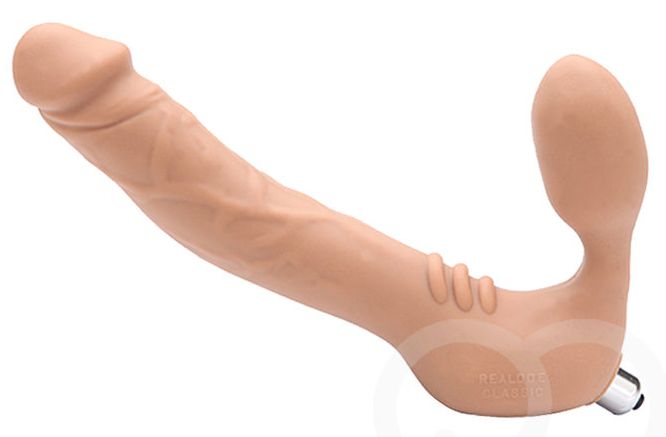 This toy makes me want to fuck.
I've never been one for realistic cocks for strap-on play because who am I fooling? I don't want or need it to look 'real', and I know it won't. So I tend towards purple, swirly, pretty dildos for strap-on play, and I've been really keen to get a gold glittery one (haven't found one yet!).
But.. but… when I saw the Tantus Realdoe, I really really wanted it. I have a pretty good case of penis envy and this was the closest I was going to get to at least looking like I have a real cock of my very own.
When I am wearing it, it looks fucking hot and weird and hot and makes me want to shove it in things. Truth be told, I put it on (in?) again to finish off this review (you know, for SCIENCE!), looked down at it, looked at it in the mirror, looked down at it, and just wanted to fuck with it, touch myself, come. Given how my body works, I don't actually think fucking with it will get me off, but boy did I want to touch it, stroke it, pump it and fuck with it. Oh yeah. So I did. Review writing postponed (again)…
That, above, is worth the price of getting it.
But you might want a 'real' review… *sigh* Fine.
Facts and stuff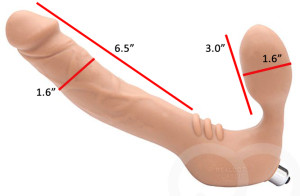 flesh coloured (no choices of different tones)
waterproof
includes a single-setting bullet vibe (uses 3 watch batteries, included)
100% medical grade silicon
length: the insertable length on the recipient end is 6.5″*, and the bulb on the wearer side is about 3″
girth: the width (diameter) of both insertable ends is about 1.6″ (5″ around)
weight: around 15oz
vibe is very quiet
retail prices vary wildly, from about $80
* Note that the insertable length will be impacted by body size and shape since unlike harnessed strap-ons, the cock's base doesn't sit on your pubis, and you can't adjust it. I have heard some bigger women complain about the insertable length, so it's something to keep in mind.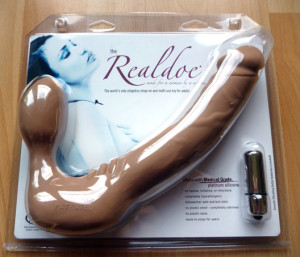 The packaging is plastic and not really useful for storage (not least because once I put the bullet vibe in there, I couldn't get it back out so it wouldn't fit any more. I even tried pliers, and the vibe has the scratches to prove I tried my best…).
Preamble
The Realdoe is relatively firm with little give, and a typically silky silicon outer. The shaft does bend, but not easily. The narrow neck, though, means that there is quite a bit of flexibility in angling it. Having said that, there is inherent flexibility in angling it when it's inserted simply because the vagina isn't some steel tube that has no room to move.
I have a gripe with strapless strap-ons that I'm going to air here. I have no experience with them, this is my first, so take it with a grain of salt. It's my understanding that they were originally designed for women to use on women. A vagina offers less resistance than an anus, so I imagine that for many lesbian couples it works as advertised. But I have heard from women with much more experience than me, and from newbies, and from many women everywhere who use a strapless strap-on for pegging that *it requires a harness*.
Weight + resistance + wetness + thrusting action = THIS THING WILL NOT STAY IN PLACE.
On the other side of this, I hear blame (yes, really!) that makes me all ragey where not being able to use a strapless strap-on without a harness is all the woman's fault for having weak kegels, and she had better work on those flabby vagina muscles, the lazy cow. Because, you know, women don't have enough things to feel bad about when it comes to their bodies, amirite?! *rant, rave, wavy arms*.
Okay, done now. The upshot is that from what I can gather, the majority of women will need a harness with the Realdoe AND THAT'S OKAY!
Use
I do not yet have a boy to fuck with this thing, so this is a solo review *sad face*. A follow-up review may be warranted at some stage *perk*…
It's comfortable once inserted. The narrow neck means it fits nicely in position, but it is really very heavy and will slip out if I stand with my legs apart doing nothing much. I compared the weight to my Lelo Luna Beads (ben wa balls): 15oz vs 2.6oz! That's pretty damn hefty! With my legs together, it stays in okay, and I CAN stand and walk around with it because there is a bit of stickiness of the silicon base against my thighs that provides some friction.
(as an aside, I am still wearing the Realdoe while writing this review (TMI?) and I simply cannot resist touching and stroking it every time I take my hands off the keyboard… it's just compelling, and so very hot and strange…)
The ridges intended for clitoral stimulation are not in the right position for me. I'm tall, and I assume my body is proportionately lengthy, so the ridges are too low down on the shaft to rub the right spot. However, just the cock rubbing against my clit is very nice.
For masturbation, the Realdoe provides a unique visual turn on, so that aspect of it is just fucking hot. With the vibe on, I could manipulate the shaft into different positions for different stimulation. Actually 'wanking' the shaft (lubed or not) lets me move both the internal bulb and the part that is stimulating my clit in different ways.
The vibe is not very strong (and I am not really a vibe fan), so just playing with the cock wasn't going to get me off. What DID get me off was pushing the cock away from my body to give me room for fingers on my clit, and then the combination of that, plus being able to stroke my cock for movement, plus the internal fullness from the bulb, plus the vibrations around my vulva… Totally worked.
I don't actually think that fucking a boy with this is going to get me off (coming while fucking a boy's arse is something I *really* want, and I haven't managed it yet), but it's totally going to be worth a try.
Edited to add: For those interested, I did a post about strap-on harnesses a while ago. Relevant! Take a look here: Which strap-on harness (lots of good information in the comments).
—
Vibrations Direct, who provided the Realdoe to me for review, are promoting their cock rings and anal beads, so rather than try to sneaky-hide those links disingenuously in the review somewhere, I'm putting them here so you can go and take a look.
Disclosure: I was sent this toy by Vibrations Direct for free for this review.