It's my birthday. It's tradition. It's NUDITY.
This photo inspired the story here.
When she stepped into the shower, she looked out of the huge picture window, the raindrops on the glass suspended there as if time had stopped.

Ignoring the view, she peered down into the yard. He was kneeling there on the grass, a beautiful pose, his knees wide, his hands on his thighs, his gaze fixed on her. Positioned for her pleasure.

She stopped to stare at him. They locked eyes for a long moment.

"Good boy," she whispered.
This picture is not photoshopped with some tricky faux double exposure: It was taken through a rain-dappled window, with the beautiful country view reflected back into the shot.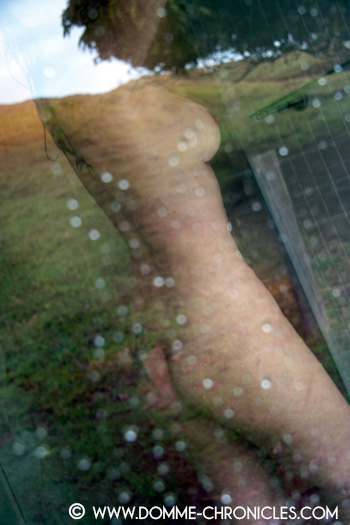 You have to wish me happy birthday and click the little love heart below as a sweetness.
Also, send presents.