I hate to be disappointed. Truly. But I also don't like to be cynical. It's a tricky balance, but when I'm optimistically excited, the disappointment is, of course, worse than when I don't expect much. Not least because I feel foolish and naive for being hopeful.
So the unfolding of events with the 24 year old:
Thursday before last: He mentioned eating his ejaculate, asked if I would help him with that. It was in the context of a chat about his orgasm control and I was fine with him asking, but it made me realise that he had some assumptions about sexual contact in our arrangement. I sent him an email to clear that up, apologised for misleading him, stated clearly that there would be no intimate sexual contact in our service arrangement, but that I was willing to see where our relationship went.
I also sent him an email outlining D/s activities that might be in play for our first visit. I asked him to rate them from 0 (hard limit) to 5 (yes please!), he could add some for discussion if he wanted. The list included things like kneeling, undressing, body touching, kissing. Not explicitly sexual, but certainly more than pure service, enough to make it fun for both of us, I thought.
Friday: I invited him to come and visit on Saturday afternoon. He had already made plans for the weekend, which was fine.
Saturday: He replied late to my last text.
Sunday: A few texts in the afternoon. I invited him to come for his first service visit on Wednesday. He agreed. He said he would reply to my emails 'soon'. He didn't call me 'Ma'am' which he had initiated and which I said I liked. I reminded him of it. I said I expected his emails on Monday then. We wished each other good night.
Monday: No contact. That was unusual.
Tuesday: A few early texts, but something felt 'off' in the way we had been communicating, his enthusiasm was gone. It felt eerily similar to the strangeness I felt from him before he bailed the first time. Nothing I can quite put my finger on, but not replying to my emails from the previous week, and in particular to the D/s checklist for his visit the next day, was not normal behaviour for him and it didn't feel right.
Just before lunch I sent him a text noting that I was feeling the same 'iffy' vibe from him that I felt in the days before he bailed the first time. He replied that he was really busy at work, stressed about having to find a new place to live, had no time to do anything. He was obviously struggling. I sent this to give him an easy out: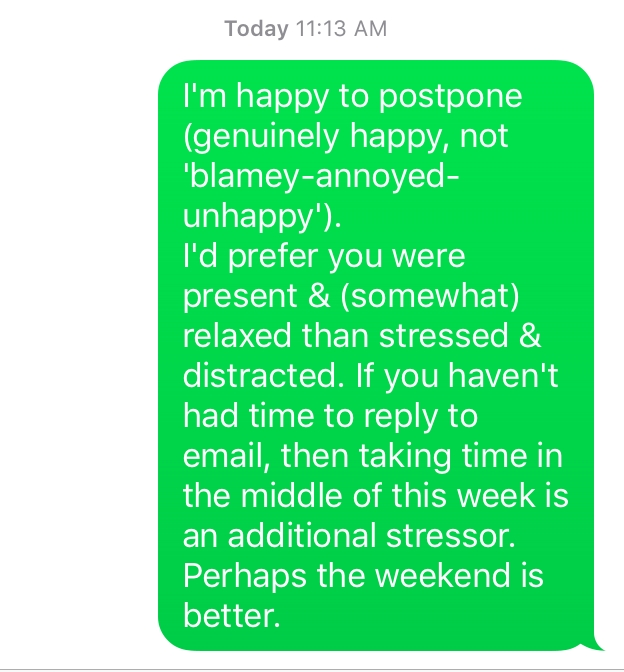 He didn't reply… (and didn't reply and didn't reply).
Some 7 hours later (Tuesday evening), I still had heard nothing and I was angry. I sent him a text saying that I was calling it off, that if he'd thought it was a good idea to go ahead the next day, he'd had plenty of time to say so. He apologised, thanked me for cancelling, and then added that he 'completely forgot'.
The "I completely forgot" tipped me over into livid.
Not because we had to cancel or because he was busy and stressed: life happens, I get it. I wasn't even angry that all of the communication and management of the situation came from me: I had to 'guess' that something was up with him with my 'magic dommely powers' (again) and I had to chase him about it (again) to see what was going on. I was surprisingly okay with that.
What made me livid was that when I graciously offered to postpone so that he didn't even have to think about it or make any effort to manage it, he didn't even have the courtesy to put in the 10 seconds it would have taken to text 'Yes please, I'd like to postpone'. The 'I completely forgot' was the icing on the 'WTF?!' cake.
The level of casual disrespect in it hit all of my buttons.
And like the first time, I have no idea what would have happened if I hadn't been all over it. Perhaps a last minute paniced cancellation the next day? Who knows.
I waited until my anger had cooled over the next day and a half in the wake of his silence.
Thursday: I sent him a calm email about my expectations around respect and communication.
I closed with this:
"It takes NO more time or effort to be respectful and communicative than it does to apologise for NOT doing it after the fact.
Maybe this is not what you signed up for because 'geez, I just want to do some naked chores ffs!' If you are thinking I am being unreasonable or making a mountain out of a molehill, then we've identified a fundamental incompatibility and we should call it done.
If you understand what I'm saying, and genuinely want to do better, then we have something to work with."
I haven't heard from him since. So clearly we DO have a fundamental incompatibility problem. I wish he'd had the grace to reply and say so.
The almost perfect irony of getting no respectful communication in response to an email about respect and communication is not lost on me, by the way. It has a kind of pleasing rueful symmetry to it.