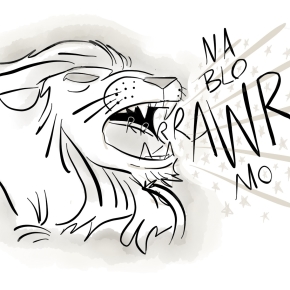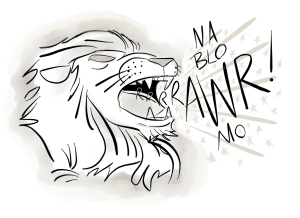 [SubmissiveGuyComics has also done a 'Shibari' post for our NaBloWriMo project]
This is a picture of the first time I played with rope, my ex boy kneeling patiently before me while I painstakingly followed instructions for this dragonfly sleeve. I enjoyed it well enough: time spent with my sweetheart, intense attention, an almost meditative precision, and oh my he was so pretty in rope, but I didn't 'get' it.
I was curious about people's attraction to rope, and why it was such a draw for so many.
When I met Richie, I played a little with it again, and I was able to create a fleeting taste of intimacy in it, but it wasn't enough to fire me up for its own sake.
I had seen some bondage demos, certainly admired the stunning photos by skilled riggers, attended a workshop where the instructor talked about connection, but it just didn't really resonate with me.
Then I saw MaillerPhong perform on a live streamed feed from a bondage event and I was transfixed. I had never seen anything like it. Far from it being about his technique, his ropework, or 'performance art', his crystal clear objective was to create an almost obscene intimacy with his rope bottom. It was all about passionate intensity: connection and touch and skin on skin contact and it was scorchingly hot to watch. I could not look away and every time the camera focussed on something else, I could have screamed at the videographer for their utter ignorance because there was NOTHING ELSE WORTH WATCHING.
I use rope to create beauty. Beautiful designs with my decorative ties, and beautiful reactions with my utilitarian ties. I can tie clinically for my art, or intimately for my play.
-MaillerPhong
I know people talk a lot about the intimacy of rope and wax lyrical about the power in rope play, but I'd never seen anything that so clearly showed what that might look like before. It kind of blew my mind. Rope as a tool for intimacy: well that's something something I can relate to.
This is a wonderful video of the talented MaillerPhong suspending PrometheusV, a beautiful rope bottom. The first 15 seconds of intense close and deliberate contact, and the bottom's reaction, shows exactly what I'm talking about. Stunning. Unf! The rest is fabulous also for different reasons: PrometheusV's expressions, his clenched fists, the foot shoving his face, pressing against his neck, his struggling, his vocalisation at the end… Holy mother of god!
Rope bottom: PrometheusV. Rigger: MaillerPhong