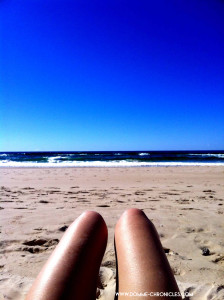 A body project check-in… As a spoiler, I have not been doing so great in the last couple of months since I last updated on March 18. Note the consolation beach photo instead of a bicep photo (which I haven't had the desire to take in case it's demotivating!).
Read on to find out what's been going on…
I am in a privileged position with my body project because I have the freedom and time to do what I want when I want, so building a routine and habits that support what I want to achieve is not that hard. Given that's the norm, it was interesting to see how it all went when bambi was here.
If you recall, I had bambi making himself pretty(er) for me before he arrived. This worked wonderfully for both of us. I got to exert some control (which I love… duh), he got some motivation to work harder at getting fitter, and I cannot explain how much I LOVED that he was making himself prettier for me. So hot! LOVE!! He lost some 23 lbs (10.5kg) over the period (I know, right?!! Amazing!!), so it worked for us on many levels.
I had plans for his visit in terms of the body project (for both of us): I would take him to the gym with me to work out, he would eat all clean food with me, we would be like some creepy, uber-healthy couple, all 'raaawwwrr' and super-charged.
But…
Given how it didn't work between us, I didn't feel comfortable pushing him into things he really didn't want to do. Had the relationship been working, I'd have had no trouble saying, "Shut up, you're eating salad and coming to the gym with me. Let's go." regardless of whether he really wanted to or not. But asserting myself with someone who is not on the way to becoming my submissive doesn't work for me. That makes me feel like a naggy bitch trying to get all bossy with a friend.
So the first hurdle I had was that instead of me bringing him along on that health-kick, which would have been good for both of us, I was trying to get motivated to go to the gym on my own, while also doing all the stuff you do when you are spending time with someone new. So we went out, we ate, we drank, we had junk food etc, which means that not only was my habitual going-to-the-gym routine interrupted, but there was a lot of FOOD… BAD YUMMY FOOD EVERYWHERE!!
On top of that, my emotions were all over the place, and that impacted my motivation. From the excitement of bambi being here to the dawning realisation that it wasn't working, I was emotionally distracted and that impacted my drive to get myself to the gym.
THEN add in the socialising, which was mentally and emotionally exhausting, I really just wanted to spend the time I had to myself hiding in my cave.
PLUS my Pilates class was on a two week hiatus over a holiday break.
Phew…
You can see the sad April results here… not so great.
—
So along comes May. Bambi goes home. I am dealing with the aftermath, and give myself a week off. I manage a solid week at the gym after that, not *quite* getting my food back on track, but not too bad.
Then I had a long weekend with my sister, her birthday. SOO MUCH CHAMPAGNE!!! SOO MUCH FOOD!!
*laugh*
I'm back home this week and I'm completely depleted, so have given myself (another!) pass on the gym this week to curl up on the couch and try to recharge. I *am* back on the good foods, and went to Pilates twice, as normal.
So I am getting back into the swing of things.
I am being kind to myself and refusing to feel bad about it.
So there!!
—
Onto more fun things: The results of the effort I have put in so far.
Bambi is the first boy to see the outcome of the body project up close and personal *smile*. While I'd love to attribute his reactions to me to all of the work I have been doing, I know, really, that he wouldn't have been much different had I NOT done all that work. But still, I like that he appreciated the aesthetics, some of the muscles, and the strength of my body. That was really fun for me.
On the first day, we went for a walk along the beach. It was windy, so I went to put my hair up in a clip. That meant both hands up, biceps naturally flexing a little. As he watched, his eyes widened. He said, "Oh!" and reached in to kiss the muscle there *swoon*.
He enjoyed just touching me (which I adore!), and he especially liked my hip-bone and the hollow there, which fit beautifully into his hand, almost like it belonged. And while I was doing most of the butt-touching, grabbing, pinching and generally giving butt-attentions, there was hardly a time when I was in my bikini that he didn't reach to touch my arse, waiting, I think, for me to tell him to stop it.
From my perspective, I was surprised by my own strength and that was wonderful for me. When I wrapped my legs around him, I had a fiercely powerful grip. I could manipulate and shove all 6'2, 200+ pounds of him around with the strength of my legs in many different positions, which was incredibly hot for me. I could control his movements, and put him (and keep him) where I wanted him, which I loved.
We also had a couple of tussles, and while I am sure he could have overpowered me if he hadn't been afraid to hurt me, I held my own pretty good. I have no control, though, so I did literally bowl us both off the bed at one stage when we were wrestling around *laugh*. Fun, hot!
—
So, next week I will be back into it. Full on. I mean, if I'm going to do a birthday shot, I haven't got long to get pumped, right?