This has nothing at all to do with BDSM or D/s, but LOOK AT THIS FUCKING SPIDER!!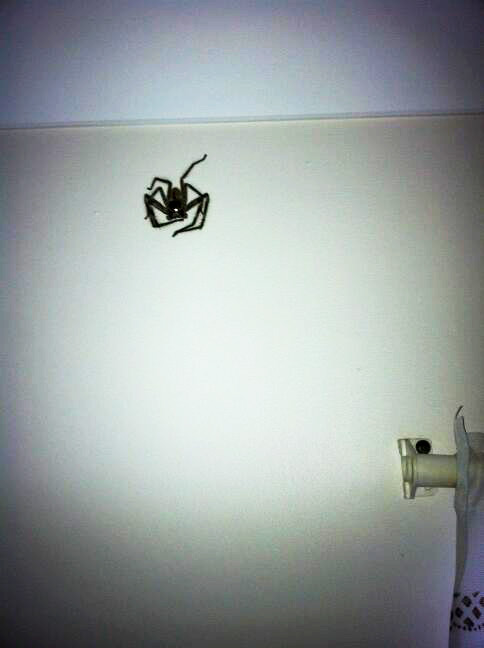 I walked into the kitchen yesterday morning and there it was. Lurking above the coffee machine. ABOVE THE COFFEE MACHINE! And I hadn't had any coffee!! *sob*
I sat in the lounge room tweeting the horror and trying to convince myself that it was dead (I mean, its legs were all weirdly curled and such, even though I was all 'if it's dead, how is it staying on the wall?' I attributed that to secret spider bizns because I really really REALLY wanted it to be dead).
Then I tentatively made coffee right under the maybe-dead giant killer spider on the wall (because I had to have coffee!) while I tried to figure out what to do. I decided that I'd leave it and see if it moved in the next hour or so.
If it didn't move, it was dead. Yay.
But then it moved. Boo. Boo and holy fucking nooooo!!
So I got a plastic container, and about 20 sheets of paper to trap it (20 sheets of paper because I figured it would just crawl out if I was relying on a sheet or two to hold it in the container).
I had a couple of practice runs at smacking the container up against the wall, high up, to make sure I could reach and aim accurately. Because those fuckers are FAST and if you miss, you won't get another chance.
My reach was dicey, so I climbed up onto the kitchen counter instead, all terrified and such and slowly slowly inched the container towards the spider until I did a final *smack* against the wall. I trapped the end of one of its legs under the edge and it did a whole bunch of creepy mad frantic scuttling *shudder*.
I slid it down the wall and got the 20 thick sheets of paper under it while it went mental in the container pretty much as you'd expect an angry crazed killer spider to behave.
A few deep breaths and I walked it out to my third floor balcony and threw it over. I resisted screaming "I win, fucker!" as I did.
It sailed down three stories gracefully, eight legs splayed, landed on the grass and scuttled away.
I AM SO FUCKING BRAVE!!
For the spider nerds, it's a huntsman. They are generally considered harmless, and I only found out after the saga that they are, in fact, venomous, but they rarely bite and aren't going to kill you. It makes me laugh that in Australia a huge venomous spider would be called 'harmless'… fucking Australians, man.