This is a really sweet story from a young submissive who I contacted because I admired one of his photos (see right) on Fetlife.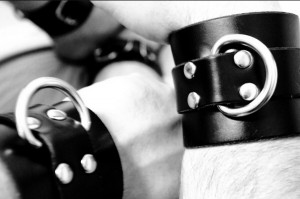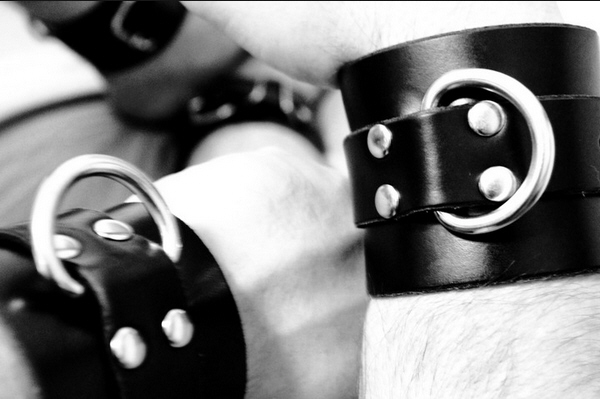 When I set up this new template, I asked him for permission to use it. He very kindly said yes, and you can see it cycle through as one of the photos that I show in my header.
I'm delighted that he has shared his story, which reads a little bit like a dramatic romantic comedy with a happy ending. I love the happy endings.
Author: Gabriel
Honestly, this is a fairly complicated story so I don't know quite exactly where to begin. I was abused my whole life, luckily between everything that was going on I didn't know that it wasn't normal. Thankfully, I found you Ferns (and your blog!) through fetlife of course; I was trying to find rope classes on line and came across the website. I was finally accepting the fact that I was kinky, well I knew I was but it was really starting to develop and I knew a lot more about what I liked and what I wanted.
Rewind a few years, I was in my Brazilian Jiu Jitsu class through the College I was attending, I had been doing this for a few years at this point so I knew almost everyone who was taking it again and we had a lot of new people. That was when she walked through the doors. I don't believe in love at first sight but if there was such a thing this was it. She was beautiful and I will never forget her smile or her eyes. I am a very shy person but for some reason, and I had never done this in my life, I went over and talked to her. I couldn't let this one get away, however, she did, a few classes went by and she dropped the class before I ever had a chance to even ask if she wanted to get to know each other.
I dropped the ball but never really forgot her, one day while I was in the gym she was there. Now being the gentleman I am I don't talk to women in the gym, they generally have a hard enough time as it is so I try not to make things awkward. Luckily, she talked to me!! We went out on a few dates, I was head over heels for her, and I was embarrassed because I thought for sure she could tell. Well circumstances were not that great, a little after 2 months of dating my phone broke and we were both very sick. I replaced my phone but never heard from her. A few weeks later we ran into each other, I explained what had happened and asked her to text me so I could have her number. I never got that text, sadly enough.
We saw each other off and on but she was with someone who I thought was a boyfriend so I didn't want to make a scene and she saw me training with a female friend that wanted my help, so she didn't want to cause any problems either. It's amazing where assumptions will lead you. That summer she graduated and it was sad for me, I never thought I would see her again.
October came and I was working out late in the evening, there she was again. Apparently, despite my best efforts she saw that I was … overly excited to see her. She text me again since she still had my number and luckily this time I actually got it. We saw each other for a few weeks and life took a sharp turn downward for me. I was rock bottom, but there she was, she picked me up and put me back together. We got to talking about kinks and I explained the basics of mine (I love rope!!) funny enough for some reason she was interested in rope too and after we dated that first time any time she thought about tying someone up I somehow came up. Well I hadn't slept for about a week at this point and she was sweet enough to make me a doctor's appointment and drag me to it, they gave me a sleeping pills and I stayed with her that night. After I took it however, and I don't remember this at all, but I apparently confessed my love over and over after everything she said until she acknowledged she heard me, she blew it off as me being tired so I was saved. About a week went by and we made it official, we were boyfriend and girlfriend.
Funny enough a few days later, she took the sleeping pills she was prescribed (same type I was prescribed as well) and after some talking she too professed her love for me. Unfortunately, she was worried that the next morning she wouldn't feel the same way, I explained I had been in love with her for a long time, I could wait if she wasn't. The next morning the first words out of her mouth were that she loved me. She really did!! After a few days I let her in on another kink of mine that I was afraid to share with most but now am fairly open about. I wanted a Mommy, 24/7 she said that she would have to think about it and didn't want to make that kind of commitment lightly. I respected her decision and life went on.
A week or so went by and I was telling her a story, I guess I said something that really made her happy because she blurted out 'Can I be your Mommy?' My heart skipped a beat and I cried I was so happy, we cuddled and talked for a while about what we both wanted from it. Funny enough, she did everything I had wanted and much more so, she was relieved that she didn't need to change 'too much'.
Five months later and neither of us have never been happier, we are living together, play fairly regularly, and my days usually start off with making Mommy breakfast in bed, a foot rub if there is time, and helping her get ready for whatever she needs to do. She gives me all the love and warmth I want and we have really grown as a couple in the dynamic she never even knew she wanted. I owe a lot of where I am at to her, if it wasn't for her I would've never even guessed my childhood wasn't normal. She helped me see that it wasn't and now I get to redo a lot of it with her. I couldn't ask for a better Mommy and my heart still skips a beat when she calls me her good boy or when we cuddle up to go to sleep and the last words out of my mouth are, 'I love you Mommy'. I guess third time was the charm and how lucky am I, after all of that I finally get the woman I fell in love with years ago! I guess I knew my Mommy when I saw her.
___
This post is part of a project to share happy, positive femdom relationship stories.  If you have a story and are willing to share it, please email it to me (ferns AT domme-chronicles DOT com).