Why yes, I DID have a little rant on twitter about how we educate new dominant women about D/s in such a way that we seem to end up with a completely un-nuanced dichotomy: Either you pander to your sub completely, or you're abusive. With nothing in-between.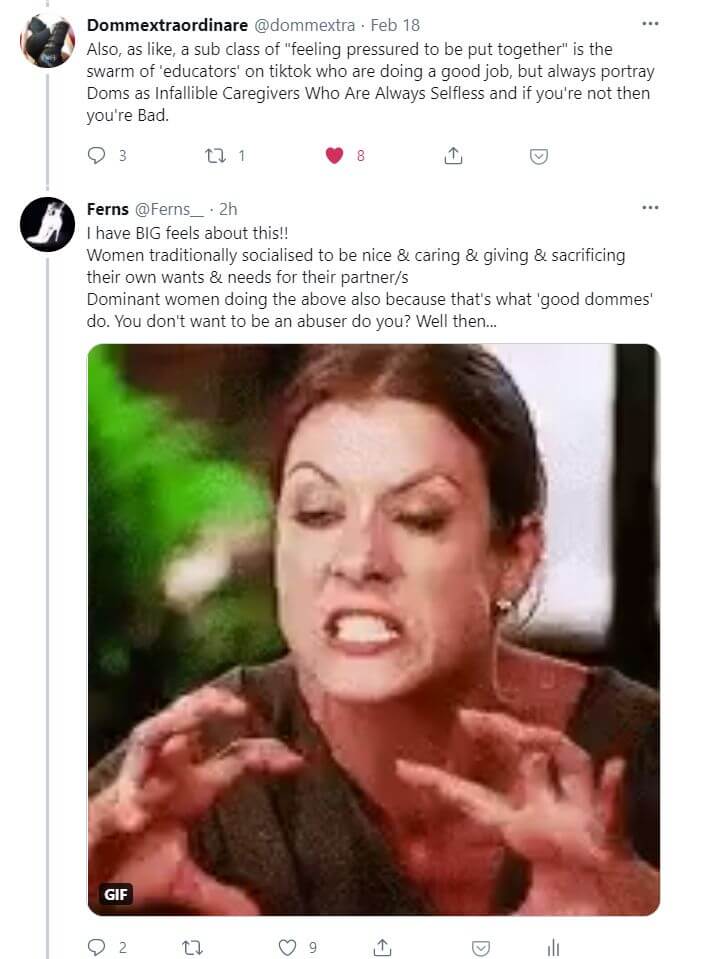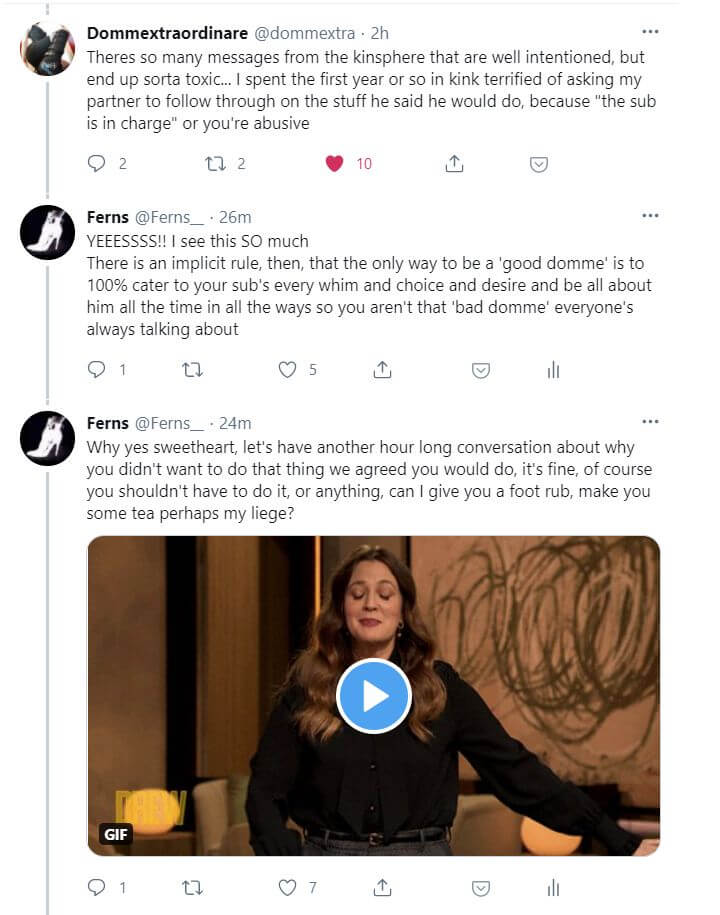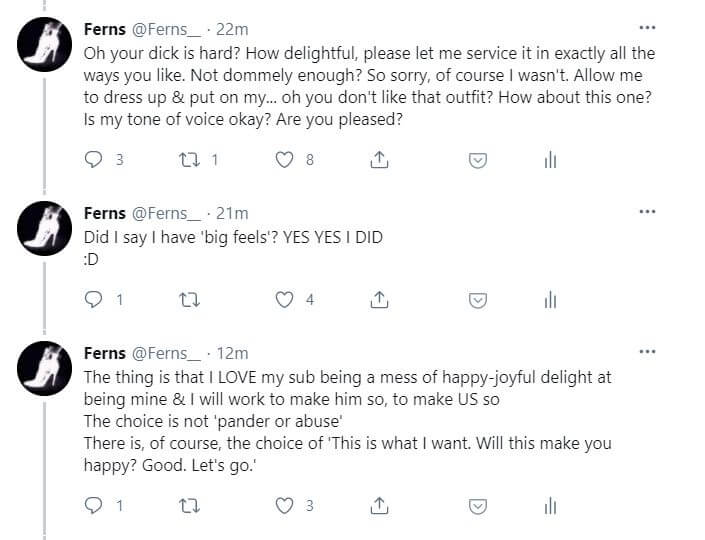 —Twitter link here (scroll up to see the conversation)
Text in images above:
@Dommextraordinare
Also, as like, a sub class of "feeling pressured to be put together" is the swarm of 'educators' on tiktok who are doing a good job, but always portray Doms as Infallible Caregivers Who Are Always Selfless and if you're not then you're Bad.
@Ferns__
I have BIG feels about this!!
Women traditionally socialised to be nice & caring & giving & sacrificing their own wants & needs for their partner/s
Dominant women doing the above also because that's what 'good dommes' do. You don't want to be an abuser do you? Well then…
Dommextraordinare
Theres so many messages from the kinsphere that are well intentioned, but end up sorta toxic… I spent the first year or so in kink terrified of asking my partner to follow through on the stuff he said he would do, because "the sub is in charge" or you're abusive
Ferns
YEEESSSS!! I see this SO much
There is an implicit rule, then, that the only way to be a 'good domme' is to 100% cater to your sub's every whim and choice and desire and be all about him all the time in all the ways so you aren't that 'bad domme' everyone's always talking about
Why yes sweetheart, let's have another hour long conversation about why you didn't want to do that thing we agreed you would do, it's fine, of course you shouldn't have to do it, or anything, can I give you a foot rub, make you some tea perhaps my liege?
Oh your dick is hard? How delightful, please let me service it in exactly all the ways you like. Not dommely enough? So sorry, of course I wasn't. Allow me to dress up & put on my… oh you don't like that outfit? How about this one? Is my tone of voice okay? Are you pleased?
Did I say I have 'big feels'? YES YES I DID
:D
The thing is that I LOVE my sub being a mess of happy-joyful delight at being mine & I will work to make him so, to make US so
The choice is not 'pander or abuse'
There is, of course, the choice of 'This is what I want. Will this make you happy? Good. Let's go.'
---
The upshot here is this: We teach new dominant women who are already traditionally socialised to cater to men to cater *even more* to malesubs because we add 'responsibility for their wellbeing and happiness' to everything else.
We are bad at encouraging dominant women to decide what they want, and to go after it. To hold their boundaries. To have expectations.
Instead we bombard them with messages that encourage them to pander to submissive men to the detriment of what they want.
If they're 'good Dommes' they will shoulder the responsibility for the entire relationship, for their submissive's behaviour, for making it work, for 'performing dominance' right, for ensuring their sub is happy, for fixing anything that goes wrong. They often measure their success as a dominant by how pleased their submissive is with their behaviour. And if they compromise their own needs and desires in the process, so be it.
The spectre of not being a 'good domme', of being abusive, of violating consent looms large, and there are perfectly good reasons for this (the main one being that it's important!). But when we don't teach responsibility and consent alongside strategies to bolster new Domme's ability to advocate for their own selves in a D/s relationship, a lot of them will eventually end up at 'wtf is this bullshit?'
And rightly so.