I ventured into Second Life to check out the femdom sims some eleven years ago.
I wrote some posts about how I found femdom in Second Life way back then:
Recently I was contacted by a lovely submissive, Roth, who was spending time in Second Life (SL) and I ventured back in with a 'can-do' attitude and a determination to learn new things while chatting to him.
Without boring you with technical details (Mesh! BOM! Alphas! Bento!), the learning curve was steep, but I kind of love figuring that stuff out when I'm in the mood.
As an example of the visible results of the changes to the tech, here's the evolution of my avatar's face since I first joined as a know-nothing newbie way back when, a whole before and after thing.

The two faces on the right are the new modern ones I picked up in this recent foray into SL.
The quality is one obvious improvement, but the older face in particular is a new capability: All avatars in SL were ageless flawless skinny/muscled mostly white 20-somethings. You could tweak some things, but certainly 'attractive older women' were not a thing (and I only found two older avatars while looking around this time, so it's still very uncommon).
They also now have many more avatars for people of colour, and a new development is avatars for trans folks and larger folks. They've also introduced the ability to add features like cellulite and stretch marks.
Some of the femdom sims (areas) I used to frequent way back when are gone, as are many of the people I knew (hi Coug! :)). The big femdom sims still exist and seem to be doing the same kind of things with many of the same people, and many new ones. I assume new femdom sims have popped up also. I don't really have the appetite to go and make femdom-related social chit chat with random people (which is pretty much sim's sole purpose, well, that and role play), so I haven't gone back to spend time in any of them.
I'm curious to see how 'what you can do in SL' has changed eleven years on. Can you buy pussies that squirt now? Are animations that simulate extreme BDSM acts still available? But I haven't gone explicitly looking for those answers yet.
I've been chatting with Roth, and we've been doing some exploring of beautiful places, but mostly I'm treating my avatar like some kind of grown up version of a Barbie doll. I dress her up, I change her look, I give her different faces, I change her hair, I try different makeup, I hunt around for free stuff or demos of fun things I can try out (knife wings! pixie ears! outrageous outfits! muscles! farrah fawcett hair!). It's a silly-hearted playing-with-dolls type of distraction, and it's surprisingly entertaining.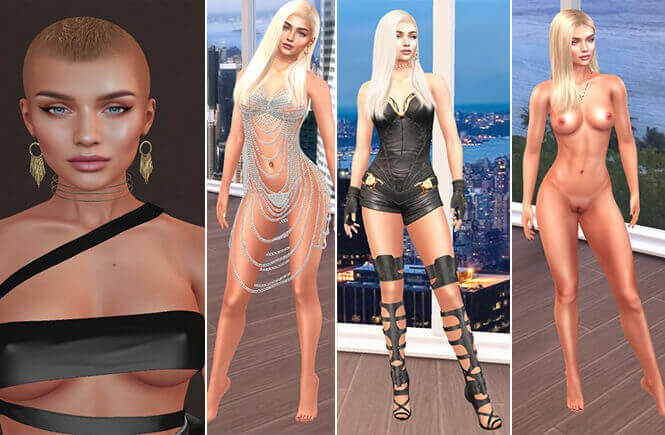 So what does any of this have to do with femdom, Ferns?
Well that will take another post about Roth :).