I still haven't ventured into the femdom sims since I last posted about femdom in Second Life, for the record. Instead I am trying my hand at adding scripts to simple objects because I'm curious and it's fun to learn new things. RLV scripts, to be specific.
WHAT HAS THIS GOT TO DO WITH FEMDOM, FERNS? JFC?!!
Patience, grasshopper.
RLV stands for Restrained Love Viewer.
RLV (Restrained Love Viewer) enhances your Second Life experience by adding extra features to your viewer. With these features in game scripted objects can control and restrict your avatar from performing specified actions. In fact RLV adds more commands for scripters to use in their creations.
RLV essentially allows you to control someone else's avatar in various ways, in effect making you the puppeteer and them the puppet, and when objects have RLV scripts in them, you can use objects to 'capture' people and trap them. If I can add RLV scripts to random objects, I'm essentially building a robot army :D.
You start to see now, right? For hot little role plays and much much more, this opens up a world of possibilities.
So to Roth.
You might think 'Oh Ferns got up to some sexy shenanigans by making a submissive do stuff!' but depending on your perspective, I'm about to exceed or fall well short of your expectations :).
Roth works from home and was, by habit, logging into Second Life in the morning and just… staying logged in. His avatar sitting in a femdom sim, half-distracted by sexily-clad dominant types talking about play, having various little chats, listening to group conversations, perving on the newest pair of hot boots on that perfect image of a woman, appreciating that fabulous outfit or hot take on femdom, and etc. Not enjoying it exactly, not making connections really, just being there and being easily distracted by it. All day.
So we talked about it and I said I could help him break the habit.
After discussing the emotional risks of it, he agreed.
We had slightly different motivations for this.
Me, I enjoy helping help people I like, and breaking bad habits is something I can and will help friends with, and I absolutely thought it would be fun. There is a D/s component to it because we negotiated that I had the right to use the tools at my disposal to get it done.
Roth, well he has a soft spot for me, and this was both an opportunity to engage with me further, plus the D/s part is a kick, not least because being restricted/controlled is one of his kinks.
So, win-win.
And no, I did not do a bunch of sex chat and sexy avatar role play. What I did was use RLV to completely lock him down in Second Life. That may sound all sexy-like and there is a mental/emotional component to it because control is hot and close-making, but it's not 'role play'.
What does it actually look like?
I restricted his use of SL completely so that when he logs into SL, his avatar is kneeling and literally locked in a cage in my SL home.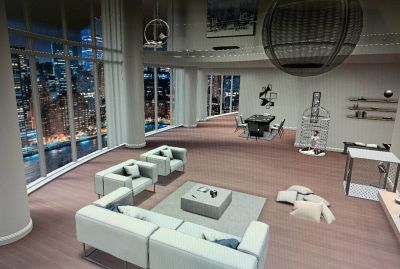 I took away his ability to go anywhere: He can't leave the spot I put him in, in his case, it's a cage in my SL home. He can't leave.
I took away his ability to hear: He can't see if anyone is text-chatting in public spaces, he can't receive DMs from anyone.
I took away his ability to talk: He's effectively gagged, so he can't send public or private messages to anyone. There's a visual gag on his avatar's mouth, but it's unnecessary to set the restrictions, it's only for the aesthetics.
I took away his sight: As we progressed, I took away his ability to see anything. When he logs in, his screen is black.
The cage, the gag, the blindfold are all entirely unnecessary for this to work: They are just for the aesthetics, because they're fun.
Something else that was fun was moving his cage while he wasn't there so when he logged in and landed in it, he found himself hanging outside the apartment in the rain, which is hilarious to me, for I am amused by this kind of silliness :D.
And while 'being locked down by a hot dominant woman' may sound kind of awesome for a second, it gets boring very fast if the reality is that when you log in, you literally can't do anything except sit there and stare at a black screen.
So he logs in, he can't do anything and he can't see anything. So he logs out.
He can chat with me, of course, and when we're in SL together. I take off his blindfold and we chat, sometimes we go exploring, I try out various RLV tools on him to see how they work. It's fun and we get along well, there is a personal connection there that obviously support the D/s, the control, and the end goal.
Same as in the real world, there IS a way for him to get out of this if he really wants to, but of course he doesn't want to and he won't.
After a couple of weeks, he was finding himself much more productive, finding other things to do instead of wasting time doing 'nothing much' in SL, and feeling generally better.
Roth: The increasing restriction in SL has so vastly improved my attitude toward — and relationship with — SL. I want to thank you as I feel "cured" — "freed" is probably a better word — of my SL habit. I haven't had any desire to log in and that is really liberating. Thank you so much for being so kind and generous to help get me sorted.
Emotionally, there is a bonding in it because the restrictions are real and cause real life changes, which we talk about to make sure we're still on the same page.
It's coming up to a month now and I've offered to take the restrictions off to test if his habit is truly broken, but he likes them so I'm happy to leave them in place for now.
We will test them though. I mean, but we can't know for sure until we do.
So my 'femdom in Second Life' experience is 'getting someone out of Second Life'. Pretty sure that's not how you're supposed to do it, but here we are :).