I've had this project ready to launch for a few weeks now: I've researched, planned, designed, created, angsted, redesigned, recorded, published, and recorded some more. I quietly told my mailing list folks about it, and I've been doing a ton of work. But I've been holding off on talking about it further because it didn't feel like the right time to do it. I hate self promotion at the best of times, but right now it feels tone-deaf.
Honestly, I'm not sure when the right time is going to be given the state of, well, everything, so in an attempt to provide distraction and lightness, I'm talking about it today.
So here I am with my new project:
I'M CREATING FEMDOM AUDIO EROTICA!
I'm recording the scorching-hot stories from my femdom erotica book, Domme Chronicles: Erotic tales of love, passion, & domination, and delivering them for your aural delight in my dulcet Australian tones.
I launched a Patreon page to support this work, and I'm offering access to my hot little audio stories as I record them: There will be at least one a week. At the end, I will have a complete Domme Chronicles erotica audio book, which you will get for free. There are also some sweet additional goodies for the higher (cutely alliterated :P) tiers.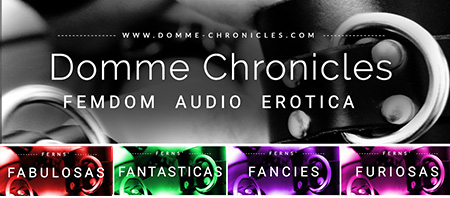 In case you aren't familiar with Patreon, it's a form of crowdfunding where folks who like my content and who want to support me can sign up to be a patron (like ye olde 'patron of the arts'), and when you do, you get access to my exclusive audio porn over there.
So if you just want to say thanks for the free content I've been creating on my blog and in my podcast and in various communities for years (all of which will always ALWAYS be free), if I've helped, entertained or aroused you, and/or if you want to hear my hot audio erotica stories, you can do so for the price of a coffee on my Patreon page.
I know some folks are nervous about supporting a femdom content creator, and I can absolutely understand that, so to allay your fears:
I do not see your real name: You can make up any name you like and that's what I will see on my side
I have no access to your credit card details: You pay Patreon, and they pay me
Related to the above, your credit card statement will show only 'Patreon' with no details of who you support on the platform
Patreon is HUGE, with millions of content creators from religious groups to musicians to 'how to build a car' tutorials. There is zero risk that anyone who discovers that you support a creative on Patreon will leap to 'OBVIOUSLY IT'S KINKY SEX RELATED!'
So, pop over there for:
More about how this all works
A free intro video (hi hi!)
A free erotic audio story to suck you in see if you enjoy it: Biting him
Access to the back-catalogue of already-posted audio hotness
The opportunity to support me and all the work I do (thank you!)
I would very much appreciate your patronage, and I hope you will join me on my new audio-porn adventure.