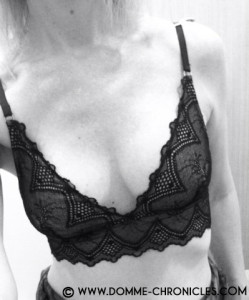 I own two beautiful steel boned corsets, a couple of black lacy bras and some lace panties that I've had forever.
And that's it for beautiful lingerie-type things.
I used to love lingerie way back when, but at some point I lost interest. Not because I don't think it's pretty and sexy, but because somehow it just became… impractical and too expensive and hard to justify.
Which it is, really.
But still, it sounds (even to me) like a terrible shame.
Most beautiful lingerie is expensive and impossible under the type of clothes I typically wear. My strappy summer dresses, sarongs, tank tops, light floaty things demand invisible panty lines and cross-over bras that can be hidden under thin straps. So I can't actually wear the beautiful things unless I'm specifically putting it on just for the sake of it, for effect, either for myself or for someone else. And while that can be really fun and awesome, I can come up with a lot more practical things to spend that kind of money on.
If I can put it on under something I'm actually wearing for it to be revealed sometime later, that absolutely works for me. But it really does mean that I can only do that in winter, when the secret pretty things can be worn under the full coverage of warm layers.
Nevertheless, the other day I went and tried on pretty bras: black (always black), all intricate lace and barely-there delicacy. So tempting, but oh so impractical.
The one pictured above was one of my favourites. I didn't buy it for all of the reasons I've just talked about.
Perhaps I just need a lingerie slave so that expense and impracticality become irrelevant in the face of such gifts. Is there such a thing? Of course there is. Apply within.