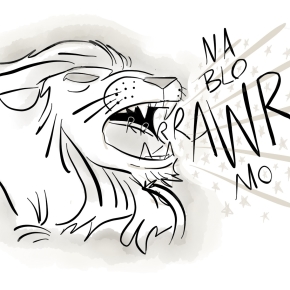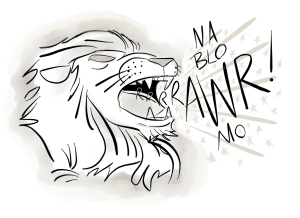 [SubmissiveGuyComics is also doing a post for our NaBloWriMo project, though he's hiding some of them on Twitter so if you aren't following him, you should… ]
"We should write each other our hottest fantasy," I said, triumphant at my brilliant idea.
I was in my mid-20s, in a wonderful relationship with a vanilla man who I loved madly. In hindsight, I have identified him as a vanilla submissive: the first man I found who could give me what I wanted in a relationship, the first man I ever fell in love with, the man to whom I compared all others for years afterwards, and they all came up short.
I had not heard of BDSM then, or D/s, or any of those things. But when I look back, I can give aspects of our relationship those labels, and they fit, and it all worked for us.
He looked at me, smiled. "Okay," he said.
"Anything you want, your biggest secret," I said.
He nodded.
We each went away and wrote out some hot story of desire and passion. A few days later, he declared that he'd finished his.
I told him to hand it over, but that I hadn't finished mine yet.
He did, shy and sweet.
I read it.
To this day, I can't recall what was in it. Not even a little of it remains. What I remember is that the content was romantic, tender, lovely. It was a story of seduction.
I'm sure I made all the right noises over it, I can't remember.
What I remember was the contrast with my story, which was full of dirty-hot wrongness, non-consensual victimisation and helplessness, force and fear and careless objectification.
And what I remember was the immediate recognition that I could never share what I had written with him. I felt ashamed, and I felt the weight of wrongness, neither of which I had felt at all in the writing of the story, squirming in my seat, imagining whispering it to him and watching him react. In fact, I'm not sure that it had really occurred to me that it was particularly off-kilter until I saw the contrast with his.
I expect it was the first time I had ever thought to share what was in my head with someone because I loved him and I trusted him, and the shock of realising that he might be repulsed by it, and by me, is still with me. Maybe he would not have been, but the relationship didn't need to change, there was nothing 'doable' in the fantasy, there was no compelling reason to share it, and the fear that he would find my thoughts ugly and disturbing made taking the risk completely not worthwhile.
I tucked that story away somewhere, probably masturbated over it many times, and I never showed him. The story exchange had been my idea, so it was easy to avoid reciprocating. Probably "Oh it's not finished yet" was sufficient until the whole idea faded away.