I asked on Twitter: "How many emails do you think I got from my personal advert post?"
Hmmm, said my twitter peeps:
4?
10?
50?
50 million?
I'd ask you to take a guess, but since this isn't real time, I'll be waiting a while, so I'll just tell you:
One.
That's right.
One.
Are you surprised?
I am.
But then again, I'm not.
There are probably a bunch of reasons for the crickets, and my ego is big enough that I don't for one second believe that it's because 'waaaahhh, nobody likes me'. I *know* that's not it.
I've asked some friends about it, and they came up with the following possibilities.
I'm intimidating.
I know it can be a bit intimidating to contact me. How do I know? People who have become my friends have quietly said so. Long after the fact, they have whispered in my ear that they had to work up the nerve to throw something at me. But I'm not scary!! And even if we aren't a match for whatever reason, that's not a reflection on you or your awesomeness (or mine!), it just means we aren't a match. But what if we are and I just haven't found you yet?!!
I must get a gazillion emails a day.
I don't. Truly. I think there is this assumption that I am bombarded with genuine offers from fabulous submissive men ALL THE TIME. That my inbox is full of charming, witty, clever emails that make me swoon with delight. That my previous post probably got me a hundred emails in my inbox and every one of them is from a man who is perfect in every way. And nobody wants to be throwing their lot in with 'all of those guys'. There is no 'all of those guys'. Trust me on this.
Fear that they can't live up to my expectations.
I don't think my expectations are unrealistic. I DO expect a lot, but mostly what I expect and need is a connection that works for both of us, and if we have that, then the rest can be worked out. It's impossible to predict and really hard to find, and if we don't have it, it doesn't mean that you aren't good enough or worthy or anything like that. It just means that finding that connection is hard, and the two of us together didn't light the spark in the right way.
I have no face photo up.
This *could* be a factor, but I'm not going to put one up, so it's just too bad. I have more photos up here than many women put on their ads, and I just can't believe that an interested reader isn't willing to take a chance that I might be appealing enough to them to at least give it a try. Also, the personal ad that I put 'out there in the world' got a lot of responses, and it only had that one photo attached, so if complete strangers who don't know a thing about me are willing to jump in, why not someone who knows a little about me?
I don't want to be all throwing data at you, but look, you MADE me! I was curious, so I went back to the last survey I did of my readers (aww yeah, graph porn!!) to see what the pool of potentials might actually look like. THIS is the result of my reader analysis: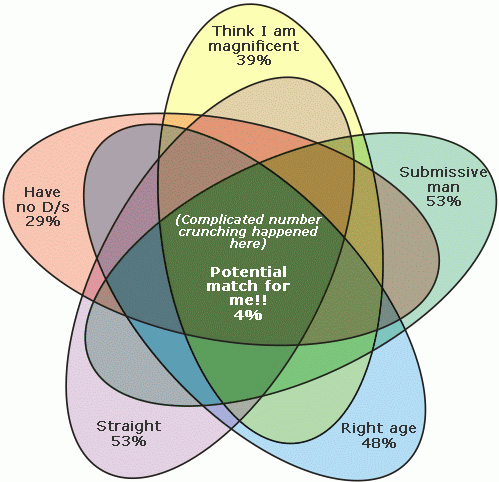 So theoretically, 4% of readers might be within the realms of possibility. Of course there are any number of other factors at play (interest for a start!), but even though this is all completely theoretical, let me give you the tip: 4% of the number of people who have viewed my personal advert post is a HELLUVA LOT MORE THAN ONE!!!
So I'm curious. Why do YOU think my response rate is so abysmal here on the blog?