Despite my best efforts, I have not yet lined up any more dates other than my last.
And by 'best efforts', I mean 'I invited men who I thought were even marginally interesting to go out with me'. That number is not high, but it's more than zero and is a huge departure from my normal process where I won't meet anyone until I genuinely and absolutely think there is real potential. Dating immersion, yo!
When I suggested a meeting to one, he balked and it turns out that the app I'm using showed me as being closer to him than I am: I'm actually too far away for him to be interested in anything more than something casual. Okay then.
With another we exchanged a few (very) light notes, I asked him what he was looking for and added that if we were aligned we could perhaps meet this week: *crickets*.
And so it goes.
Since I'm not actually, you know, getting any DATES out of this, I thought I'd indulge in some analysis of what's happening in my inbox.
Ooh, look, graph porn!
Below is what my inbox looks like by age group: 70% of my mail is from men 10 or more years younger than me, only 2% from men older.
As a public service to the older ladies out there, while I can't vouch for the quality, if you are into casual hookups with REALLY young eager things, it seems that you're in luck. They are swarming my inbox with ridiculous minimal-word emails.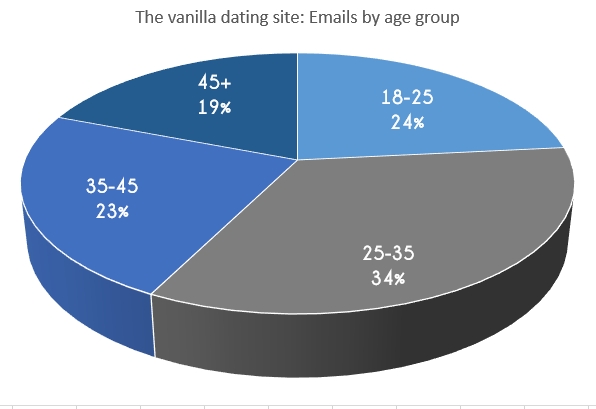 I find the breakdown quite curious.
Most of the really young ones are clearly just after casual sex (and some rather politely ask outright if I'm interested in a casual hookup with a younger man), so if that's your thing, it's pretty much on tap (I'm going to add the caveat here that I've not actually taken up any of these offers, so have no opinion on whether these eager young things are all talk or not).
As for the lack of men over 45 (that is 'around my age'), either there just aren't as many on the dating site overall or I think it's pretty likely that many of them have filtered me out of searches by age because they are looking for younger women.
I was curious to see the breakdown of number of messages by word length (1 & 6 word messages are popular), and also whether there was a correlation between the length of messages and the sender's age (there wasn't). Despite the fact that 16+ words looks like the biggest category, overall it's about 25% and only a couple of those have been thoughtful conversation starters that referenced anything that I put out there (unsurprisingly, my first vanilla date was with one of those).
[click to see larger version]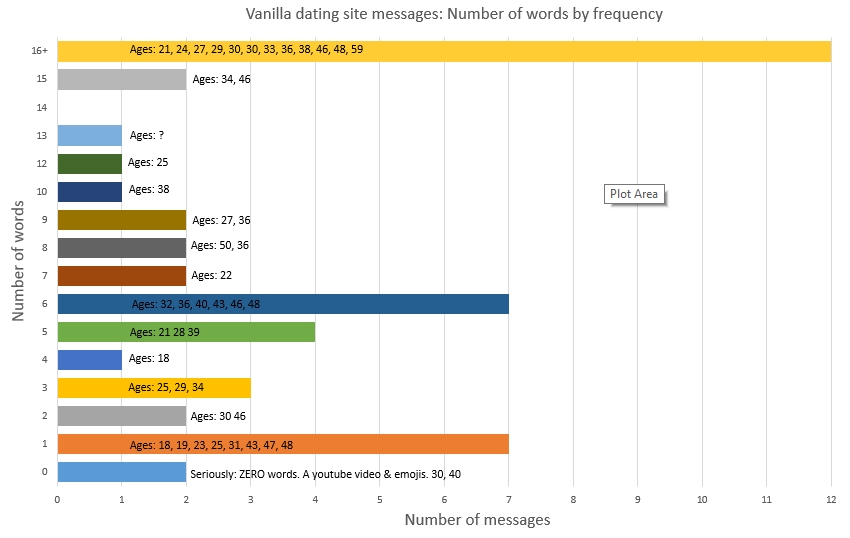 This is the number of words broken down by age in graphical form. I'll admit that I'd have expected (and hoped) to see a pretty clear trend that showed that as they got older, they were better at using their words. But nope. It seems to be a pretty random spread.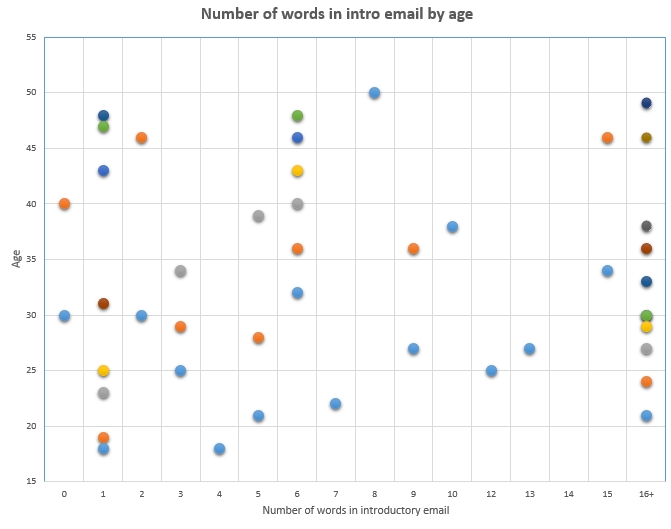 After talking about introductory emails, I'll add that I have initiated some contacts also based on great profiles and appealing pictures. Not a lot because honestly, most profiles scream 'I'M FUCKING DULL, I LIKE BEER AND SPORT AND MY MATES, HAVE A BIT O' THIS ACTION LADIEEZZZ LOL'. None of those I have contacted have gone anywhere past a few back and forths. It's not all one sided, you know.
On a different note, I'm going to add this because I find it both interesting and a little depressing:
On the vanilla site, at worst, I get a lot of dull emails that consist of less than ten words.
On the BDSM site, I get a lot of those also, but I also get men telling me explicitly and in gross detail what I should do to them (let me be clear that I don't get a lot of those, but I'm talking about the WORST I get).
I think that because vanilla men are just dealing with 'a woman' on a dating site, they know how to behave because hell, they do that all day every day out in the world. Because submissive men are dealing with 'a Domme', some of them have carefully smoothed an impenetrable layer of 'not a real human woman' on top and therefore think that normal socially acceptable behaviour no longer applies.
In short: my vanilla dating inbox is a lot less unpleasant than my BDSM one. Sad, but true.