I always debate writing about nebulous things, because this, with the pretty thing, is not really a 'thing', but it's a 'thing' in that he is getting inside my head, and when someone takes up residence there, I want to write about it even though it is difficult for various reasons (I've written about this blogging dilemma) before.
The pretty thing contacted me about 3 months ago, an articulate, chatty introduction email in response to my initial workout post calling for people to come join me. He wanted to join me.
In his introductory note was this little gem:
'Unbridled and unabashed admiration' I believe sums up my sentiments towards Your exquisite mind quite adeptly.
Well… *swoon*!
He's 25, in the US, and from his email, it was obvious that he had a sweet little crush (which I *love*, by the way). It was an email correspondence, I have them often enough, mostly there are a few exchanges before it peters out… *shrug*. No biggie.
This one didn't peter out, though, and over the months of wide-ranging conversation, his intelligence, unrelenting optimism, and unwavering sweetness started to make me look more closely at what was going on.
He argued with me about my ageism with insight and humour, he took criticism with grace, he paid attention to small things I said, he glowed under my attention. And also, he sent me stunning photos that made me swoon, firstly under the guise of workout progress reports, later because I so obviously reacted to them as if I had lost my mind.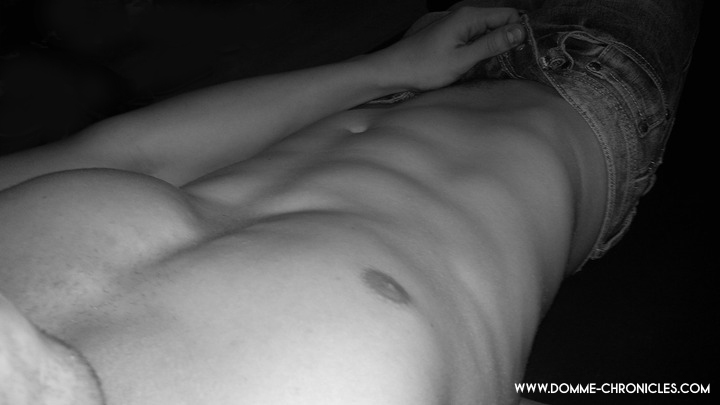 He is surprisingly naive, wide-eyed, and overly romantic. He spins in his own head, and he has the boundless enthusiasm of youth not yet made ragged by life. Watching him discover things about himself is amazing, wonderful. Seeing him open up and shake his head in wonder at feelings he has never had before is fascinating. Being the foil for that is intoxicating.
I have been careful with him, to not cross the line from light flirtation into something else. I am truly amazed each time it happens with a boy where something between us triggers him strongly, like there is a switch, and honestly, I don't know how I flick it, but I do. I see it, I feel it. Even from a distance, I feel it.
I don't play remotely, so it's not about that. We talk, we flirt, I tease a little, but I don't *do* anything to make it happen, and when I look for someone who fits me, this is exactly what I look for: there is some natural dynamic that develops where he falls under it just because. And every time it happens, I am floored by it, I want to take him apart, pull out all his pieces, crawl around inside his head, and figure out what is going on there, how it works. And sometimes, he does too because he doesn't understand it either.
I have been keeping the pretty thing tethered to the ground while he tests out his wings with flights of fancy.
I am the voice of reason, bringing him down to earth time and time again. I don't want him to get hurt, or if he is going to get hurt, I want him to see it coming, so I have been careful to lay it out honestly so that he has his eyes open. I ended up painstakingly explaining the realistic outcomes for this 'thing', clearly and brutally. And he challenged me on it. He wrote a long and heartfelt response that brought me to tears (and I am obviously not doing so well with the ageist thing because my first thought was "Did a 25 year old just make me cry?!").
It included the line:
…and You're not wrong, its just that You're tired…
It made me laugh, that line. But it's not funny. It's kind of sad. I denied it of course, "I'm not tired, I'm just realistic!" but I'm not so sure. I don't feel like I am tired, or cynical, or jaded, or any of those things. I *feel* as if I am open to opportunities, optimistic, positive, but I have made rules for myself.
The key one being "No involvement if there is no chance of 'happily ever after'".
I don't need some sort of guarantee, that would be ridiculous, but I need to know that it's *possible* before I make that sort of emotional investment. I don't want to run full force at inevitable heartbreak. It might happen anyway, but running at it on purpose is not something I have the appetite for any more.
"So what happened to just having fun, Ferns? I mean, 'happy ever after' is a big call!"
*smile* I don't know, I'm tired *laugh*.
But he is working on me:
…the thought of traveling halfway around the world for a simple cup of coffee doesn't seem so far fetched…even with the possibility of us shaking hands and me heading home after as a very realistic ramification, it doesn't scare me…

—

I don't know what will happen… but don't write me off because of geography, because that's as silly as Your age argument…

—

Even if the odds are stacked against it all, if the 'best case scenario' is dreadfully unrealistic and far fetched… I would still happily risk the heartache and pain for You… Yes, a hundred times, and without a moments hesitation…
I love his optimism and fearlessness, the hopeless romanticism. He will leap, regardless, given the opportunity, and I love that.
Do I think there is a possible 'happy ever after' here? I've given it 3%. He is fighting me to give it a chance. I enjoy very much that he is.
I have said he can come and visit, to see if there is anything real here, and I'd be lying if I didn't admit that getting my hands on him is hellishly appealing regardless of the 'happy ever after' (I mean, fuck, just look at him!!). Will he make it out here? I really don't know.
And just like it is Your job to ground me, it is my job to remind You of Your wings…
What did I tell you? A hopeless romantic.