It is a sign of the times that I no longer know what day it is. Lying in bed this morning having a little bet with myself. I was wrong, by the way. I decided it was most definitely Monday. It's not. It's Sunday. So here we are :).
How are you all doing, my lovelies?
I hope you and yours are well and safe. Please insert any and all of the trite pandemic-style banalities here.
On that note, Chrissy Teigen is one of the very few celebrities I follow on twitter because she's hilarious, isn't above getting into low-level (and high-level) twitter spats with arseholes, and drops snippets of comedy gold like this:

---
You probably already know what I'm like when I have no particular topic to talk about but still want to talk to you: I just throw out randomness. An update on nothing in particular, and everything in general. So here we go.
---
My appetite for talking to potential submissives is so low right now that I politely opted out of all of the conversations I was having. This is a shame because before this all started *gestures vaguely at THE WORLD*, I had some really lovely men willing to have a chat with me to see how we got on. I think some of that loveliness that landed in my inbox was a result of putting a link to my personal ad on Fetlife, which I'd never done before.
Truth is, I haven't the emotional energy or the will to engage with strangers. My patience is short, and I'm a bit like 'if you aren't solely bringing me joy and light, I'm out'. Not their fault at all.
Theoretically I could just say 'I'm happy to chat if you only bring me lightness and joy' and call it some kind of vetting or service or some other thing, but part of it is just… me. 'Potential partner' conversations inevitably carry more heft and weight for me, and I seem to run them through a very noisy filter in my head, and that makes them not-light by definition.
---
I hit peak twitter y'all. Patricia Arquette liked one of my tweets. Yes, THAT Partricia Arquette.

I'm not one of her 427,000 followers, the tweet was seen by about 20 people, it wasn't even mildly popular, and I have no idea how or why she saw it (okay, let's be honest: 'her social media team' saw it, but LET ME HAVE THIS SMALL PIECE OF GOODNESS!). So random (in the literal sense, not in the 'cool kids saying a thing' sense).
Here's the actual tweet she liked:
Haha silly.
THIS is a baby platypus :) pic.twitter.com/6hupXIFryl

— Ferns (@Ferns__) May 14, 2020
And if you don't think I'm going to be dining out on this 5 years from now, 'and anyway, there was that one time Partricia Arquette liked one of my tweets', you underestimate how 'peak twitter' this really is :P.
---
I've now fully set up a Patreon account, and it's so terrifying I'm just sitting on it like some goose trying to hatch a golden egg or something while I work up the nerve to launch it.
If you've never heard of Patreon, it's like a crowdfunding platform for creatives, but instead of donating money to reach a single goal, you become a 'patron of the arts' by supporting an artist (that's me!) with a small monthly contribution (the lowest tier is the price of a cup of coffee) on an ongoing basis. My aim is to have a community of folks supporting my work, and in particular, contributing to my new project. In return, my patrons get access to exclusive new content.
What is my new project, you say? I'm so glad you asked :).
I'm creating scorching-hot femdom erotica as audio stories: Specifically, I will be doing readings of the stories in my Domme Chronicles book in my sultry Australian non-accent.
I will create at least one audio story a week, which patrons will get to hear immediately upon release, and all patrons will get a free copy of the full audio book when it's done (plus there are some extra goodies for higher tiers).
Exciting! And scary.
I plan to do a soft-launch to my mailing list folks first, with a special discount, so if when I bite the bullet, you'll want to be on there to get the exclusive offer: Here's the mailing list :).
I've been stalling on pulling the trigger (see above, re 'terrifying').
Hard to put into words what's stopping me: A big part is just fear of failure, which I've talked about before. The other part is making the commitment to it.
Here on my blog, if I don't feel like writing, I just don't. Easy :).
Once I have folks actually supporting me because I've promised certain content, I have to deliver. This is actually a good thing for me in many ways: I do well with accountability. But it does mean that once I do it, it's done and I'm A-L-L I-N without equivocation.
ETA: I launched it: My Domme Chronicles femdom audio erotica patreon is here. Tah daaahhh! Please come join me!
---
Kind of related to the above (and because I was dicking about with doing/not-doing the Patreon and thought 'well maybe this instead'), I also created a shop site of my very own to sell my books and audio clips directly. A challenge!
It's really beautiful and I'm very happy with how it turned out.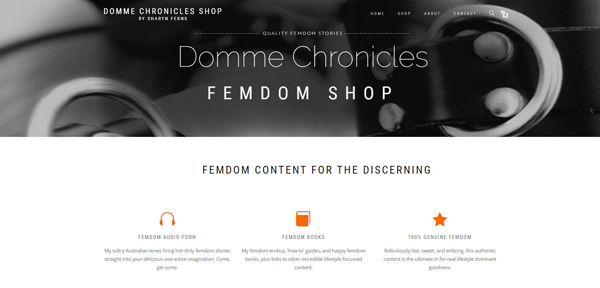 It was a tricky endeavour not just because of technical and aesthetic and financial reasons, but also for mutual anonymity and safety for both me and for potential customers.
I finally configured it so that clients will see 'Ferns Inc' (both on screen and in credit card statements), which is vague and inoffensive, and I have figured out that purchases don't require real names or street addresses (credit card validation will require State-Country-Postcode though).
I'm not quite sure what I'll do with it yet because I'm preeettttyyy sure I prefer to go the Patreon route, but I built it, it's there, so yay me :).
---
Re the above two things and my mental energy: It's interesting to me that I can do that kind of not-personal work, and my brain is all 'cool, a project!' But the part of my brain that fires up the energy for personal interactions is pretty much a wasteland of tumbleweeds and dust.
Not sure if that's a typical introvert thing or just part of general pandemic-stress, or something else entirely.
Also on the above: The 'cool, a project!' thinking does not extend to book writing or any long-form content (short-form is hard enough) either. My concentration for that sort of thing is shot. I'm scattered and unable to focus. From talking to other folks and reading some articles, this is not uncommon in times of stress.
I've spoken to some friends with mental health issues and I know the stress is an additional challenge for some of them right now. If you're struggling in some way, I really hope you have love and support around you.
---
I've been mightily failing with exercise now that my pilates studio and gym are both shut. For me, the act of going somewhere to do exercise was somehow the most important part of actually doing it, the driving impetus.
Pilates was easy: Scheduled pre-paid sessions twice a week, 10 minutes down the road. I just had to turn up and do what someone told me to do.
The gym was always harder, but the hardest part was always to *get there*. Once I'm there, I just… do the workout. The 'getting there' part was the hill I always had to climb and after that was taken care of, the rest was easy.
Yes, I can of course do stuff at home. And I have done.
But without the 'going to the place', I find it very difficult to get up and do the thing. I'm so bad at it.
I need to do another 12 week #FernsWorkoutChallenge for me and my fellow worker-outerers, which I've done previously with good results.
---
Oh! And I also built a new page for all my femdom books.
Ha! Look how busy I've been.
I actually have a whole Sharyn Ferns: Femdom Author SITE that I've been linking to for my books, but the traffic is super low, and I think it's overkill for folks who find their way to my blog and are already here poking around.
I still link to it in my books, and it's useful for folks who are only interested in my books, so I look like a proper-for-real author with a proper-for-real author website, but yeah, once you're here on my blog, I'd rather keep you here all cosy-like.
The new books page shows a cute little synopsis if you hover (on desktop) or click (on tablet/cells) on a cover, and includes reviews at the bottom: It's useful to show reviews here, especially since a lot of people don't want to put them on Amazon for obvious reasons (even though you CAN Done! :) So if you've enjoyed one of my books, and would like to write a review for me, please do.
---
Now to explain all the little pictures in my header image there…
I've been doing a bit of cooking. I don't cook as a rule, but lately I've been having Dinnerly boxes delivered (it's one of those services that delivers measured fresh ingredients and you just cook their recipe). I made up the hashtag #ChefDomme for those adventures (with pictures!) if you want to see. Mostly they're huge hits, with my favourite combination of 'low effort, great results'. I can only do little stints of cooking before I'm over it though, so 2 weeks is enough before I'm all 'ugh cooking AGAIN!?' at it.
My orchid, which I got as a housewarming gift and which I somehow haven't killed yet, is spiking early. She has been blooming around October each year, so I don't know quite what's going on with her but I'm nurturing her as best as possible.
I did my nails in a fit of 'fuck you, I want something pretty'. Hence the gorgeous black-and-glitter there.
I found an 80s floor lamp out in the street for council pickup. It's in a style I always wanted when I was young, and I adopted it even though I really don't need a lamp and it's now pretty naff all round. I painted it white (from a dark brown) and put some sea-green and blue fabric inside to make it fit my 'beachy' kind of style. I do love a project! Now I just have to figure out whether to keep it and if so, where the hell to put it.
Apropos of nothing, I decided I needed a new pretty butt plug. And when I say 'pretty', I mean 'gorgeous'. I have a few, but they're boring black or purple or whatever. There are, actually, lots of super-stunning glass ones out there (look at this unbelievable beauty!), but I wanted silicone. After much searching and deliberation, I ordered the purple and gold one in the photo, it's hand made by Godemiche (that's dildo in French for you heathens :P). Their instagram feed is a thing of beauty AND you can choose your own mix of colours when you order*.
*not a sponsored post, they're just a small business making beautiful dildos
---
The weather has turned from warm to cool here as we head into winter. I've spent my Sunday writing this post, putting together the images, faffing about on twitter, and now I'm going to binge-watch Westworld S03 which I just realised has finished. It's a pain to wait until a series is finished to watch it, but I can't with the 'week-by-week' thing. It's unacceptable!
So what have you been up to?