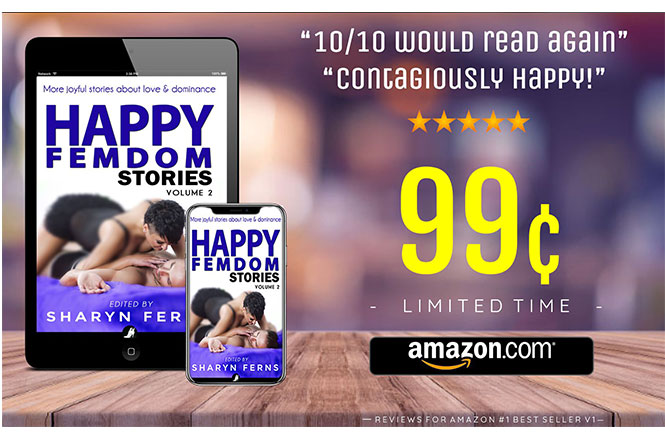 I'm delivering happies!!
In case you aren't aware, I've been collecting real-life stories from folks in happy F/m relationships as part of my 'happy femdom project' for quite a few years now. I released Happy Femdom Stories Volume 1 about a year ago and I'm so delighted to have 25 more wonderful stories to share in Volume 2.
We don't hear enough about real femdom relationships: Not fantasy, not porn, but genuine folks sharing their stories of finding each other and building their unique femdom relationships. The stories are hopeful and uplifting and happy-making.
This volume includes stories from long-term married couples transitioning to F/m, an Fmm poly family, a dominant who married her submissive after he left the Catholic priesthood, a couple who found each other later in life, a long distance poly couple, a young F/m pair finding their feet, and many many more.
A huge thank you to the fabulous authors who generously contributed their personal stories.
If you follow me on Fetlife or on Twitter, there are some wonderful folks you may recognise: Carolyn, DoubleGemini, puppykitty, Regina-, SteeledSnake & SteeledSnakeCharmer, and MelissaOnTop (who has shared her entire fascinating story in her book "Collared: A Sir and Her Priest").
These stories are, at their heart, about love, and it's my absolute privilege to share them.
I hope you enjoy them as much as I do.
You can grab it here: