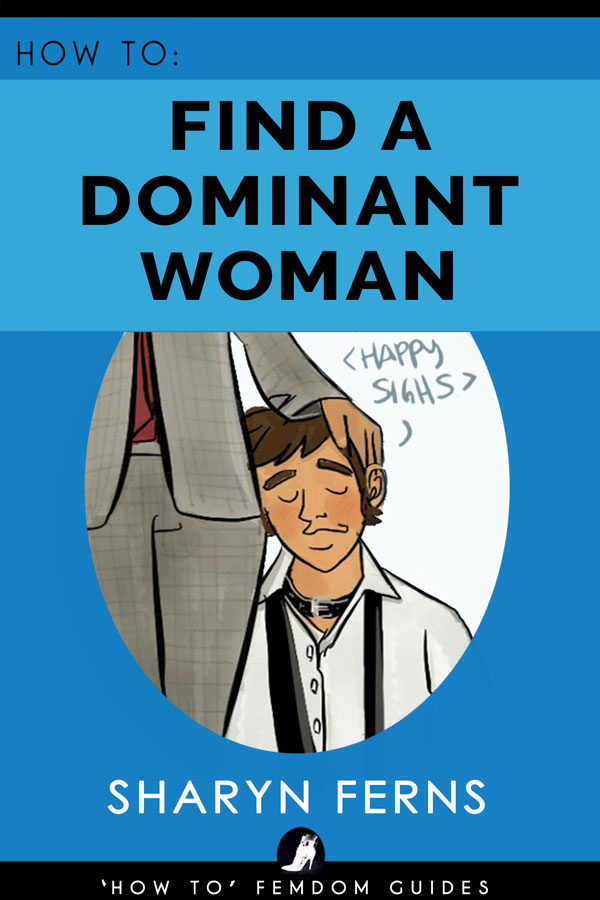 ' How To Find A Dominant Woman' by Sharyn Ferns, Cover art by Submissive Guy Comics

Some version of 'how do I find a dominant woman?' is the most commonly asked question I see from submissive men both in my personal Q&A and on F/m internet forums.
Information and advice abounds on the topic: The main difficulty for someone trying to get help, though, is that it's mostly in little snippets in random places with varying degrees of usefulness, so an actual cohesive answer to 'yes, but what do I do?!' is harder to find than you would think.
So here it is: THE answer* for any submissive men who are wanting a bit of help to put their best foot forward.
This guide for submissive men is short, sharp, and practical. Where to go, what to do, what NOT to do, how to give yourself the best possible chance to find your happy ever after. Or, at least, to make a start without inadvertently getting in your own way.
Things to know before you start
Places to meet dominant women
How to figure out if you're compatible
How to approach dominant women
Five steps for writing a great introductory email
Examples of introductory emails that worked
Warning: How to spot online scammers
If you think it sounds useful for you or for a friend, please go grab it.
If you find it helpful, I'd really appreciate a review on Amazon: As an independent author, reviews are really valuable (you can change your display name if you don't want a real name on the review).
Little squee: I already have one five star review *happies*!!
ETA: Bigger squee! Did I say one five star review? I meant two! TWO!! *bounce*. The second by the smart and thoughtful JT Revner who writes over on his Sex & Slavery blog.
—
*No 'one true way' implied, no guarantees for the 'happily ever after', the judges decision is final, no correspondence will be entered into etc etc. All legal recourse to be directed to my lawyer who might be busy with all the Sydney University lawsuits, but will give your complaint the attention it deserves in due course, kthxbai.