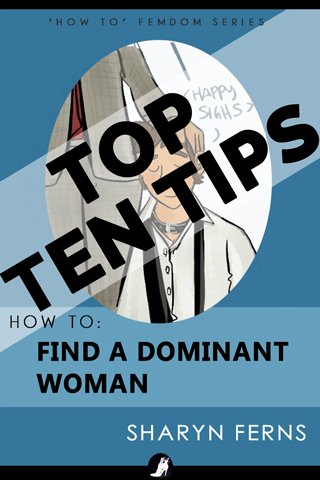 ' How To Find A Dominant Woman' by Sharyn Ferns, Cover art by Submissive Guy Comics

I talked about my book already, but I thought I'd share some highlights.
Firstly, I have to say that finding a partner is hard. Finding an F/m partner is even harder. It just is. Not just for submissive men, but for dominant women also, I should know (feel like I should start singing 'Single Ladies' now…).
Trust me, fabulous submissive men, we WANT to find you.
But in my experience, some submissive men who have the potential to be amazing partners get in their own way when it comes to finding, attracting, and approaching dominant women.
Sometimes it's inexperience, sometimes it's fear, sometimes it's an overall misunderstanding of the social environment. And sometimes it's a combination of a whole bunch of things.
It's not surprising, really. There is a LOT of information (and mis-information) out there, and the stock standard response to broad questions like 'how do I find a dominant woman' can end up being 'everyone is different' and 'there is no answer'. Which might be true enough in a broad sense, but it leaves those who ask floundering.
So, my top ten tips:
Create an awesome online profile
This is important and relevant even if you are meeting people out in the community: they will ask for your online Fetlife profile to friend you. If you don't know how to create a good one, here: 'How to Write an Awesome Online Profile' (yes yes, I did just spruik my own book here while talking about my OTHER book, I'm doubling down, baby…)
Educate yourself
Expecting your potential partner to spoon feed you information about BDSM, D/s, or F/m is laying a lot of emotional labour on someone. If you are new, no-one expects you to know everything, not at all, but make an effort to at least learn concepts and terminology outside of what you've seen in porn.
Be clear and honest (with yourself and with others)
If you don't know what you want, at least work out broad strokes (see 2 above, consider it part of your education). What you want is likely to change over time, but having an idea is vital. Above all don't pretend to want or to be what someone else wants just to get their time and attention: it's dishonest and hurtful.
Internalise the fact that dominant women are just people
They aren't an alien species that live in some rarified environment of domliness. They are just normal folks like you and me. Don't forget that.
Hone your vanilla social skills
Related to 4. above: You have probably interacted with dominant women out the world without knowing it. I expect you were polite and pleasant and not-too-weirdly-domstruck. Bring those skills into play.
Go where the dominant women are
Whether it's online, in the BDSM community, or even in vanilla spaces, go into those spaces. If you stay quiet and never take the risk to put yourself out there, you will never have any positive results.
Determine compatibility
Online, figure out if you're compatible before you contact someone. If she's looking for X and you are Y, don't contact her: You aren't the exception. Obviously in face-to-face situations, you have to just talk to people old-school style, make friends, see what's what.
When you approach, be interesting and interested
The bar is low. So fucking low it's not even funny. Dominant women are bombarded with dross ('hey', 'how r u' are examples of the polite version of dross). Do better, be better. Trust me, it's not hard.
Be YOU
A dominant woman who is a good fit for you has to see you, for real. Not some pretend-supersubly version of you. So don't be afraid to be the geeky, nerdy, extroverted, shy, smart, opinionated, sarcastic, hilarious, something-something person that makes up 'who you are'. You aren't going to be a match for every dominant woman: You have to find the one who fits the particular awesome that makes you, you.
Get my book 'How To Find A Dominant Woman' :P
For useful, actionable, no-nonsense help and examples on how to do all of the above and more, go and grab my book, 'How To Find A Dominant Woman': It will give you a running start.