Ruby Ryder wrote a post about how a spate of potential partners she had been talking to suddenly stopped communicating with her and essentially disappeared.
If you've been following along here, you'll know that it happened to me with the sex-voiced Texan not so long ago. The sex-voiced Texan was the first to do this at a stage where I was invested to the point of talking about travelling internationally to meet him, so it hit me pretty hard. There have been other times (in fact I tweeted about one earlier today who turned back up in my inbox), but 'where we were at' in those instances was a lot less concrete.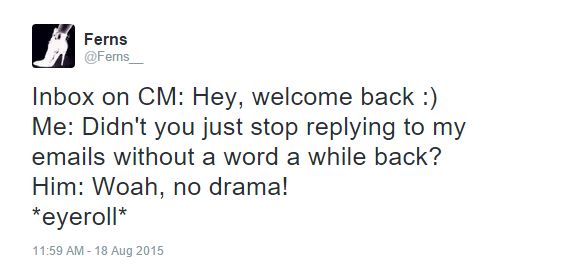 On the one hand the disappearing thing is baffling and smacks of cowardice, but on the other, there is a point before which no-one owes anyone anything, so ceasing contact without any declaration is then perfectly fine. And the line between them is blurry and completely subjective. And I might well be a hypocrite here.
There is a point after which 'disappearing' is unacceptable to me, but I can't honestly define exactly where that point is. And of course, that point is different for everyone which can make things very messy indeed.
For me, if we have made it clear that we are absolutely in this conversation to see if there is something worth pursuing together, and the conversation is past the initial exchanges, then our intentions and expectations are solid, and just disappearing instead of saying 'sorry, this isn't working for me' is unacceptable.
If, however, we are having a conversation without any stated intent (even if there might be potential there) or we've exchanged only a few emails and the conversation falters, I feel no obligation (and in fact would think it was weird) for either side to state that they aren't interested in continuing and are opting out.
The difference is in intent and expectations. And of course they may not match up.
If I'm becoming invested in someone, I will ask them to not just disappear so that they are well aware that it will hurt my feelings if they do. If they choose to do it anyway, I'm 100% clear that they just didn't give a fuck about my feelings. Knowing that is very helpful. But the unspoken point where I will find it rude and hurtful is somewhere before that.
I feel like a bit of a hypocrite because I will often just cease communication with someone I'm not interested in, but I only do it if our communication never really 'got off the ground', if it's still in email, if the conversation is stilted and struggling. But I subjectively make a judgement about that, and I have no real way of knowing what the other person is thinking. Frankly, I figure if it's not working for me, it can't possibly be working for them either. And if they reach out again and I see that they had different expectations, THEN I will call it, and not just ignore them. Because I'm not an arsehole.
While there is ambiguity in all of this, there's one thing that is clear to me: If you stop communicating with someone and they come back with 'hey, what's going on?' and you ignore them, then you are probably* being an arsehole.
*I had to put 'probably' in there because some people are completely delusional about what your obligation to them is, so I want to be clear that I'm talking about mutually pleasant exchanges here, not 'victim of scary stalker' type exchanges.