As always when I don't really feel like hitting 'publish' on any of my ramblings, I end up doing a general 'what's going on with me' post, and sometimes that's enough to kick me out of my stupor, so here it is.
—
I had a couple of minor surgical procedures in the last few weeks (don't worry, lovely readers, they are no big deal). One was to take care of some stuff, one was a check for some other bad stuff. Neither are worrisome, but there has been some prep and recovery time that makes me feel a bit 'off'. I thought I was on top of it all, but today is day 7 after the second procedure and I have some swelling that is keeping me sequestered at home to rest in case I make it worse.
—
I've invited the sex-voiced Texan to have another voice call with me. Our last one was some 4.5 hours long, ending at about 3am or so his time. He sent me a sweet note afterwards saying he 'couldn't fall asleep from delight' after we hung up. That still makes me smile.
Our communication is much slower than 'normal' because most of it is in audio files, and creating them takes a block of time, some solitude, and a different energy from writing. Still, when I hadn't heard from him for 4 days, I realised I missed him.
In my typical manner, I wasn't slow to say so in a blamey way when I finally DID hear from him *laugh*:
You HAVEN'T TALKED TO ME IN FOREVER!! Where WERE you?!  *kicks things*

…

I missed you. Why weren't you talking to me?
I'm so subtle, like a freight train.
I enjoy that feeling a lot, the missing I mean, not the freight train part.
—
There are two severe cyclones that made landfall on different coasts in Australia today. My heart goes out to those impacted. It will be devastating.
I will not be directly impacted, thank goodness, but the one that made landfall as a category 5 (wind over 280 km/h) that crossed the coast many many miles north of me will cause wild winds and storms here tonight. Coupled with high tides, there will be local flooding.
I expect there will literally be no beach left here when it's done with us.
I have to post this on a lighter note: the cute-as-fuck sign language interpreter who is accompanying the storm warnings is lighting up social media. He's adorable (and I'm sure, professionally excellent!).
—
My gym-going has been interrupted by medical stuff, but I'm asking some knowledgeable friends for advice on my workouts since I'm (as always, it seems) lacking in motivation. I'm (as always) still going to the gym and doing pilates, but I'd really like to feel more 'raawwwrrr!!' about it.
It's not necessary, really, but I've been in maintenance mode for a long while and while that sounds like it should mean 'remaining at my peak', it really means 'slipping backwards'.
—
I never really wear makeup unless I'm REALLY trying to glam it up (which is rare). I'm just too lazy and it just seems like too much trouble. Also, I'm not good at it (I imagine the 'never doing it' and 'being crap at it' are related… heh), and any makeup I have is about a hundred years old (except for my deep red 'book autograph kissing lipstick', that's new!).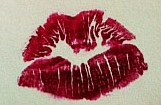 Lately, though, I've become a bit curious, so being me, I did a bunch of research (ooh, a project!) and bought some makeup-ey bits and pieces off the internet (eye liner!, lip liner!, eye shadow! mascara! make up brushes!). None have arrived yet.
I suspect I will try a few things, look like a clown (did I mention 'crap at it'?), and then those things will sit in a drawer until I throw them out. We will see.
—
I've seen a bunch of breakups and the fallout thereof amongst friends and fellow bloggers recently. It hurts my heart. There is a temptation to think that it's just not worth it.
But even when I was going through the horror and pain of my last breakup (it still surprises me how long ago that was!), my one abiding thought was 'It was worth it, absolutely 100% worth it'. If a relationship ends, and I have to bear the pain of it, I always want to feel like the hurt is a testament to that worthiness, that I'm honouring the relationship by feeling it.
Still hurts like a bitch though.
I hope anyone who is hurting thinks it was worth it.
—
So it's Friday, it will be a weekend of storms. I'm taking it easy, being gentle with myself. I hope you all have a stellar weekend.