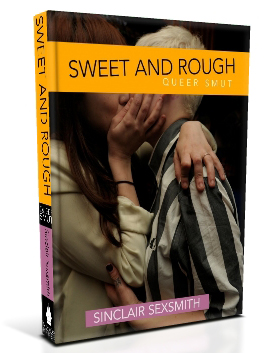 Sinclair Sexsmith is one of those erotica writers who makes me envious of the way they express themselves. I have been following their blog, SugarButch Chronicles, since forever, way back when they wrote intimately about their loves and relationships and sex. I would routinely read some turn of phrase in their stories of sexual exploits and be both turned on and eaten up with emerald envy at the way it was expressed.
They were also my primary source for definitive information on the first strap-on harness I ever got since I figured an experienced butch top who had tried and reviewed so many would be a stellar source for recommendations.
So given all that, when Sinclair asked me to review their new book, Sweet and Rough, as part of their book tour, I was all 'Hell yeah!!' even though it's not F/m, so doesn't strictly 'fit' here. Shut up. Don't care.
Sinclair Sexsmith uses the description "cock-identified lesbian-feminist queer dyke" in the book to describe themselves, and as a cock-wielding dominant, most of the stories are centred around butch-femme play and sex involving their cock (soft packing, hard packing, strap-ons).
Many of the stories are about first time encounters, often with strangers: unexpected, coincidental hotness orchestrated by one or the other, with the exploration of bodies, the sorting out of roles, and gauging and eliciting of reactions that entails.
I like very much how the encounters start and build, with the anticipation being drawn out beautifully.
And then she gives me that look… that gorgeous look of desperation and desire, fierce and fiery; that look that might be what Medusa looks like, if anyone ever lived to tell of the power behind her eyes. I can be devoured by that look, I've seen it before and it has unraveled me at the seams.
'All Five Senses' was my favourite starting with voyeurism in a library and revealing a feisty bottom who knows exactly what she wants and challenges her top to deliver. The prose leading up to their contact is wonderful.
I don't look back over to her, but go back to the library stacks, sifting through the Dewey decimal numbers on the spines, fingering the worn covers, the different textures, letting my fingers stroke the books as I take a few steps and follow the books around the corner.
The smut is hot and the stories flow well from the set up through to the porn. True to the title, they are often sweet, which I love, and sometimes rough, which I also love. The porn-bits themselves are hot and explicit and wank-worthy.
I was struck by the introduction to the book, which is a wonderful essay in and of itself that starts by asking the question:
Do rough sex fantasies compromise your sex-positive ethics?
It's a great question. The essay goes on to discuss the intersection (or not) between reality and fantasies and the responsibility of erotica authors to work some form of education (about consent, about responsibilities, about negotiation, about STIs, about safety etc) into their writing. Sinclair concludes with this:
I encourage you to continue practicing being a responsible, ethical, sex-positive kinkster who operates from integrity. And I encourage you to read erotica stories that are edgy, full of force and lust, from authors whose ethics you trust and to believe that the responsibilities are filled in behind the scenes, just off the page…
I wanted to love this book beyond description, but I'm going to admit here that while I really enjoyed it and would certainly recommend it because it's a great collection of hot queer smut, I didn't quite get to the heights of capital L LOVE. I think my expectations were too high because I loved Sinclair's early writings so very much. The stories as a set hit a bit of a repetitive note, and unlike Sinclair's early writings, which were so very personal, I didn't get as much of the intense intimacy and raw vulnerability that I had hoped for with some of these stories. I'll say out loud that the latter is not really what erotica is about, so I think that speaks more to my own particular tastes and expectations than to the book's content.
Overall: Recommended. Go get some!
Giving away a free copy of Sweet and Rough!
To celebrate the release of the book, Sinclair has kindly offered to give away a copy.
To be in the running, leave a comment here, include your email address in the appropriate field (it will not appear publicly), and I will randomly pick a winner in the next week. I'd strongly encourage you to enter because FABULOUS FREE SMUT!
Update 9 October: Competition (and comments) now closed. See this post for the result.
___
Read more about Sweet and Rough here.
To see what others on this blog tour had to say about the book, check out the following posts: