Heh.
I went flyboarding a few weeks ago.
"A flyboard is a type of water jetpack… A flyboard rider stands on a board connected by a long hose to a watercraft. Water is forced under pressure to a pair of boots with jet nozzles underneath which provide thrust for the rider to fly up to 15 metres in the air or to dive headlong through the water." – Wikipedia
And when they say 'dive headlong through the water', they really mean 'crash inelegantly while screaming'.
It looks like I'm doing something fancy in these fabulous action shots, but both of them were taken seconds before the aforementioned inelegant crashing…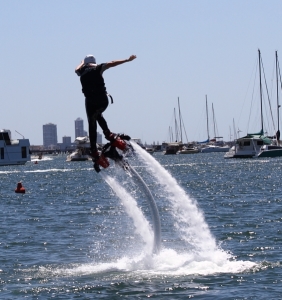 GD Star Rating
loading...