Results of my last (and final) poll for the cover art for my book. I asked you to choose from the following 7 covers (thank you so much to everyone who participated!).

And here are the results: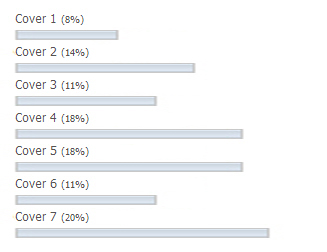 At first glance, one might think: Oh look, 7 is the winner over 4 and 5 by a nose, and all the romantics who like that couple (there are a lot of you!!) will be all "YESSSS, WE KNEW IT!! *smug*".
But noooo: I actually split the vote on the image I used for 1, 2 and 3 (apparently, I am not very good at designing polls that give me definitive results), so in actual fact, 33% of the votes were for that image, with different preferences on how it should be used.
Thank you so much for giving me your input both by voting and by taking the time to give such thoughtful feedback in the comments. I really appreciate it.
I really want to get this book up on Amazon before the end of the month. Stay tuned!!