I did a photo shoot last week and the set included a bunch of muscle-shots, which are a *vast* improvement on my usual rubbish-light-and-angle selfies.
Though when I say 'muscle-shots', I am being somewhat generous and might better describe them as 'trying-to-show-off-muscle shots'.

Even though I'm not big, I DO see some fabulous muscle definition when I'm avatar-sized (see right with the distinct bicep, deltoid, lat, whatever-they-are muscles being visible there), and then I get disappointingly less and less fabulous as you make the photo bigger (see below).
WHAT KIND OF FUCKERY IS THIS?
Obviously I need to be a teeny-tiny pocket version of myself. Problem solved.
I feel a bit like I'm in maintenance mode now, which is not really what I want yet (because I haven't achieved what I set out to achieve), but I'm okay with it for the moment while I figure out 'what next'.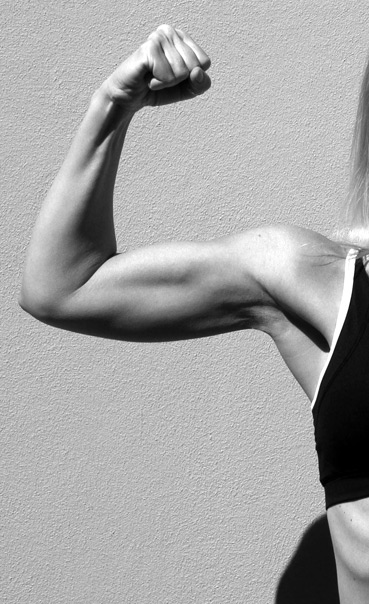 My twice-a-week pilates sessions are currently only once a week because the physio studio reduced the available classes. On the up-side, I have only two others in my sessions, which means a lot more personalised attention.
I'm heading to the gym pretty solidly three times a week, weights-only, with a bike warm up and sometimes burpees. I am currently doing a few weeks of drop sets to try and give my body a shock. I'm not doing any cardio at all.
My photographer (my vanilla ex) took my last two birthday nudes and we were talking about the differences in my body then (no gym, no exercise at all really) and now (after 14 months of solid gym work).
He definitely sees a difference in my shape and the 'quality' of my body and is genuinely impressed by it. He sees broader shoulders specifically, and a slimmer overall look. He also sees new *strength* in my body (that is, musculature is visible to him), in particular, in my upper body, shoulders and back. This makes me happy.
Of course, I don't see it because it's gradual for me, and I am too close to it.
I gripe and whine about the lack of progress in pretty much every body project post. This is NOT because I don't see any improvements overall. It's because I am frustrated over *still* not being where I want to be: Essentially, visible lean muscle shape when I am relaxed. Not crazy-big, but I'd love to see some arm shape, a hint of abs, a little quad-flex when I walk… I have none of those… yet.
Not giving up.
Also expect some more photos from the photo shoot. I have about a gazillion of them!