I want to post something brimming with enthusiasm and excitement, but I am so very aware of how my last meeting turned out that I am hesitant to bring you along just in case there is disappointment coming.
On the other hand… if I must suffer, then SO MUST YOU, so here goes!!! *laugh*
Bambi arrives tomorrow!! I AM SO EXCITED!
___
He is at the airport getting ready to board his plane as I write this. We are in chat just kind of fidgeting at each other.
bambi: bonk bonk bonk
I'm bouncing!
excited!
I want the plane to go now!!
Me: IT SHOULD JUST GET HERE NOW! Except I won't be at the airport until tomorrow
Stupid logistics
___
He will be travelling for some 20 odd hours to get here, and from there I will take him home. He's never done a long haul trip like this before. I expect him to arrive exhausted and disorientated, and I expect him to be a little overwhelmed at the airport by a combination of that and nerves.
___
In the last few days I have been getting my house in order: Mega cleaning, tidying, making lists of stuff, looking at places to take him while he is here, organising things that *might* be relevant (sex toys!), generally bustling about keeping busy.
___
I will pick him up from the airport tomorrow around mid-morning. It is a little more than an hour's drive to my place. He will not be allowed to sleep in the car (not just because I demand his attention: for jet lag it is better that he stay up until the evening). I'm trusting that any awkward first-meeting feelings will dissipate during the drive. I will take him to my place where he will have a chance to shower and change, or perhaps I will make that a little more interesting, depending how I am feeling *smile*.
Then I will take him out for lunch somewhere overlooking the beach where we will spend a leisurely time eating, drinking, talking. I have promised he is allowed to have beers if he wants. We will make the transition from remote-knowing to in-person-knowing and start to really feel out how this chemistry plays for us.
Probably a walk on the beach, maybe a swim, and depending how tired he is, I will deliver him to his accommodation (about 15 minutes drive from my place) in the early evening.
Then the next day… well, I haven't thought that far ahead yet…
___
This afternoon after bambi got on the plane and was no longer available for mutual fidgeting, I went out into the world to avoid being home and feeling like I was waiting. I HATE waiting. HATE!
While I was out there, I went into some sort of jittery-buying-frenzy. I bought a bunch of mundane normal things (I had a list!) plus a pair of black cargo pants, five singlet tops, a couch cushion, lots of snacks (pate, camembert, crackers, chips, tim tams…), Easter eggs (my niece's fault!) and generally went kind of crazy. WTF?!
I'm kind of surprised I didn't buy shoes… for jittery-buying-frenzies that seems like a logical choice…
___
Me: I'm all stupid with excitement! *bounce skip squee falls over* <= This is how a REAL Domme behaves. True story!
Bambi: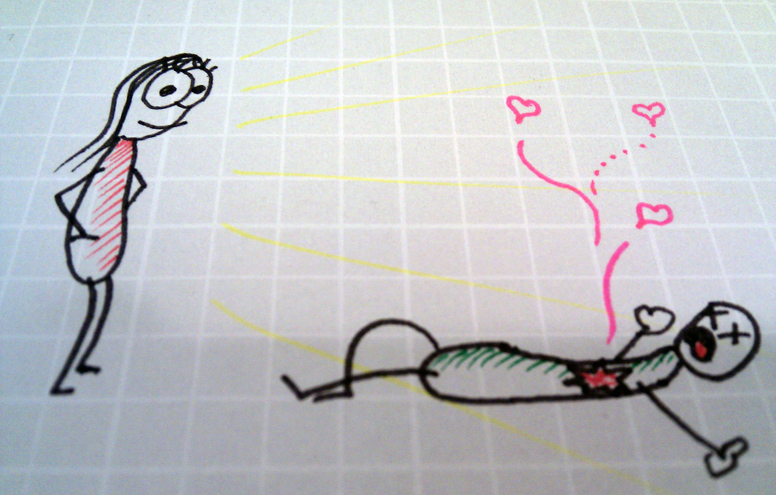 ___
I'll probably be live tweeting all about it tomorrow from the airport because I am apparently a total social media hoar, so you can come along for the ride if you want.
___
Ugh. Seriously. JUST BE HERE ALREADY!!! *fidgets*