Soon after we started speaking, bambi and I talked about fitness. He told me that he was carrying too much weight and was trying to lose it. I told him that if he was mine, I would make him lose the weight (and no, I don't care one bit how 'politically incorrect' that is). A day after we had that discussion, he went and got a gym membership and ramped up his efforts. I enjoyed that reaction a lot.
He sweetly wants to be at his best when we meet. And I *want* him at his best.
A week or so ago, I intervened to monitor his diet and exercise: to step it up before he gets here. He really *wants* to do it, but was a bit hit and miss with it, and I wanted to push him for these last few weeks. So now he reports to me daily so that I can see what he has eaten and what exercise he has done. The objective is to make him more mindful of what he is doing, and I am helping him to make better choices. He is one of those men who has never tried to manage his diet, so his poor habits are ingrained. It will take a bit of time for him to think differently about food. And beer. If it was easy, there wouldn't be a billion dollar industry built around it.
Yesterday I had him do a 'perfect day' for me because I was a little frustrated that every day's report contained soda or cookies or some other thing that was just empty calories. It was really tough for him and boy was he a cranky little bitch (*my* cranky little bitch!).
Just quietly, it was quite enjoyable to watch him suffer in a way, even though it wasn't a cute 'awww, this sucks' suffering, but a gritted teeth 'I can't talk about that other thing right now because I am just too fucking cranky!' sort of suffering.
It was really difficult for him, but he did it: a perfect day! Good boy.
Today he produced some graph porn to illustrate his progress. It made me laugh.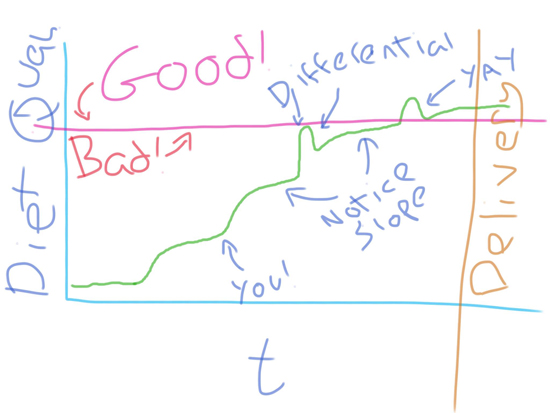 It shows his diet quality over time (obviously) with significant milestones (me!!). The vertical 'Delivery' line is when he will be delivered to me. The first little peak is his 'perfect day' during which he learnt quite a few things that helped him improve. We are currently just after the first peak… the rest is success projection *smile*.
D/s and torture and beautifying and graph porn. I'd call that a pretty darn good combination.