I was randomly sending foot photos that I found while I was trawling for porn doing important research to a friend of mine. He has a foot fetish, I thought he might like them. Each time, he came back with a shrug and some comment like, "Too much man-hand, not enough woman-foot!"
My lack of understanding of good foot porn finally had him shaking his head and remarking: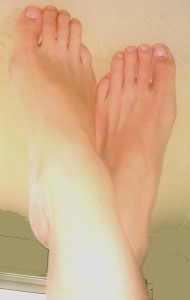 "You have really pretty feet. You have a shoe fetish, yet you have no idea what a foot fetishist wants to look at.

It's like how dogs have a great sense of smell but can't really see colors."
*laugh* Cheeky buggar!
But he's absolutely right, I don't get it.
This is a photo of my feet. This is intended as enticement for you foot fetishists out there to talk to me, but I have no idea if it actually *is* enticement or not! Without fabulous shoes on them, I just think, "Meh".
So here are my questions to those of you who have a foot fetish:
What makes a foot sexy to you? I mean physically, what do you look for (large, small, thin, long toes, short toes, nail polish, veins, toenail length, cleanliness, smell etc) or doesn't it matter?
What do you like to *do* with feet? Is it very specific?
My feet: hot or not (yes, I'm totally going there, I really *am* that vain, and also, genuinely curious!)