I recently wrote this to someone an interesting man who I am enchanting:
I am the best at being modest… really, the best. No-one is more modest than me. If there were a competition for it, I'd so win! Twice. That's how good I am at it.
So here I am. Being modest. Again. *laugh*
Rori over at Between My Sheets has painstakingly compiled her annual list of the Top 100 Sex Bloggers, and I am modestly letting you know that I am on it. Yay, me!!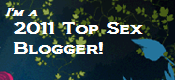 I will quietly put the little graphic down there next to the one from last year (see how I slipped that in there, all sneaky-modest-like?) and take the opportunity to be cliché and say to every single reader who comes here, who makes me feel like I am writing to and for someone, to those who take the time to comment, to have a dialogue with me, to send me emails:
Thank you!
I feel as if this is like a little corner of my lounge room where people pop in and share some time with me, and it's one of the things I love about it.
To go and trawl the goodness of top sex bloggery, head over to have a look at the full list of Top 100 Sex Bloggers of 2011.