I am rubbish at doing my own self promotion, even when I am given a prime opportunity!!
Look look!!! Waaayyy back in October I was on a "Top Sex Bloggers of 2010" list…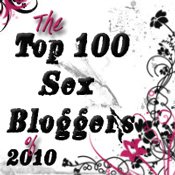 This is the list that I forced coerced nagged encouraged you to pimp my blog for in a childish display of petulance and foot stomping, then I didn't even gloat and show off when I made the list!!
So, a belated thank you to those who nominated me (and also some gloating and unappealing showing off)!!
[ETA Oct 2017: I just discovered that the blogger that used to do the Top 100 Sex Blogs is gone so all links to my glory and to other fabulous blogs over quite a few years of 'Top 100s' are gone also :/]