I've been trying to sort out some issues on my blog (I know at least some of you have noticed that it's been down a few times in the last week or so because you dropped me a note to let me know (thank you, I really appreciate that :)).
So while troubleshooting tonight, I made the entire thing crash (again) and to get it back up I had to [blah blah boring blah] and I was doing that instead of writing a goddamn #EveryDamnDayInJune post.
If some parts of the blog aren't working (and they probably aren't if you're reading this all fresh and newly minted), it's because I'm only running the parts that are absolutely necessary for the basics to function so I don't have to worry about it going down overnight :/ (ha ha JK, it still might… *sigh*)!
ANYWAY
HERE HAVE A TERRIBLE QUALITY PICTURE OF MY GLORIOUS HAIR.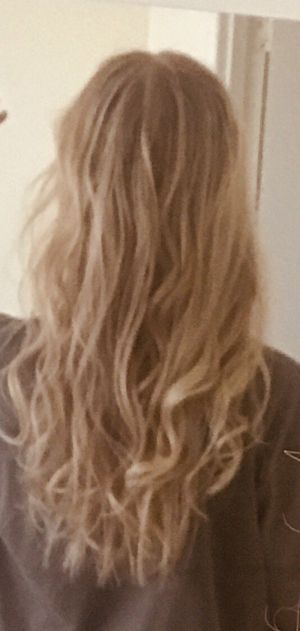 My hair is dead straight. I bought a hair curler specifically to create 'beachy waves' (it's a thing, you can look it up), and this is my first go at it. I beachy-waved the hell out of it. Go me.
This is a post. It totally counts.
. . .