Truth be told, I'm not sure where to put this.
So of course, I'm putting it here.
I originally thought of my new (work-in-progress) fiction book, 'Rage', as 'a femdom story'. In fact, I originally called it 'Rage: A Femdom Story'.
But this book is 'a story about femdom' in the same way that 'A Clockwork Orange' is 'a story about clocks'.
I'm a dominant woman and the protagonist in the book is 'alternative-universe-me': Also a dominant woman who uses the 'tools of BDSM' (restraints, canes, force, pain etc) to express and exorcise unfathomable anger.
The book is a direct result of my rage at the unholy mess the morally repugnant orange one has created in a country that is not my own: His fear-and-hate mongering has found a home in the worst of humanity all over the world. Watching it is almost unbearable. I know I'm not the only one: I've seen many others worn out by the endless downward spiral that never reaches the lowest low because, it seems, there is always further to go.
It was no leap at all for me to let loose 'the angry femdom', to express that rage without restraint onto the page. I've never written so much so easily because I was full to the brim with it. It's pure fiction of the glorious kind that feels like catharsis: Raw, honest, totally single-minded, and terrible in its violence.
BUT the result runs counter to every value I have ever espoused with regard to BDSM and femdommery.
My content here on my blog, in my other books, in my podcast, in discussions on social media, everywhere, has always always been about healthy, loving, mutually satisfying femdom relationships where all parties are overjoyed to be in it. I have been fighting the good fight for positive representation of F/m for over ten years, not least against the stereotype of 'mean bitch Domme filled with hatred and scorn'.
And yet in this book, I have created a story where a dominant woman enacts every non-con violent instinct that she wants without a single moment of care or consideration. Most books where dominant women do awful things are erotica, where everyone is wet and hard and any harsh terribleness is in service to some hot-sexy result in the end. Faux-meanness, pretend-hate, play-violence.
This is not that.
I am conflicted about the content I've created for this book because I know how important representation is, and this doesn't fit anywhere positive. At the same time my anger is real and valid and this is how it manifests. I want to put it out there, to share it, to hear others go 'hell yeah!', to feel it dissipate through me-tooing.
This book belongs in the 'Fiction – FUCK YOU!' genre, not in the 'Fiction – BDSM' genre: It is not recognisable as acceptable BDSM or femdom in any way whatsoever.
I am not quite sure how to manage it.
I have a full-page content warning in it so that it's 100% clear up-front, but it doesn't feel like there is an adequate way to say 'yes, it's about a female dominant and no, it's not what you're thinking'.
I realise that part of this internal conflict is caused by the fact that there is so little 'general' content with femdom characters out there that a depiction showing abhorrent behaviour feels like some huge betrayal on my part as the author. When really, it's just my feelings writ large on the page.
'Rage' is not 'a femdom story'.

It is a story about an angry woman driven to extremes because the current status quo is untenable, unbearable.
Using her considerable skills and knowledge as a dominant, she will exact a reckoning.
I've renamed it 'Rage: Retribution'.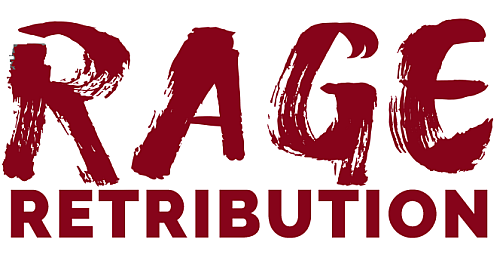 I'll be posting a cover reveal in the next day or two (my mailing list insiders have seen it already), so stay tuned :).