FINE I'M EXAGGERATING!!
After my my last post where I announced that Happy Femdom Stories Volume 1 is available for free, I asked people all over social media to join in to see if we could get a book about real-life F/m relationships to the #1 spot on Amazon.
We didn't quite make it, but my goodness we had a good run at it.
The peak results looked like this: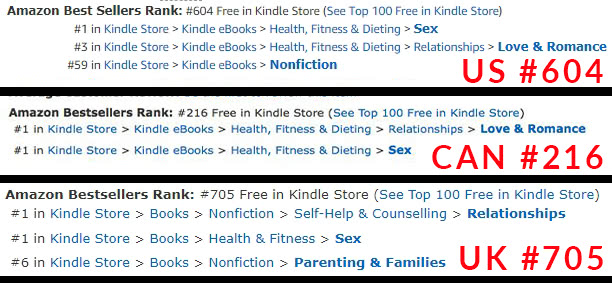 US:
#604, and #1 and #3 in two categories.
Edited to add: See correction below :)
Canada:
#216, and #1 in both categories.
UK:
#705, and #1 in two categories.
For context, there are over 90,000 free books on Amazon.com, so #604 puts us in the top 1% and that's HUGE. I'm 100% delighted with this result :)).
It was a spontaneous idea: If I had done it in a more organised way, specifically asked some heavy hitters to get on board, I think we might have ended up getting a lot closer. I might try again in few months.
THANK YOU to everyone who downloaded the book and spread the word: I really appreciate it.
If you missed the flurry, Happy Femdom Stories is a book full of stories about joyful real-life F/m relationships as told by those living in them, and it's an absolute delight: Get it here.
—
CORRECTION:
As soon as I posted this, My Fabulous Man Who Knows Everything (MFMWKE) pointed out that we hit #591 in the US, and #1 in TWO categories :)!!!

—
ADDITION:
I am being called out in the best possible way on this post (thank you Morion!) :)).
AUSTRALIA! #564, and #1 in both categories (I assume it went higher than #564 at the peak, but I wasn't monitoring the Australian site because my book activity is always low there, so I missed it. Boo!).


—
ALSO GRAPH PORN
Great for context, to show HOW CLOSE we got *shakes fist* :).