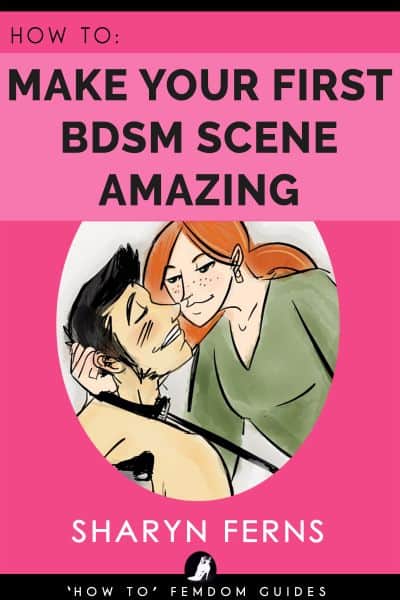 ' How To Make Your First BDSM Scene Amazing: For Dominant Women' by Sharyn Ferns
Cover art by the talented Submissive Guy Comics

This is my first 'How To' guide for new dominant women, and it's designed as a bit of hand-holding for women who want practical information for their first foray into BDSM play.
Dominant women are strong and awesome and they WILL find their own way and their own style, but first times can be daunting for anyone, and getting practical help can be difficult. This is the book I wish I had when I first started out and was nervously anticipating my first actual-for-real play with my first actual-for-real submissive.
It's not prescriptive, it's not 'you must' or 'one true way'-ish, it's a stepping stone for nervous newbies who just want a firm footing from which to make their leap.
As with all of my 'How To' Femdom series guides, it's short, sharp, and actionable. There are 13 practical steps and tips to help new dominant women plan, manage, and enjoy their first BDSM scene.
It covers how to:
Choose what activities to do in your scene
Put together the flow
Start and end well
Look after your submissive in scene
Build your confidence and manage your nerves before and during play
Handle it when something doesn't work
Leave your submissive wanting more
Do aftercare
BONUS: Free BDSM Scene Worksheet that will walk you through using the steps described in the book.
If you think this would be useful for you or a friend, you can pick it up on Amazon:
How To Make Your First BDSM Scene Amazing: For Dominant Women.