I kept meaning to write about the results of doing crossfit at the end of last year. It's been forever now, so it hardly seems worth talking about it, but I'm doing it anyway.
There was a special offer at a nearby gym for 6 weeks of crossfit. I've always been terrified of it because the likelihood of injury seemed to be really high. Plus I'm an extreme introvert who is not competitive, so the whole 'group training' and 'rah rah' and 'aiming to beat each other' had me making THAT face (you know, THAT face: the lip-curled eww-face).
Anyway, I did it. Two weeks of intro and technique training, then three times a week for another four weeks. I was lucky: the crossfit version that the gym did was a very laid back 'Australian' kind of thing. Still in groups, but no competition and no cheering each other on (thank goodness). I still hated it. I hated going there, I hated the group thing, I hated being nice to people, I hated having to interact, I hated the high intensity of it, I hated the *really hard* work.
But I cannot deny that it got me results.
I didn't log the crossfit exercises in Jefit, but I DID log my normal workouts up to the point where I started crossfit, and then saw the results when I went back to the gym after the 6 week program.
These graphs show the weights I was lifting before I started crossfit, there is a flat period where I wasn't logging individual exercises while I was doing crossfit, then at the end of the 6 weeks, I went back to the gym and started logging again.
The results are really clear: I had significant strength gains after 6 weeks. I also think that I felt more confident to push myself harder after the high intensity work that crossfit introduced for me, so that helped also.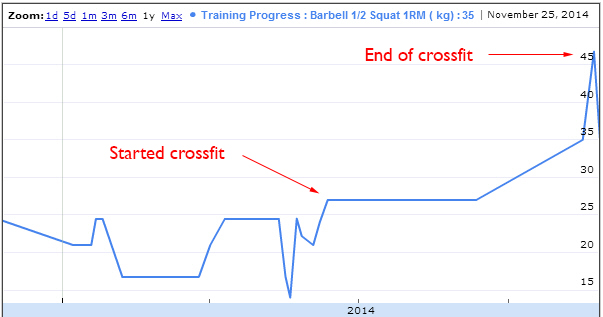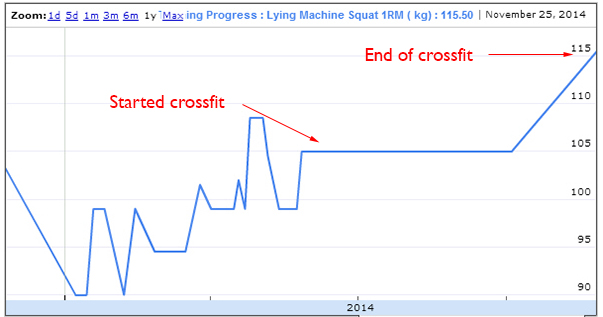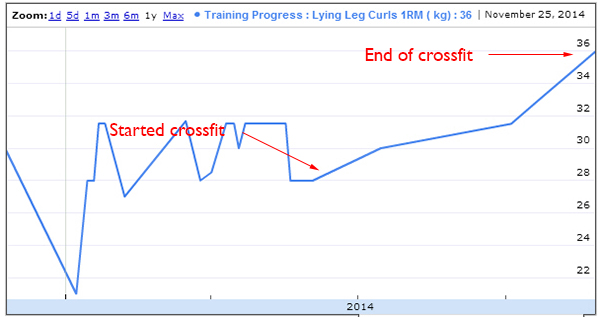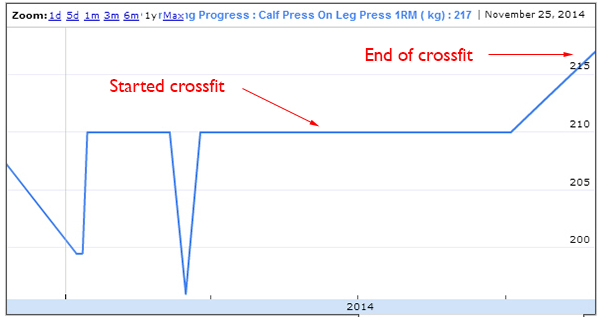 Am I doing more of it? Aw hell no.
I loved the results, but I HATED pretty much everything about it, plus it's about four times the cost of a normal gym membership. So yeah, nup.