I can't stop watching Ronda Rousey in this gif. It's amazing.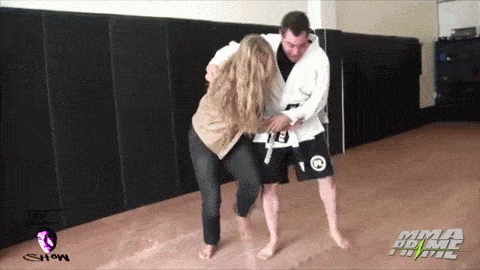 If you watch the YouTube video, the lead-up to this throw is the guy, am MMA journalist, joking with Rousey, an MMA champion, in a 'ha ha ur only a woman' kind of way.
"Hurr hurr, I don't think you have enough strength and can compete with the men, even though I'm a white belt…"
In short, he was being a dick to an elite athlete: She's an MMA champion FFS, and he was minimising her achievements, her training, and her skill.
I don't care if he was all aw shucks jokey mcjokerson, and I don't care that it was probably a set-up for her to demo a throw: WHAT SORT OF INTERVIEWER SAYS SHIT LIKE THAT TO AN ELITE ATHLETE?
I watched it over and over because it's amazing: She drops him like it's nothing. I keep picking up details: his surprised expression, the split second his feet leave the ground, how quick and smooth that entire move is. I keep trying to identify the moment he thought, "Oh shit, this is not gonna go how I thought."
And when I read that she accidentally broke some of his ribs doing this, I tried to feel sympathy for him, but really, I thought, "Serves you right, arsehole."