I've written about the things I screwed up in my relationship with my First and touched on how I didn't feel loved.
One of the things that I learnt from that relationship is that submissive behaviours can obscure traits that I would have seen a mile off in a vanilla man, but didn't yet have the experience to see in a submissive. If you overlay 'submission' on a relationship, it can be harder to pinpoint where a feeling of disquiet is coming from (the same is true of dominants of course) because the agreed D/s behaviours can hide what's underneath.
I thought he was selfish, but I couldn't quite put my finger on why I thought that when he was really doing everything I asked of him. It was a vague and nebulous discomfort, the feeling that he weighed everything in terms of 'what's in it for me' as if he thought I was always trying to 'get one over' on him (in hindsight, this makes more sense given the betrayal-that-wasn't: I imagine a distrustful hurt boy trying to protect himself from falling apart).
By the time we got together, I'd fallen in love twice in my life, and I had been the target of love more times than that. I knew what it felt like to be loved and I struggled with the fact that what we had, what he claimed, didn't feel like love to me. But nailing down 'why' was near impossible.
And one day, something happened that exemplified and clarified it for me.
I wrote about it here when I described still having my First's sweatshirt. But I wrote it as a little piece of nostalgia without explaining its significance.
___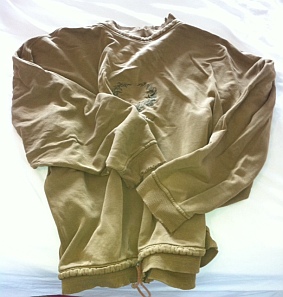 My sweatshirt, too big, an unattractive colour really, is one that I grabbed out of my first submissive's 'give away' bag when we were clearing out clothes to take to good will. He probably had it for quite a while before I took it. I plucked it out of the box by the front door.
"I'll have that," I said, putting it on.
He looked at me in it.
"It looks good," he said.
I laughed, twirled.
"It looks *really* good," he said again.
I nodded. "Ahh hmmm…"
He looked at me sheepishly.
"Can I have it back?"
I looked at him, raised an eyebrow.
"What?!" I figured he was joking.
"It looks so good on you, I want it back." He had the grace to look embarrassed.
"You have *got* to be kidding me! You were going to throw this out!"
"Yeah, I know… but it looks so good on you… Now I want it back… please Ma'am?"
*laugh* "Fuck off."
___
It seems a small thing, but that was the moment that illustrated and brought home to me why I didn't feel loved.
My experience of vanilla men was that they would literally give me the shirt off their back if I asked for it. I knew that if I was to go into their wardrobe and pick out their absolute favourite shirt, they would gladly offer it up to me if they thought it would make me happy. Because they loved me. And they would go above and beyond to show that in a million different ways.
And here I was with a man who claimed to love me, a *submissive* man whose goal was to please me, and he couldn't even bear to give me a shirt that essentially came out of his garbage. OUT OF HIS GARBAGE!
It was a defining moment for me. Perhaps even a relief that I could see tangible evidence of what I had felt in nebulous, indefinable ways, but couldn't put my finger on.
And to be clear: it's not that he didn't love me in his own way, it's that to me that's not what love looks like, and having something concrete to hang that feeling on was a blessed relief.
I love that sweatshirt, more perhaps *because* of the way it came into my hands. I bring it out every winter: slipping into something old and worn that holds my history has a lovely comfortable familiarity to it.
It's been a long time: I've grown, I've learnt things, I've changed. He has too. But the hints of familiarity are there with him also. We are working on getting to know the new people we've become, and our history is a lovely bond, even if we shake our heads at past-us, even if we didn't navigate all that as well as we might have.