I bought a vagina gym!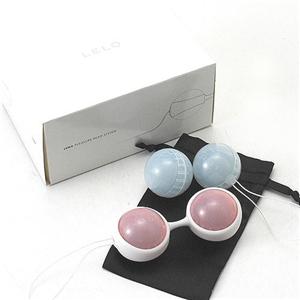 Since I'm getting all fit and stuff, I figured, hey, how about vagina fitness?!!
So, I bought a vagina gym.
These Luna Beads by Lelo are a kind of ben wa balls. They are different weights: the pink are 28 grams and the blue are 37 grams. The balls themselves have smaller weighted balls inside them which shift as you move. You can use just one, or two at once, thereby varying the weight.
The theory is that the motion of the 'balls within balls' triggers your kegel muscles, so if you put them in and go about your normal day, you are doing the lazy woman's kegels.
Snippets of my conversations with Jay about them looked something like this:
—
"I bought a vagina gym!!"
"Vagina gym, vagina gym, VAGINA GYM!!!"
—
"How do I know if my vagymming is building vagmuscles? Maybe I will just find some random boy to put his dick in there, see how it feels, then do a follow up after a few weeks and note the difference."
"For science"
—
"You should put on loud music and go vajamming around the house!"
"Injury prevents vajamming right now, I can only vajiggle."
—
"I will wear it to the gym and see how I go (upper body, no vajiggling)."
"It it falls out, at least don't let it roll on the floor. That would be aaaaaaaaawkward!"
—
"I keep thinking of the woman who said she 'put them in, they just fell out…' eeep!!"
"Just now was the first time I wondered how they "just fell out." What was she wearing?""
"Apparently she was wearing a very loose vagina…"
—
"I hope the acupuncture doesn"t make it pop out."
"If it does, you have to promise to scream out "What is this place of voodoo?!?!!"
—
"I am working on not whining about going to pilates. I mean, you did yoga, I can do pilates. Maybe I should vagym it!"
"Vagylates?"
—
Welcome to my world.
As for results, the vagina gym is new, so I expect it will take a while before I know what effect they have, and even then I am pretty sure I won't know what effect they have… Volunteers for testing needed.
65RZ4QKDETDZ